Skyscanner has launched a train booking feature, further diversifying our offering to UK travellers.
Alongside our flight, hotel and car hire offerings, the feature allows UK travellers using its iOS app to search for cheap rail tickets for UK journeys with ease and without booking fees.
In addition to savings made on no booking and no credit card fees, travellers are also able to use a railcard (including the brand new 26 – 30 year-old railcard currently on trial) and have the option to buy advanced, anytime, off-peak, standard and return tickets.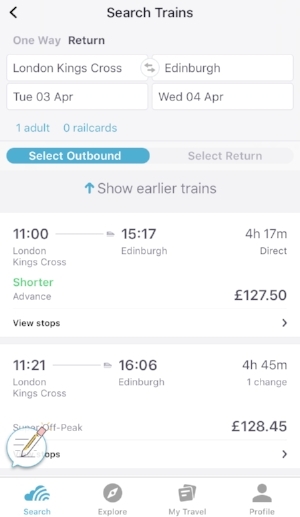 The free award-winning 4-in-1 Skyscanner app which has been downloaded over 70 million times, covers flights, hotels, car hire and now train travel, helping travellers search and book trips with ease by uncovering the best travel deals, saving time and money.
The data behind the rail feature is powered by Trip.com, Ctrip's new international travel booking service. Bookings will be facilitated by Trip.com, who will also provide 24-hour customer service.
Ctrip invested in Skyscanner in December 2016 in a deal worth £1.4bn. While Skyscanner remains operationally independent, the sale has allowed the business to leverage Ctrip technology and learnings, with the trains product one such example.
Bryan Dove, CTO at Skyscanner comments: "Being part of the Ctrip group allows us to take advantage of elements of Ctrip's technology and experience and bring that value to Skyscanner'stravellers. The launch of our train booking product is one such example. Our focus has always been on making travel as easy as possible and our new train feature will do just that, with the benefit of no booking fees."
The news comes just a few months after Skyscanner announced the acquisition of London start-up Twizoo and the use of in-trip content through Ctrip's acquisition of Trip.com; both with the aim of making Skyscanner a place where travellers can find everything they need for travel planning in one single place.
With mobile users accounting for over 60% of Skyscanner's traffic, Skyscanner's trains feature is available for UK-based IOS app users now and will be made available to Android app users in the UK shortly.