"Skyscanner was the ideal partner for us – its vast European audience provided the perfect platform to deliver our message and reach active travellers looking to get away. The result – an impressive return on our advertising spend of +1,114% – speaks for itself."

Fiona Holmes, Marketing Manager – Short Haul, VisitScotland
Overview
From March 2022, VisitScotland wanted to tell travellers in Western Europe that its borders had reopened after COVID-19 and direct flights had resumed
We targeted travellers in three of Scotland's largest EU inbound markets with the message that the country's magnificent cities and outdoors were waiting to be explored.
The impact
We helped generate a return of ad spend of +1,114%, with +1,175% YoY increase in flight searches and +1,257% increase in bookings.
The campaign was in partnership with Transport Scotland to support and promote the return of direct air routes into Scotland, part of the Scottish Government's long-term recovery goal to increase visitor numbers and support local businesses across the country.
Collaborating for success
We worked closely with the VisitScotland team to help them get the most from their campaign. This started with defining and mapping our user journeys, so we were reaching the right people with the right message at the right time, to constantly reviewing budget spending and ending with a decision to extend the campaign's timeline to maximise results.
"The team were fantastic to work with and really went the extra mile to ensure our campaign performed as well as possible. It was also fitting to work with an Edinburgh institution like Skyscanner – we had a strong Scottish bond."

Lauren Hogg, Market Development Manager – Europe, VisitScotland

A hiker looking across to the Old Man of Storr on the Isle of Skye, one of Scotland's most impressive natural formations.
Showcasing Scotland
As the national tourism organisation, VisitScotland showcases the country's unique tapestry of experiences to the world, with a mission to sustainably grow Scotland's tourism industry and profile as a leading responsible tourism destination.
Its short-haul marketing team promotes the best of Scotland to travellers in Western Europe and collaborates with airlines to ensure capacity always meets demand.
Restrictions imposed by the pandemic quickly curtailed the movement of travellers into and around Scotland, with knock-on effects being felt by big and small businesses – dependent on tourism – up and down the country.
So when restrictions ended in March 2022, the team wanted to get the message out that Scotland was open and ready to welcome visitors once more.
Scotland is open
Our objective was to support airline partners by raising awareness among travellers in Germany, France and the Netherlands that direct flights to Scotland had resumed, and drive bookings.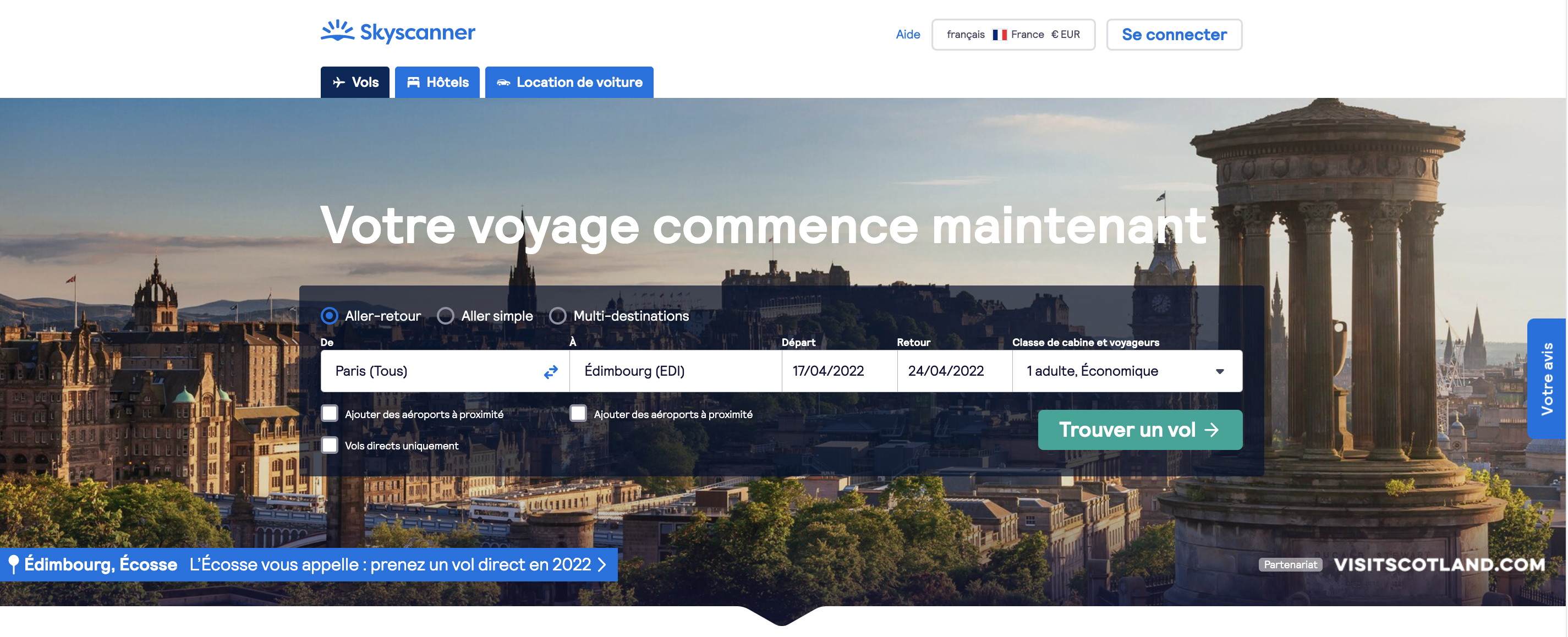 A French-market Skyscanner homepage takeover ad put the campaign front and centre, encouraging travellers to find out more about Scotland and book a trip.
The campaign also tied into the Scottish Government's ambition to promote a sustainable long-term recovery, one which encouraged travellers to discover all corners of Scotland year-round and support local communities.
"Sustainability is at the heart of Scottish tourism's bounce back and our campaign with Skyscanner played an integral role in building a long-term recovery and laying the foundations to encourage travellers to return and explore more parts of the country."

Claire Duquenne, Assistant Marketing Manager – Short Haul, VisitScotland
The perfect partnership
Skyscanner is the ideal platform to spread VisitScotland's message. We have the engaged audience, the ability to surface flights and the functionality for people to compare and purchase tickets – quickly and easily converting browsing into booking.
We targeted travellers across the buying journey, from dreaming to booking, through a mix of inspiring advertising and content across our website and newsletter – using the emotive line: "Scotland is calling."
Creative on Skyscanner's homepage and in our newsletter took users to a bespoke article packed with information about Scotland's unique experiences. At the same time, we created destination spotlight ads for Edinburgh and Glasgow on our 'Everywhere' search page, as well as promoting Scotland to travellers searching for similar destinations.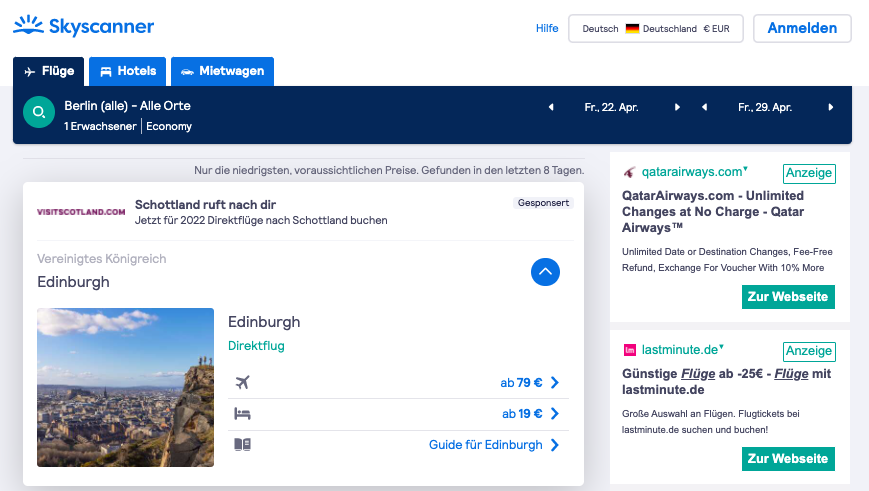 A German-market destination spotlight ad for Edinburgh on a Paris to Everywhere search, driving traffic to our sponsored flight search results page.
Unique to Skyscanner, our 'Everywhere' search allows users to discover flights for all destinations worldwide on specific dates, arranged by price – a great tool for those who don't know where to go.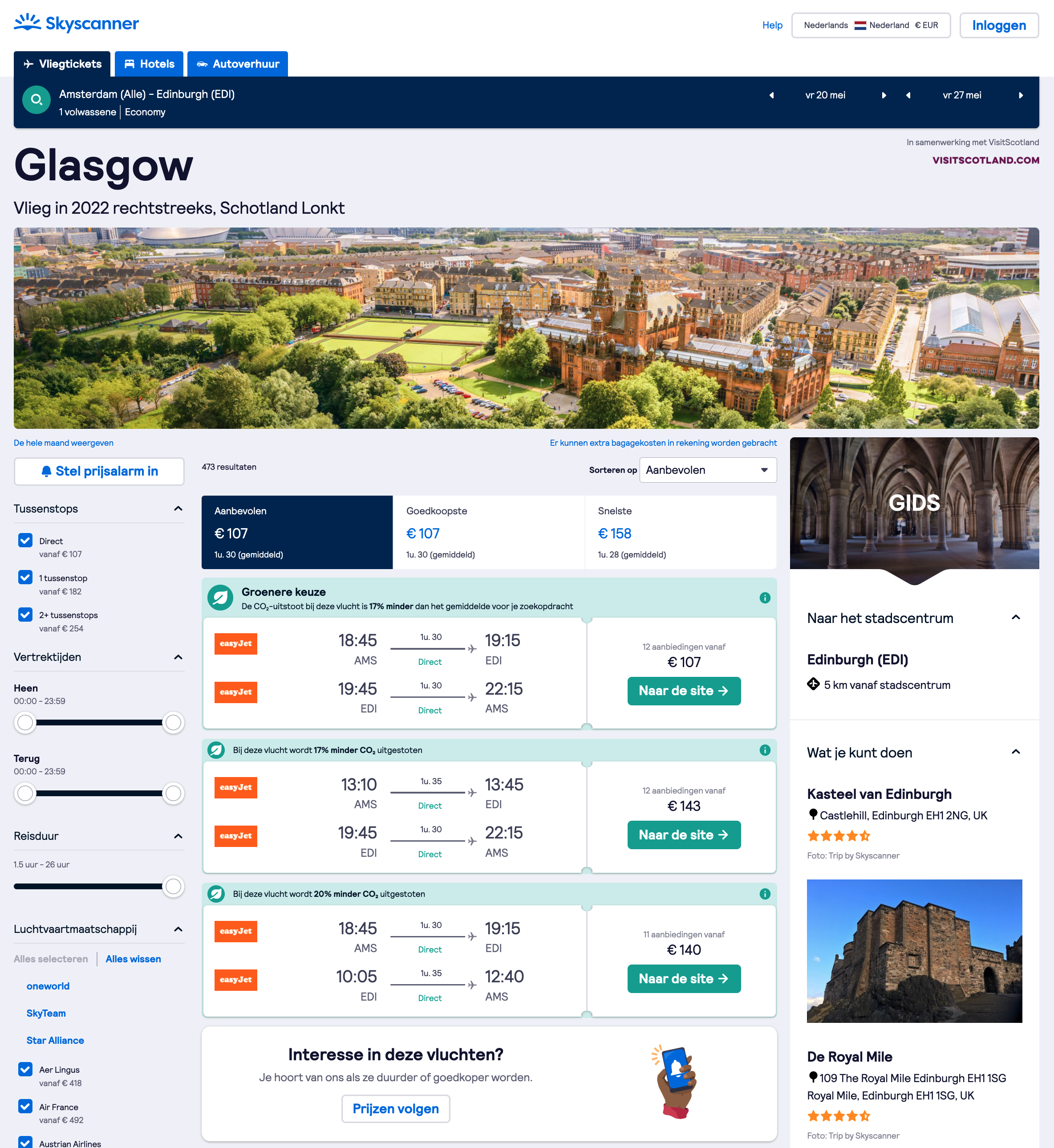 A Netherlands-market sponsored search results page for Glasgow, targeting travellers at the end of the booking funnel and encouraging purchases.
Results
The campaign reached 2.5 million people, led to a significant uplift in bookings and provided VisitScotland with a +1,114% return on their ad spend.
Our creative and message clearly resonated with travellers too. Searches to gateway cities grew by +1,175% from 2021 and bookings by +1,257%.
If you'd like to learn more about how Skyscanner works with tourist boards and travel providers and the advertising solutions we offer, please get in contact right here.
View all articles