"This campaign was all about speed. Skyscanner's combination of engaged audience and rapid ad delivery across the entire booking journey helped position Australia front of mind for young travellers and inspire them to turn dreams into reality – fast, while promoting the free WH visa incentive given by Australia."


Fiona Nicolas, Tourism Australia Country Manager - France
Overview
In March 2022, we spread the word to travellers in France that Australia had reopened and its working holiday visa scheme was back up and running. There was an added incentive of free-of-charge working holiday visas to be had for the initial phase of the campaign.
The campaign launched across our site and social channels to drive awareness, consideration and bookings of flights and visa applications.
The impact
We reached over 600,000 French travellers, resulting in a huge uplift in flight bookings – 300% above the campaign's KPI
The campaign helped increase working holiday visa applications to 10,000 by the start of June.
Australia is open
Tourism Australia is the Australian government agency responsible for attracting international leisure and business visitors Down Under, with a vision to make Australia the most desirable and memorable destination on Earth.
Tourism Australia tasked us with increasing flight bookings while using our platform to promote Australia's working holiday visa scheme.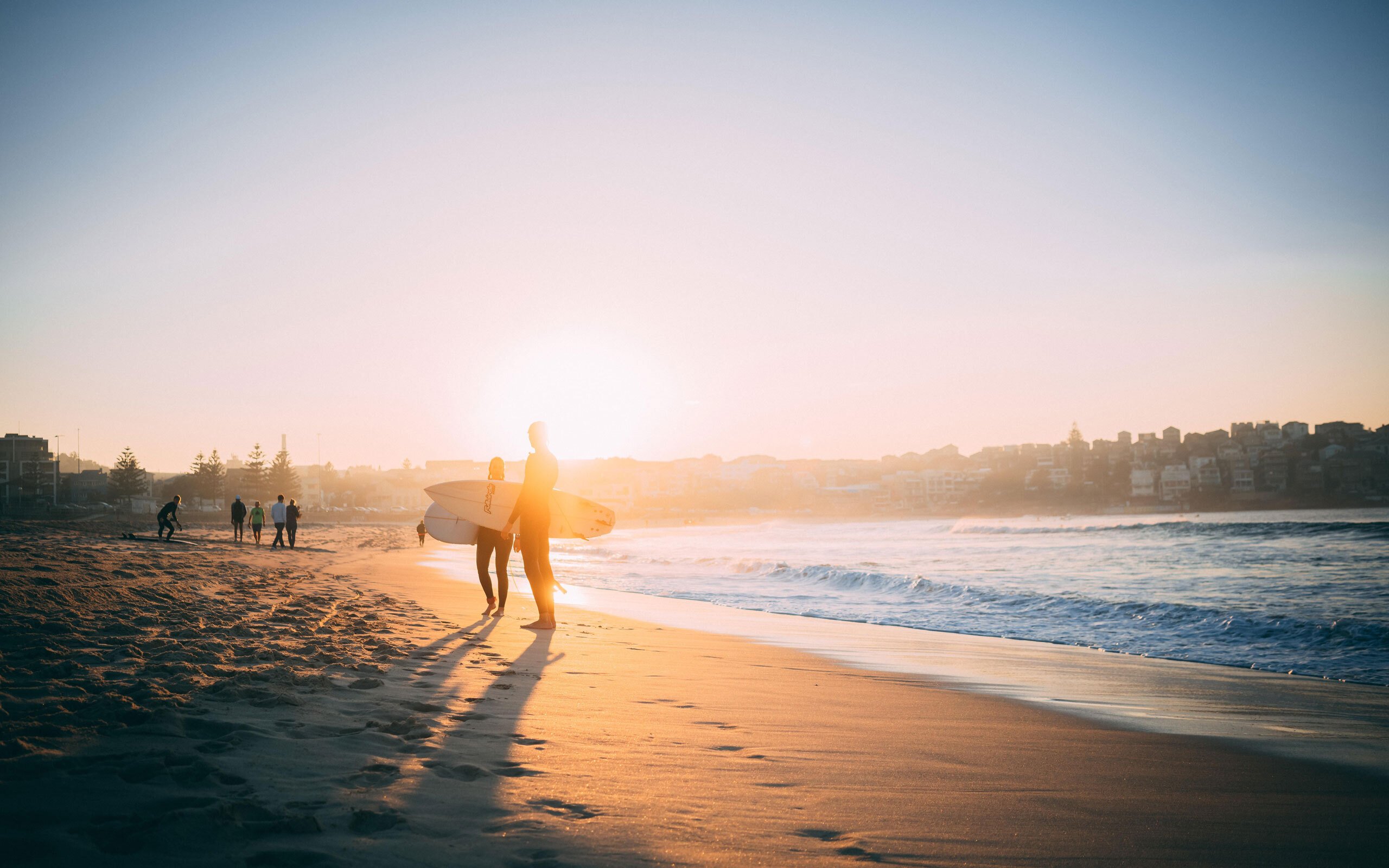 Two surfers chat on a beach in Sydney as the sun goes down, an image synonymous with the country and a huge draw for travellers worldwide.
J'adore Australie: Recapturing French interest
Australia's working holiday visa scheme is the world's most popular, with programmes lasting up to three years, an upper age limit of 35 and no number cap. And it's especially popular with French travellers: roughly 25,000 entered the country annually prior to the pandemic.
We launched the campaign in the French market in March 2022, after borders opened to working holidaymakers on 15 December 2021, and it ran for four weeks, including the popular Australia booking window of March to April to help maximise sales.

A homepage takeover of the campaign showcased one of Australia's most famous landmarks – Sydney's Bondi Beach. We enticed readers with the line: "Want adventure? Go on a Working Holiday Visa in Australia."
Serving up adventure: The campaign creative
We targeted travellers right across Skyscanner's user journey, from dreaming to booking, using a suite of ads placed in the right place at the right time to raise awareness, stoke interest and drive sales.
Creative on our homepage took travellers to a bespoke landing page to learn more about working and living in Australia and start their application, while cleverly placed ads on our unique 'Everywhere' search drove traffic to a flight results page to Australia's gateway cities.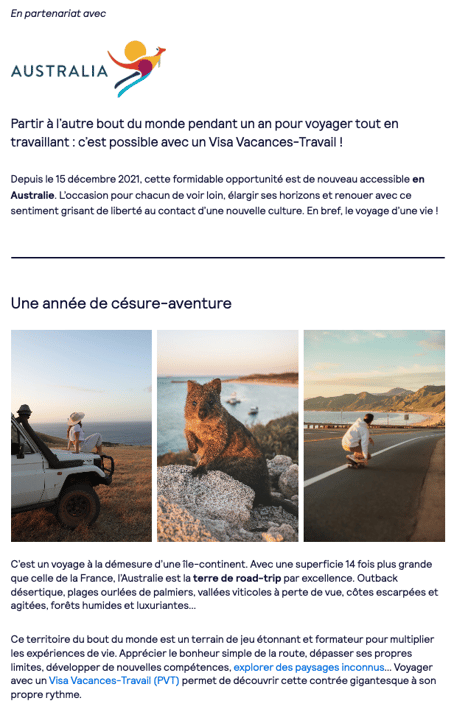 The campaign's feature article inspired users by detailing the exciting, unique experiences provided by a year-long Australian working holiday visa.
Our unique 'Everywhere' search allows users to discover flights for all destinations worldwide on specific dates, arranged by price – a great tool for those who need a little travel inspiration.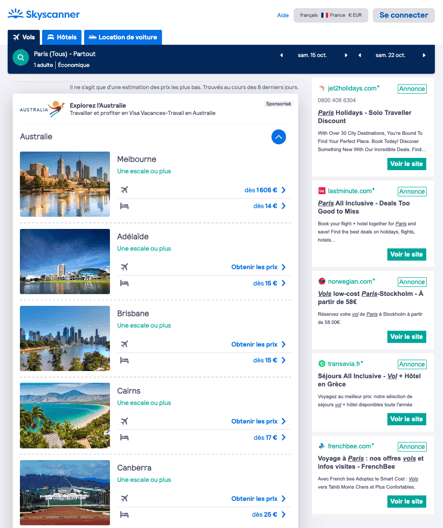 A large destination spotlight ad featuring multiple cities on a Paris to 'Everywhere' search, driving users to a sponsored flights search results page.
At the same time, social media posts and a newsletter also linked through to our landing page, while banners on Australia flight search results pages reinforced our message and prompted action further down the booking funnel.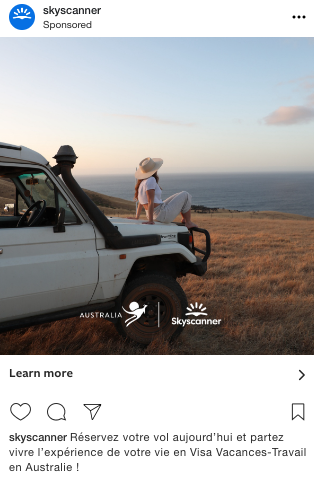 Social ads, complete with inspiring imagery and punchy copy, provided the perfect medium for reaching our audience and piquing their interest.
"The campaign was so successful that Tourism Australia decided to invest additional marketing budget for a second marketing push. The ask bore fruit and led to another big uplift in flights and applications booked."

Fiona Nicolas, France Marketing & Trade Manager, Tourism Australia
Results
The campaign reached over 600,000 travellers, leading to flight bookings 300% above the campaign target.
Our content really resonated too – average time spent on the landing page was twice as long as usual, at 2 minutes 17 seconds.
The campaign also helped contribute towards 10,000 new visas issued by the beginning of June, representing 40% of 2018-19 levels.
"As a company passionate about getting travellers out into the world, it was brilliant reaching travellers across France, seeing the uplifts in flight bookings and visa applications and, ultimately, helping make Australia more accessible to travellers and feel the economic benefits of increased visitor numbers."

Zeynep Mutlu Bigalı, Principal Commercial Manager - Destination Marketing, EMEA
If you'd like to learn more about how Skyscanner works with tourist boards and travel providers, as well as the advertising solutions we offer, please contact us right here.
View all articles