"Our partnership with Skyscanner gives Puerto Rico the platform to reach a world of travellers, showcase the best of our island and, ultimately, increase vacation bookings and spend."

Janid Ortiz, Partnership Marketing Director, Discover Puerto Rico
Overview
We've run an 'always on' campaign since September 2021 to build awareness of Puerto Rico and drive flight and hotel bookings.
Our platform and global audience help Discover Puerto Rico elevate its brand and messaging, reach millions of people, and hit its business objectives.
The impact
To date, we've reached almost three million travellers, with flight searches in 2022 increasing +67% on the year before.
So far, we've generated a return on ad spend of 76:1, giving Puerto Rico $76 back for every dollar they spend with us.
As a trusted, collaborative partner, we help deliver the latest campaign strategy and messaging, respond to changing market dynamics, and stay top of mind.
The heart and soul of the Caribbean
Discover Puerto Rico is the island's official destination marketing organisation. Its mission is to raise awareness of Puerto Rico's unique culture and experiences, attract more tourists, and help set up local communities for success.
Back in 2021, we spotted an opportunity to help Discover Puerto Rico do just this and entice travellers from around the world back to the Caribbean as Covid-19 restrictions were easing – complementing the team's traditional North American marketing activity.
We cast their net a little wider with a campaign trial in Germany, Spain, the UK, Colombia and Canada. The results were impressive, and a full nine-month campaign followed.


Beyond beaches: Showcasing the best of Puerto Rico
Travellers now want more meaningful connections with a place and its people after the Covid-19 pandemic – and we're helping Puerto Rico get the message out that there's a lot more to the island beyond its azure waters and golden sands.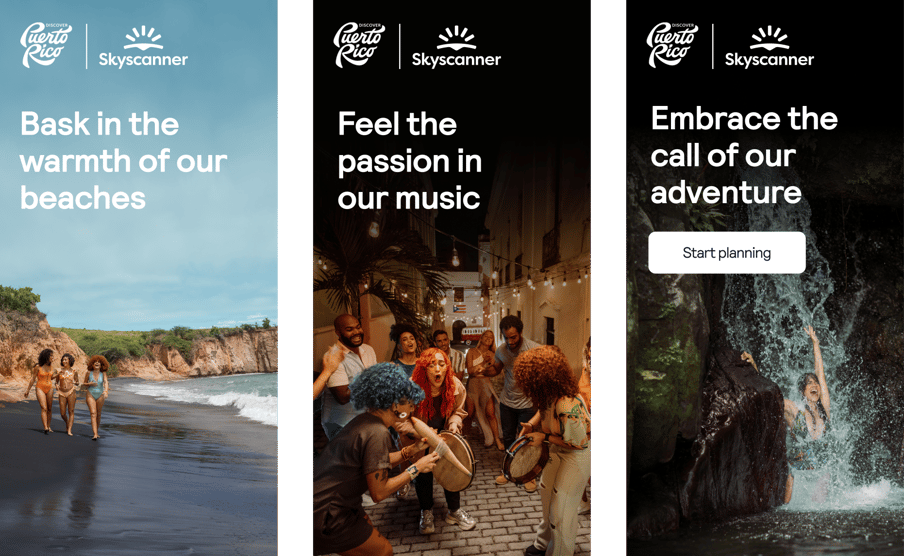 Display banners drive traffic to a Puerto Rico flight results page, encouraging travellers to book their trip.
We have the engaged audience, the ability to surface flights and the functionality for people to compare airfares – quickly and easily converting browsing into booking.
At the same time, our innovative targeting solutions help partners reach and connect with more travellers in real time, allowing us to keep campaigns as impactful as possible.
"Being fast, proactive and responsive is really important to us. As our campaigns evolve, Skyscanner are quick to make budget and strategy recommendations to boost performance so we get the best possible return on spend."

Janid Ortiz, Partnership Marketing Director, Discover Puerto Rico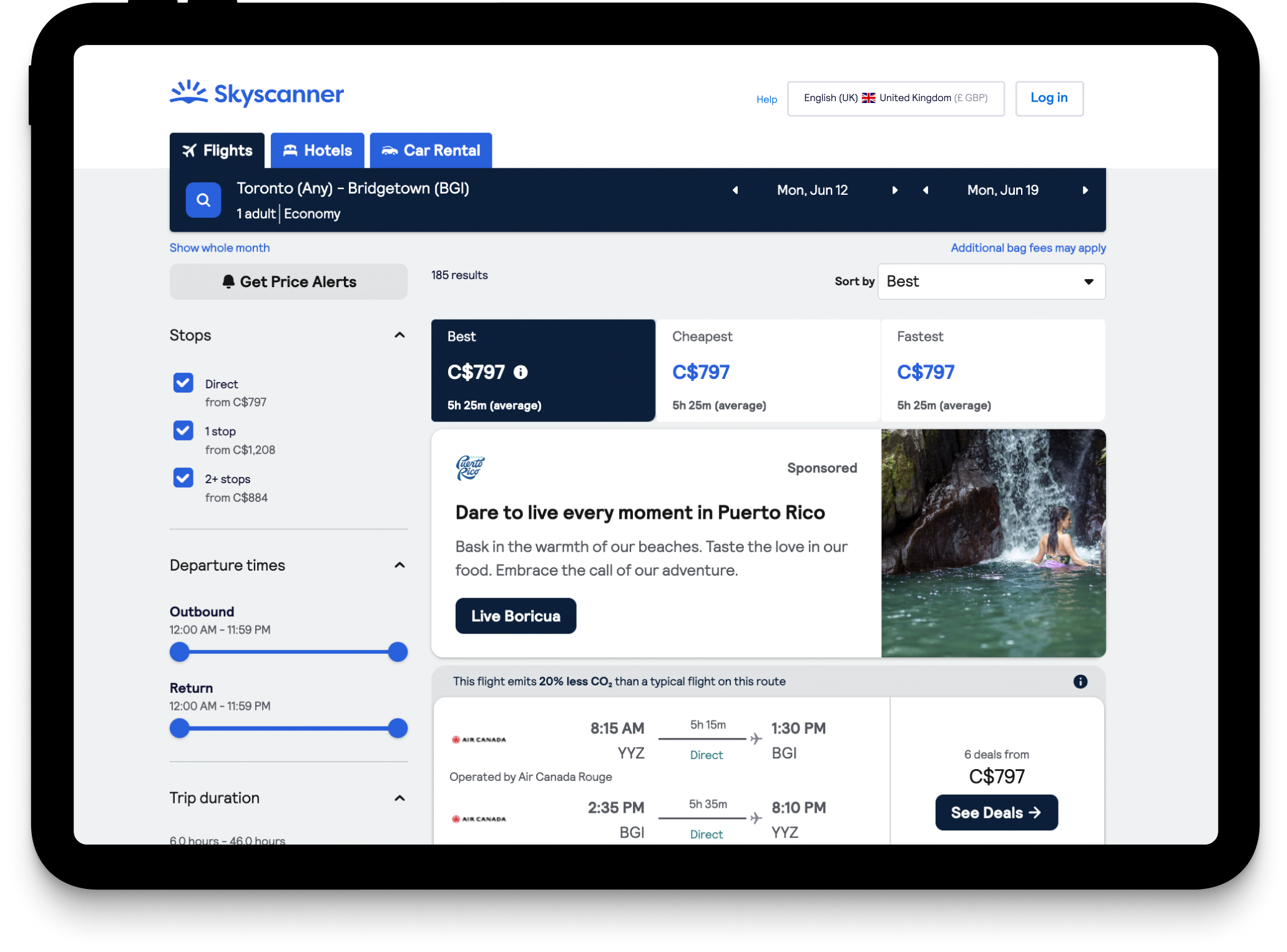 Our inline brand banners target travellers searching for competitor destinations, driving traffic to our campaign landing page.
Working closely with Janid and her team, we keep the budget flexible so money can be redistributed quickly to where it's needed. And as campaigns evolve to highlight different aspects of the island, we use Discover Puerto Rico's latest messaging and imagery to create bespoke display ads to catch the eyes of travellers across our site.
When Hurricane Fiona hit in September 2022, we were able to quickly pause the campaign until it was safe to visit. It was restarted with the following message: "We are Boricua. Nothing will stop us from sharing the island we love. Most attractions are open. Our arms are open too."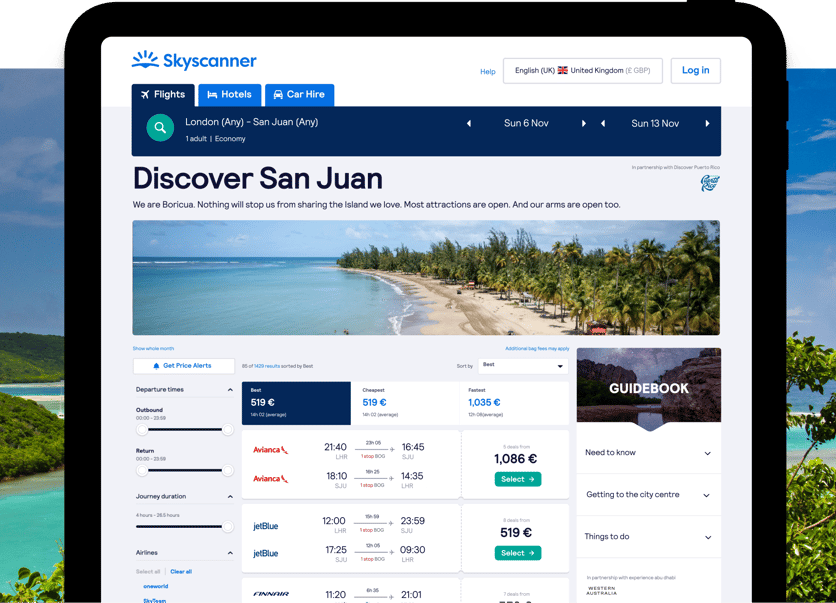 When Puerto Rico reopened, display banners across the site took travellers to this sponsored results page to drive bookings.
Tailored support
During Covid-19, we helped Discover Puerto Rico stay active and top of mind even when the island was closed. The team used our Destination Connect platform to bring the island life to travellers stuck at home by sharing everything from virtual cooking and cocktail classes to salsa lessons.
Today, we hold weekly check-ins with the team, sharing campaign reports and the latest travel trends and insights – providing a level of service that's hard to match elsewhere.
Results
The campaigns have consistently exceeded engagement benchmarks across nearly every placement, with travellers responding strongly to creative and messaging.
So far, we've reached almost three million travellers, with flight searches in 2022 increasing +67% on the year before. All this has helped generate a return on ad spend of 76:1 – making Puerto Rico $76 for every $1 spent with us.
We're looking forward to continually working with Discover Puerto Rico to help them find new opportunities and ways to meet their goals.
If you're interested in advertising on Skyscanner, please get in touch below.
View all articles