"We partnered with Skyscanner because we knew their combination of engaged travellers, smart marketing and awesome support would deliver us bookings. The campaign over-performed by more than 200%, so we're really happy."

Eileen Pranger, Senior Brand Partnership Executive, Tourism Ireland
Overview
Tourism Ireland wanted to attract more travellers from neighbouring Britain after 18 months of paused marketing campaigns due to the pandemic.
We had to convince travellers that instead of planning a trip to continental Europe, their perfect getaway was waiting on the island of Ireland.
The impact
We generated flight and hotel bookings +236% above the campaign's objectives.
Facebook, Instagram and display ads achieved click rates nearly 100% higher than the Skyscanner average, while time spent on each article averaged 1.34 minutes, almost half a minute longer than average.
Showcasing the best of the island of Ireland
Tourism Ireland promotes the Republic of Ireland and Northern Ireland as leading holiday destinations to overseas visitors and helped attract more than 11 million travellers in 2019.
2021 was a different story, however, with the pandemic seriously reducing tourist numbers. But as confidence grew and restrictions eased, Tourism Ireland wanted to capitalise on these new opportunities and attract a broader, bigger audience from neighbouring Britain.
The challenge was, the island of Ireland competes with several sunnier, warmer destinations around Europe. So Tourism Ireland turned to us to run a two-month campaign at the end of 2021 to raise awareness of the island's offerings and drive demand.
Green means go
Tourism Ireland was already having success with its "Press the Green Button" campaign. So rather than launch a new, separate campaign, we brought theirs to life across our platforms.
With shorter booking horizons due to COVID, we targeted travellers looking to get away from straight after the Christmas holidays to March.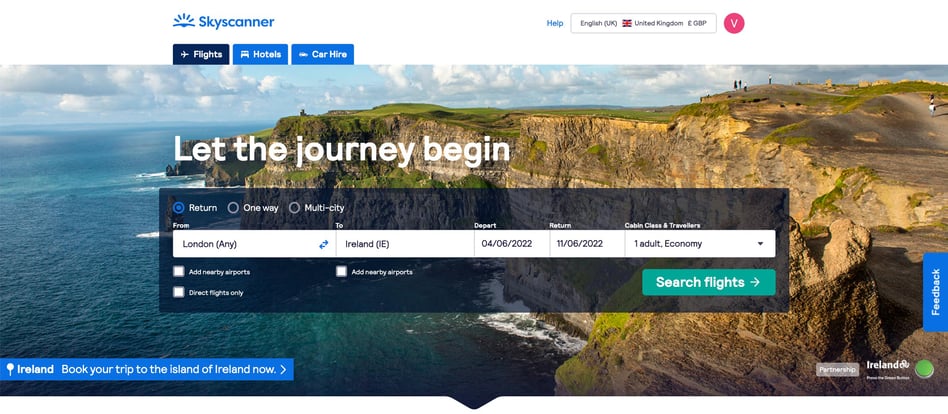 A homepage takeover put the campaign front and centre, encouraging travellers to search and book a trip to Ireland.
"Many people don't know how easy Ireland is to reach from Britain – and we wanted to change this perception. Our research also showed British travellers usually explore Dublin first, love it, then often return to discover more regions."

Eileen Pranger, Tourism Ireland
As a partner, we had the means to convert browsing into booking: the engaged audience, the ability to surface flights and the functionality for people to compare and purchase tickets.
We targeted travellers across the buying journey, from dreaming to booking, through a mix of inspiring advertising, content and social media.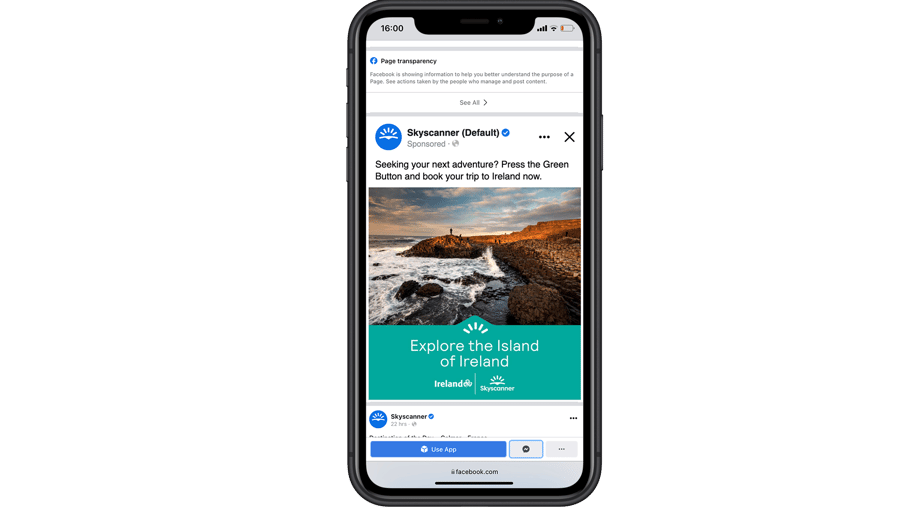 Our social channels proved the perfect way to showcase Tourism Ireland to our target audience.
Creative on our website, in our newsletter and across our social channels took users to an article-packed hub page where they could learn more.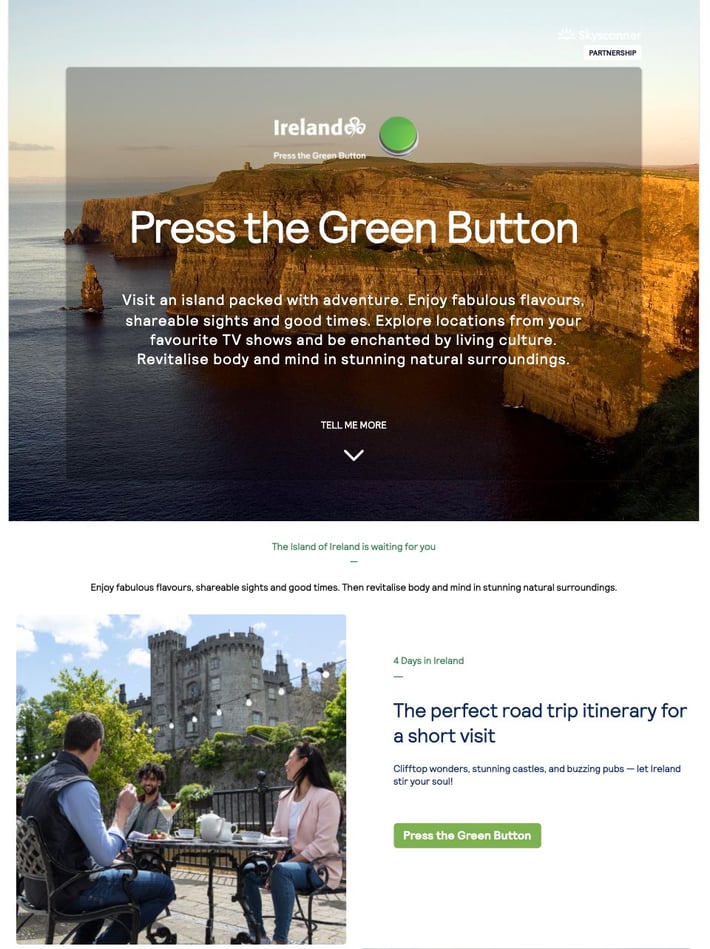 The campaign hub drove people to inspiring articles celebrating the best of Ireland, whetting their appetites.
The hub's purpose was to excite and educate our audience on the breadth of amazing experiences across the island, then inspire them to book by linking through to a sponsored search results page.
"We loved our inspiring destination hub page. It was the perfect way to showcase the island's wealth of experiences and drive people to book."

Eileen Pranger, Tourism Ireland
Our sponsored results page targeted travellers at the end of the booking funnel, its striking imagery and call to action encouraging them to book their trip.
Always-on optimisation
Not happy with just sitting back and watching the conversions come in, we worked closely with Eileen and her team to continually optimise the campaign.
The budget was kept flexible so money could be quickly redistributed. If an ad placement was underperforming, we moved it to get more clicks. If budget needed reallocating to drive more engagement, we did this too.
Results
The campaign created a big uplift for the island of Ireland, with bookings exceeding the objective by 236%.
Facebook, Instagram and display ads grabbed the attention of travellers, achieving click rates nearly double the Skyscanner average. Our content really resonated too; travellers on our hub page spent 1.34 minutes on average reading each article.
If you'd like to find out more about how Skyscanner works with travel providers and the advertising solutions we offer, please get in contact right here.
View all articles