As the world reopens, how will technology help travellers get back out there, which innovations are still needed and what does travel's sustainability roadmap look like?
Watch Stephanie Boyle, our Head of Global Industry Communications, at this year's A World for Travel Forum to discover the role of tech in powering travel's next chapter.
Speaking at the event in Evora, Portugal, Stephanie discussed the importance of innovation in building a more sustainable future for aviation and educating travellers to make more environmentally friendly choices.
Stephanie comments:
"We have a responsibility to educate, to attract attention and to ensure that people, when they travel, have the choice to travel more sustainably. By sharing data with them, we give them the power to act in favour of the environment."
Stephanie also talked about the sustainable solutions we've launched at Skyscanner and the ways they empower travellers to make more sustainable choices. They include:
Our 'Greener Choice' flight label and filter, which inform travellers which flights emit less CO2 on a particular route.
Selecting CHOOOSE as our Direct Booking carbon offsetting partner, which runs carbon reducing and carbon removing projects around the world.
Partnering with SkyNRG, the pioneer and global leader in developing sustainable aviation fuel.
Joining Booking.com, Google, TripAdvisor and more as a founding member of Travalyst, a non-profit working to bring sustainable travel into the mainstream.
Joining Stephanie were Don Leka, Founder & CEO of Jumptuit, Tony Smyth, SVP of i-Free Group and Professor Lloyd Waller, Executive Director of Global Tourism Resilience & Crisis Management Centre.
Together, they touched on how technology is critical in tackling the climate emergency, accelerating the adoption of smarter, more sustainable travel, and increasing safety and security for travellers and destinations.
Double jabbed: Relaunching our COVID-19 travel map
We've refreshed our live COVID-19 travel map so travellers can enter their vaccination status. It's now easier for them to see more relevant destination entry requirements and restrictions based on whether they're fully vaccinated.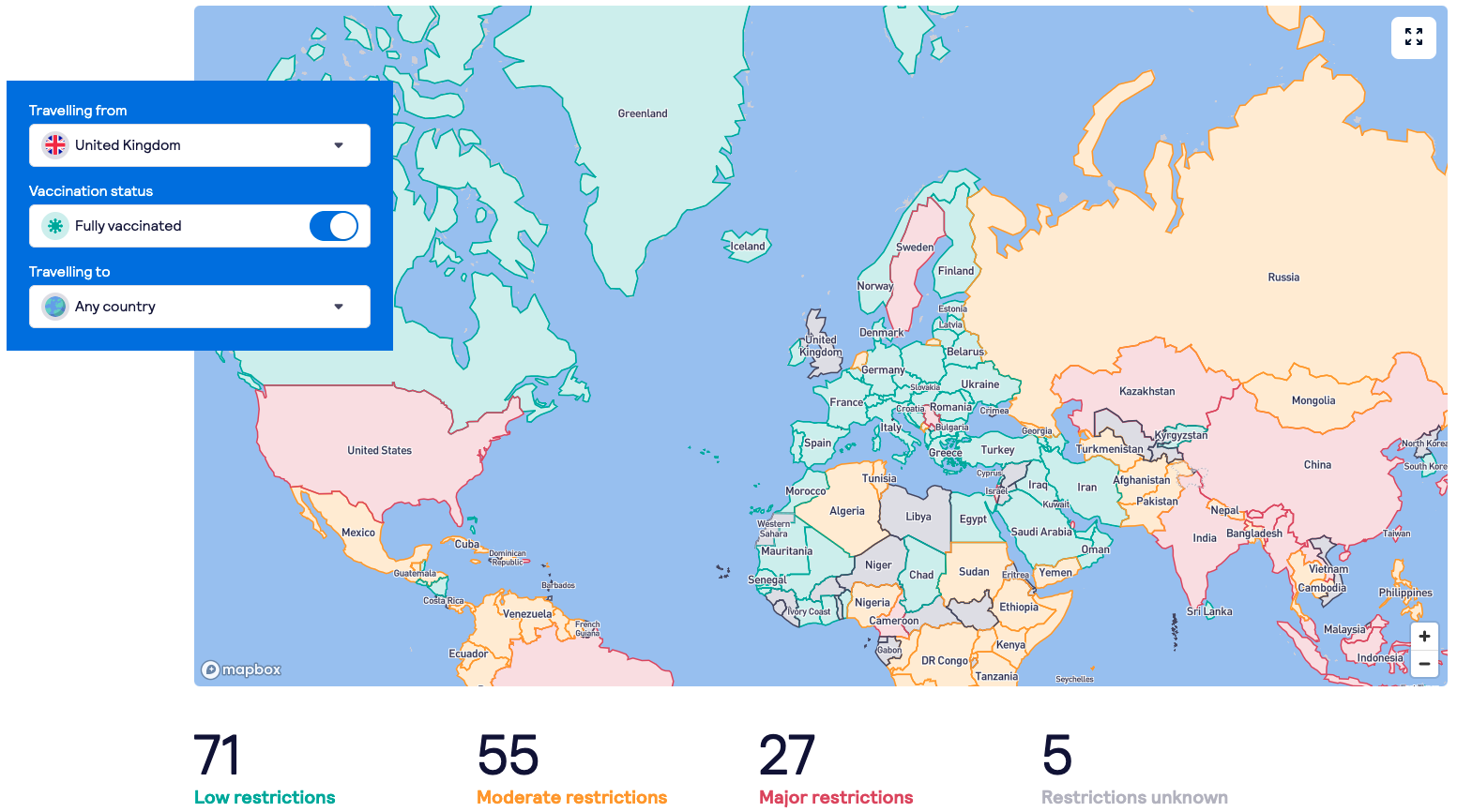 Our COVID-19 travel maps enables users to navigate live travel restrictions and bans.
At a glance, travellers can now see restriction levels for every nation in the world from their origin destination, as well as select individual countries for a more detailed breakdown, including testing requirements, COVID-19 case numbers and information on what they can expect when they're there and what's open.
Since its launch, more than 34 million travellers have engaged with our map.
View all articles