Discover what and where's trending with our snapshot reports
Our Skyscanner Horizons series reveals the latest global trending destinations and booking insights for a unique snapshot of how people are thinking about travel.
Based on our forward-looking traveller search data and specially commissioned global surveys, each report shines a spotlight on future travel trends, evolving traveller behaviour and opportunities for our partners in global markets.
Latest report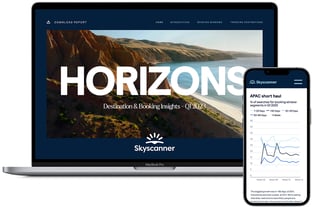 Skyscanner Horizons: Traveller look East – but where's trending and when are they booking
Discover the world's top 10 trending destinations vs 2022, the growth of travel demand for destinations across Asia-Pacific and how longer booking windows are signalling a return of confidence.
Previous reports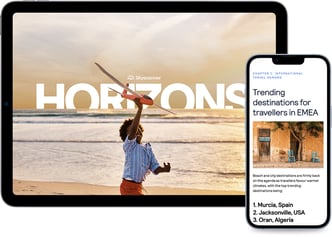 Skyscanner Horizons: Travel's resurgence continues – but how are travellers redefining value?
Combining Skyscanner's traveller search and redirect data and a survey of 11,000 travellers in 11 markets, we showcase the latest global traveller behaviour, spending insights and destination trends.

Skyscanner Horizons: Travel's resilience & trends shaping recovery
From traveller budgets and spending habits to the most popular bucket list destinations, we reveal 2022's biggest trends as travel continues to bounce back.

Skyscanner Horizons: Emerging traveller behaviour as the world reopens
In our second Horizons report, we share a snapshot of changing traveller attitudes and growing demand in new direct routes as travel's recovery continues.

Skyscanner Horizons: The return of travel
Based on three years of search and booking data, we shine a light on how traveller behaviour and trip planning are evolving ahead of 2021's peak season and share the latest insights on what the new world of travel will look like.
View all articles