"The collaboration with Skyscanner played a key role in promoting the Maldives as one of the most desired and safest destinations in the world during the pandemic. A powerful mix of advertising and content creation ensured we reached the right people at the right stages of their booking journey, achieving 9.6 million impressions."

Mr. Thoyyib Mohamed, Managing Director, Visit Maldives
Overview
In October, Visit Maldives partnered with Skyscanner for a three-month campaign to promote the country as a safe destination during COVID-19.
Using Skyscanner data to identify target markets, paired with new ads formatting and customised content, our solutions-based approach successfully spread the message to travellers – hugely increasing awareness, searches and bookings.
Working closely together and agility were key, as we swiftly adjusted and optimised the campaign in response to government policy changes during this unprecedented period.
The impact
Achieved 9.6 million impressions, with click through rates reaching 2.17%, far exceeding the industry average.
Our article on Maldives activities amassed over 28,000 views, with time-on-page ranging from one minute 49 seconds to four minutes 42 seconds.
Beautiful isolation
In 2020, Maldives was one of the safest places in the world to visit. Its archipelago of 25 atolls, stretching out across the Indian Ocean, provided the quiet isolation and seclusion sought by many wanting to escape the pandemic.
The islands also boast year-round sunshine, stunning beaches, world-class resorts and are Asia's second least populous country – making it a very safe, peaceful and naturally isolated destination.
But with other Indian Ocean islands offering similar experiences, Maldives had to stand out and show how it's unique compared to the rest. So after the country re-opened its borders in July, we partnered with Visit Maldives to help increase awareness and bookings from people planning trips between October 2020 and January 2021.
Our approach: Celebrating the sunnier side of life
Through a blend of ad placements, social and content, we targeted travellers in the UK, Italy and Russia, who, heading into their colder months, would be seeking out some sunshine. Our message was simple: "The rest of the world is closed, but we are open."
We first reached travellers in the dreaming phase, then encouraged them to explore and book – always ensuring we talked to the right people at the right time to capitalise on travel intent and maximise messaging.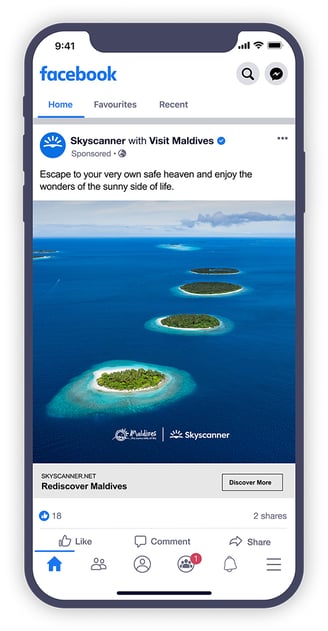 Paid Facebook feed post targeting travellers during the dreaming stage.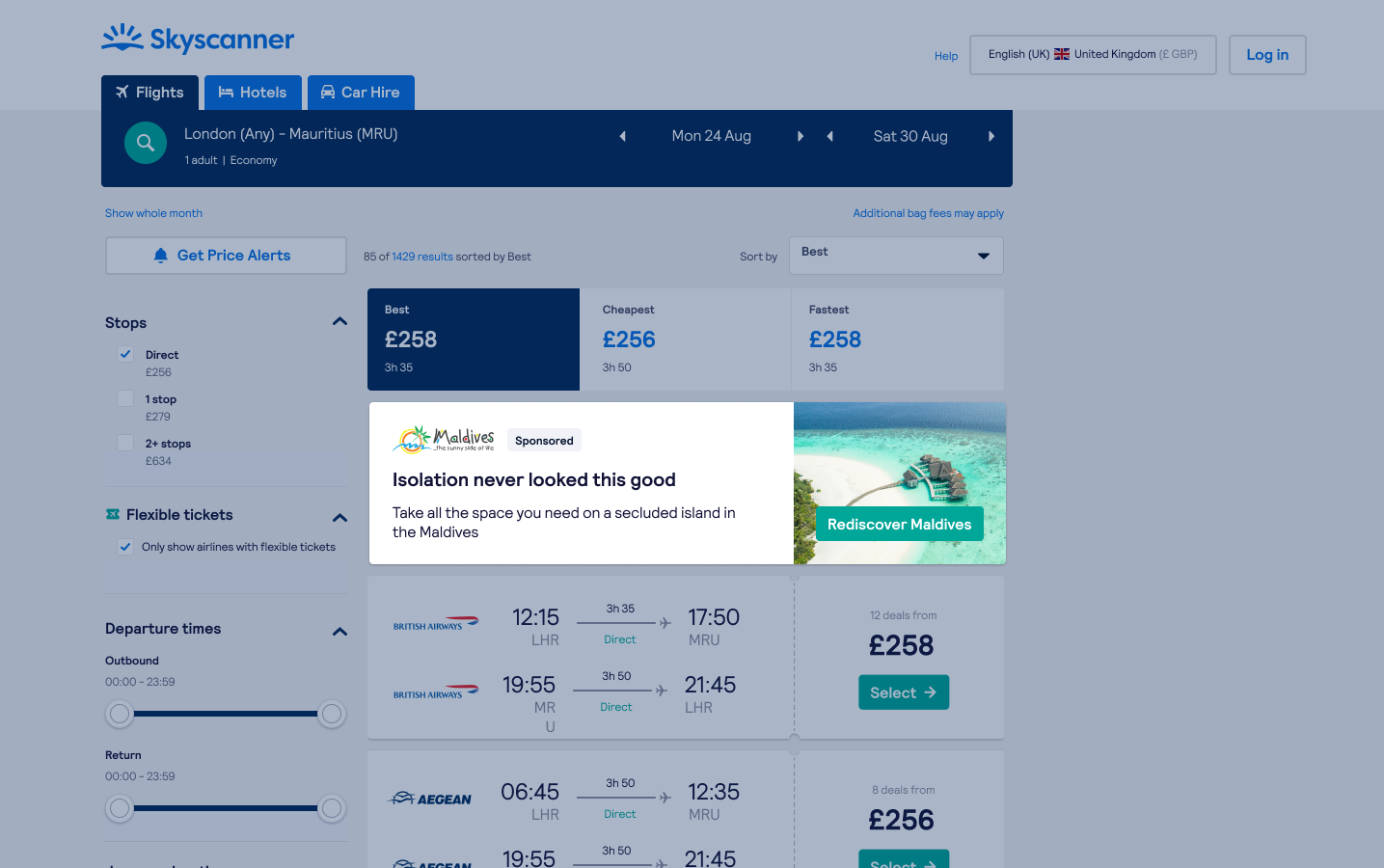 Native inline brand banner on a London to Mauritius search, driving traffic to visitmaldives.com.
We were able to track and report on the performance of all these assets, alongside monitoring the COVID-19 situation in our three markets – meaning we could keep the campaign agile.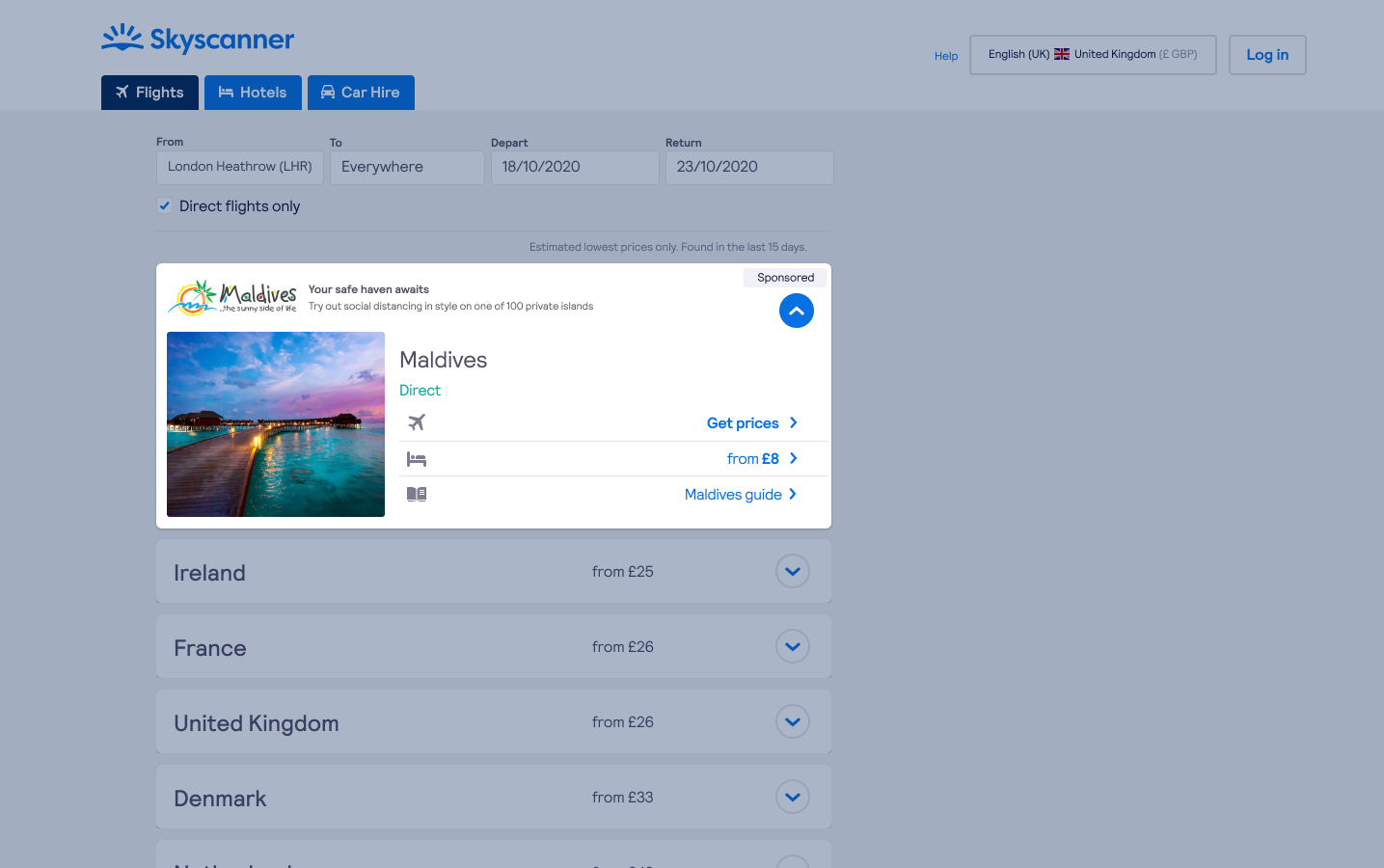 Destination spotlight on a London Heathrow to Everywhere search.
"We worked closely with Skyscanner and we can say that their strategy to quickly respond to market changes was essential during the pandemic. When the Italian government restricted travel, Skyscanner allocated more resources behind the campaign targeting the UK and Russian markets, ensuring Visit Maldives reached as much of our audience as possible."

Mr. Thoyyib Mohamed, Managing Director, Visit Maldives
Looking closely at the data, there was a sustained uplift in searches from October, with Russia leading the charge, closely followed by people from the UK.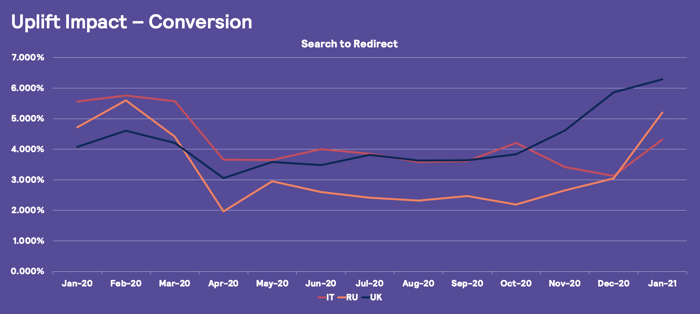 Bookings (conversions) from the UK, Russia and Italy.
Alongside Visit Maldives' other global campaigns, the country received the World's Leading Destination award at the World Travel Awards 2020 and became the number one destination for many airlines, including Emirates.
If you'd like to find out more about how Skyscanner works with destinations, please email destinations@skyscanner.net.
View all articles