I'm thrilled with how we've continued to build an excellent partnership with Skyscanner over the last 18 months. It's enabled us to accelerate sales as we come out of this challenging period by implementing new formats and testing new tools that provide us with the agility and speed-to-market that's needed in this ever-changing industry.

Bart Quinton-Smith, Director of Digital Marketing & CRM, TUI
Overview
Throughout COVID-19, TUI has used our dynamic Inline + ads to deploy engaging messages at speed, showcasing its flights and holidays as and when destinations became available.
TUI complements its Inline + ads with our Campaign Optimiser tool to boost advertising share of voice and performance on a tactical route-by-route level.
We work in partnership with TUI to help its budget go as far as possible and regularly share the latest industry trends and insights to help the team make data-driven decisions.
The impact
The CTR on TUI's Inline + ads increased by 26% on mobile and 30% on desktop.
Campaign Optimiser grew TUI's share of voice on several popular routes by up to 1,149%.
A world leader
TUI is the world's leading tourism group, with a portfolio of 1,600 travel agencies, five airlines, 400 hotels and a number of European tour operators. With roots stretching back to the 1800s, TUI's helped hundreds of millions of travellers explore the world.
TUI UK has been a Skyscanner metasearch and advertising partner for years, using our Inline + placements to reach and inspire people.
But during the uncertainty of the pandemic, TUI needed to reach travellers with new flights and special offers at much greater speed. As the brand's partner of recovery, we forged a smarter, insight-led approach using innovative tools, data and lightning-fast ad delivery.
Right message, right time
To boost the speed and relevance of its Inline + ads, TUI trialled our new Campaign Optimiser tool.
Campaign Optimiser allows TUI to analyse traveller demand, advertiser share of voice and investment potential at a route and market level – giving them the ability to build short tactical campaigns that grow share of voice and revenue. Campaign Optimiser is powered by our Travel Insight data tool.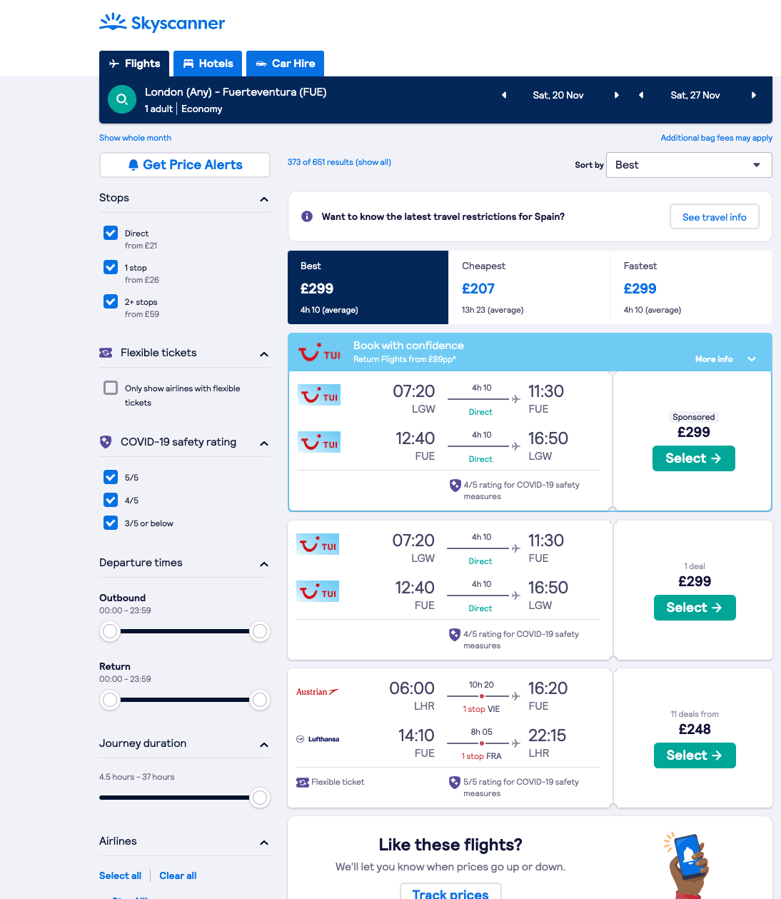 An Inline + ad on a London to Fuerteventura search results page.
TUI can now get responsive ads live very quickly, instead of days or weeks. Plus, budget can be allocated for the next seven, 10 or 14 days, as well as advertising space booked months in advance, so everything is ready to go. Once live, copy and image variation can be tested to drive maximum engagements and clicks.
"We get huge peace of mind being able to set up and schedule Inline + ads weeks and months in advance, especially for big events like Black Friday. And with Campaign Optimiser, we can then put extra support behind specific routes to reach as many travellers as possible."

Ella Swan, Digital Marketing Manager – Meta, TUI
The experience is even more cohesive when combined with homepage hero placements, social ads and branded destination spotlight pages.
As the weather dipped in the UK in late October, TUI sponsored our homepage hero, selling the warmth of Spain's Canary Islands to travellers at the very beginning of their search – in the dreaming stage of the booking funnel.


Sponsoring the hero slot on skyscanner.net.
Earlier in the year, TUI sponsored our London to 'Everywhere' search with Tenerife holidays when the island was added to the UK's green list this summer.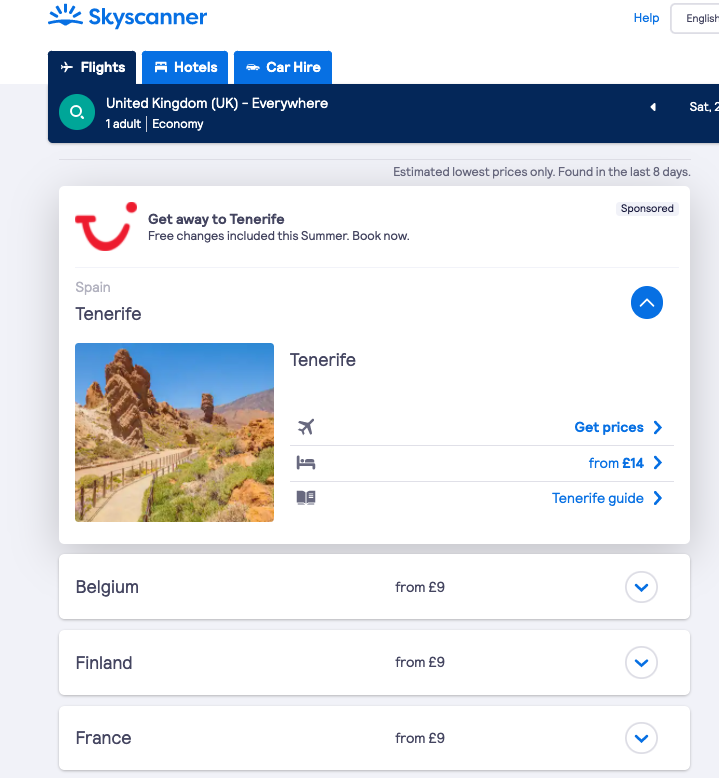 A destination spotlight ad for Tenerife on a UK to Everywhere search.
TUI is able to engage more travellers in this dreaming phase and encourage them to explore and book – capitalising on high levels of travel intent.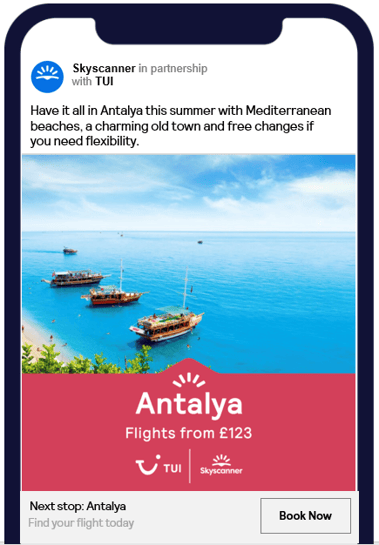 Paid Facebook feed post also targeting travellers during the dreaming phase.
Increasing TUI's share of voice
Campaign Optimiser tells TUI its share of voice across each route and who its biggest competitors are. We then work alongside TUI's marketing team to help manage their budget and ad spend, so they know where to upweight ads and allocate budget to make their money go further.
TUI is now more competitive with a growing share of voice on new routes, while having the ability to defend market share on smaller routes where it's traditionally performed well.
And to help keep TUI's finger on the travel pulse, we provide them with the latest market insights and travel trend and traveller sentiment data on a weekly, sometimes daily, basis.
The results
The advertising has been incredibly powerful. The CTR of TUI's Inline + ads increased by 26% on mobile and 30% on desktop – miles above the industry average.
Over summer 2021, TUI increased its share of voice across many of the UK's favourite destinations, including the Canary Islands and the Balearics – with share of voice growing by 616% on one particular route and 1,149% on another.
These numbers have been especially impressive given that many other airlines were targeting travellers on identical or very similar routes at the same time.
Fostering greater collaboration
But what happened when no one was flying? Well, the quietest periods of the pandemic gave us the chance to work with TUI on its recovery strategy and improve our ways of working, so it could hit the ground running as and when restrictions relax and travel continues its recovery.
What's more, we built bespoke dashboards for the team with all channels and reporting visible at a glance for an easy overview of how campaigns across Skyscanner are performing.
"The level of service is exceptional. Committing to high budgets in COVID is difficult, but Skyscanner always delivers it. We really feel like a valued partner."

Ella Swan, Digital Marketing Manager – Meta, TUI
TUI is already showing strong signs of recovery. In fact, it's invested a lot more budget with Skyscanner during September 2021 than it did in September 2019. And as the world reopens further, we'll be by TUI's side to ensure more people get back out there and explore the planet through one of TUI's world-class offerings.
If you'd like to find out more about how Skyscanner works with travel providers and the advertising solutions we offer, please get in contact right here.
View all articles