Introducing Travel Insight
Travel Insight - the forward-demand planning tool for the travel industry from Skyscanner for Business helps travel brands and airlines gain a unique insight into their customers' forward plans, drawing data from 190 million global searches every month. This provides an ideal decision making tool for route development, fleet/revenue management, destination marketing or making day to day trading decisions based on real time accurate data insights.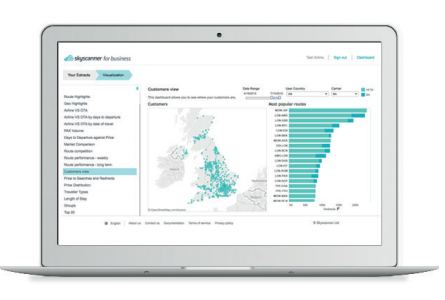 One partner that we've worked with to help future proof their business with Travel Insight is Iberia Express who have been working with Skyscanner for Business since February 2015.
Iberia Express on using Travel Insight
Iberia Express, the low cost company of Iberia Group, is a Madrid-based airline offering short and medium-haul flights. Since it got up and running in March 2012, the airline has flown over 10 million passengers on more than 75,000 flights. Iberia Express currently operates 36 routes domestically in Spain and internationally in Europe, with a fleet of 20 Airbus A320 aircraft. The airline also has codeshare agreements with LAN Airlines, Air Berlin, Japan Airlines, American Airlines, Avianca, Finnair, British Airways, Siberia Airlines and Royal Air Maroc.
"The Travel Insight product by Skyscanner for Business provides us with highly valuable and relevant information, in an easily consumable format. The team have been helpful and accommodating to work alongside – dealing with any questions we had quickly and efficiently. During certain occasions, the availability of the data really comes into its own; for example during peak periods of the year, the information helps us better understand the seasonality of our digital channels.
— Trevor Martin, Head of Revenue Management & Network, Iberia Express"
Since beginning working with Travel Insight, Iberia Express have gained insights and visibility on where customers have purchased their tickets from, as well as lots of other valuable pieces of information – extending beyond the traditional types of data available through legacy products. For Iberia Express, some of the most useful nuggets of information they now have visibility on are conversions, referrals and pricing. They're then subsequently able to benchmark their performance in those aspects against competitors, across a number of markets.
What's more, Iberia Express have found that Travel Insight is an easy-to-use product with a straightforward user interface – enabling them to effortlessly pull out whatever information or data they need. The team at Skyscanner for Business are always on hand to make sure that the product is very usable, and are there to help tailor the data to Iberia Express's needs, making specific cuts of the data available to them.
Travel Insight data helps a variety of teams across Iberia Express, and is especially relevant to the Network Development team, Revenue Management (especially the price competitive data), the Web Quality Assurance team and the Marketing department.
Visit our Travel Insight page to find out how powerful our travel industry data really is.