Skyscanner will offer seamless facilitated booking to first Asian airline
Three-time Best Low Cost Airline Asia/Pacific 20171 – Scoot – has become the first low cost carrier to be featured onSkyscanner's Direct Booking platform.The new integration also means that Scootbecomes thefirst airline in the Asia-Pacific region to be able to sell tickets directly withinSkyscanner'splatform.
The first phase of roll out, initially to Australia, Singapore, India, and UK markets, will enable Skyscanner users to search and bookScoot air fares directly withinSkyscanner desktop and app,with added extras such as baggage and choice of seating to be added in the near future.
Skyscanner's Direct Booking platformgives airlines and travel providers a powerfulbooking channelenabling travellers to research, choose and immediately bookitineraries withinSkyscannerwithout having to re-directto supplier sites.Because Skyscanner facilitates the booking, the service offers carriers a seamlessand instant way to capitalise onSkyscanner'strafficwith heightened conversion rates and the opportunity toeasilyup-sell their ancillary products.
The latest Direct Booking partnership comes thanks toSkyscanner'srecent integration oftheNavitairereservation system into their platform,meaningthat the leading travel search engine is now in a position to handleintegrations for any carrier using the system.
Filip Filipov,Director of Product at Skyscanner commented:
" "We are delighted to have partnered with Scoot to offer travellers the opportunity to search and book their fares seamlessly within our platform. At Skyscanner we believe direct booking is the evolution of metasearch ensuring that travellers continue to have their booking facilitated directly within the site, with a seamless transaction from start to finish."
"We believe our powerful direct booking capability is good for customers who can complete their booking with as little friction as possible, and good for airlines, giving our partners like Scoot the ability to showcase their ancillary product options directly to the booking customer with a fully Scoot-branded checkout flow. With our platform's compatibility with any NDC-ready provider, and the ability to support several other integration types, we intend to remain ahead of the curve in offering our partners industry-leading distribution options." "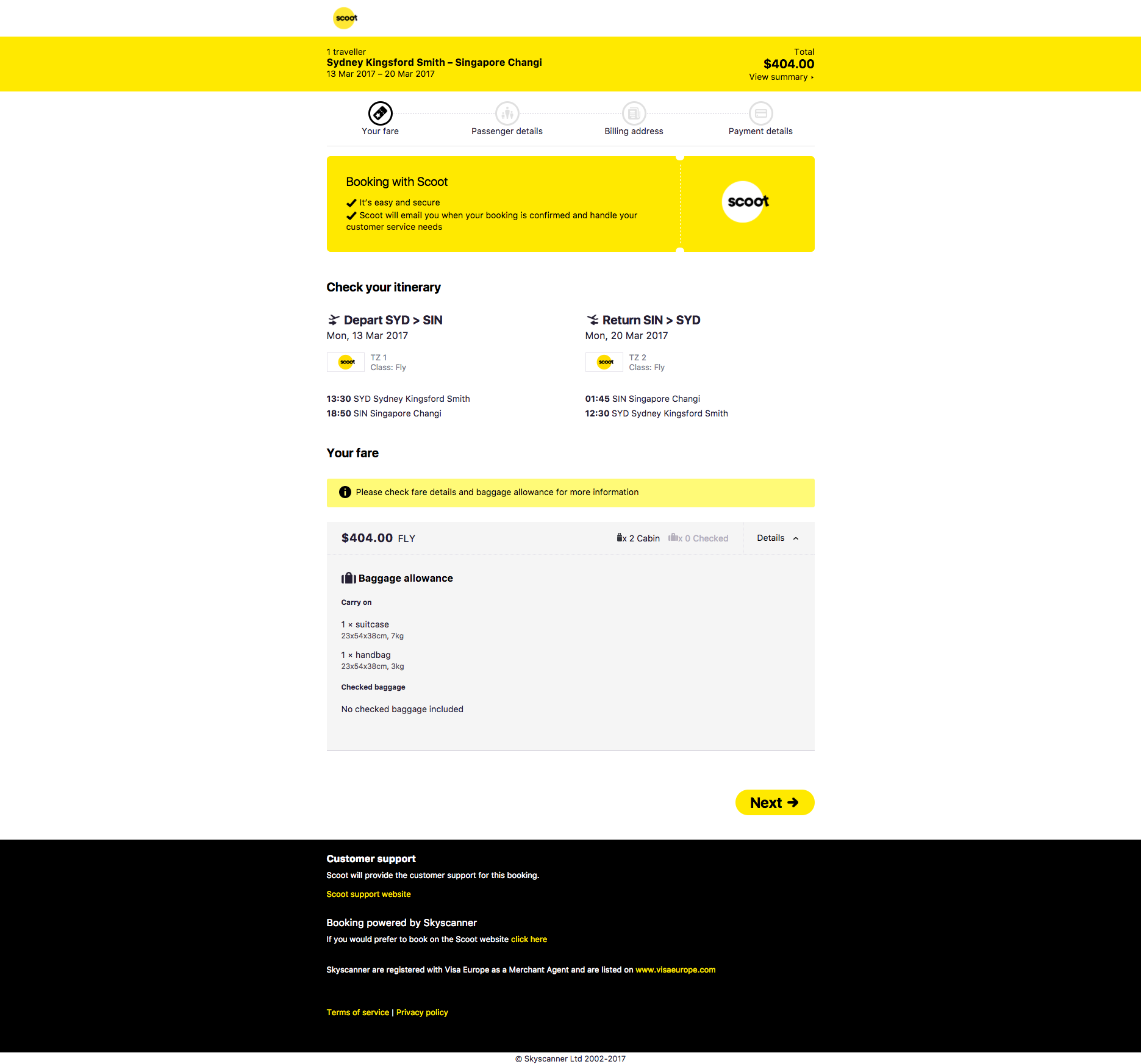 Leslie Thng, Chief Commercial Officer of Scoot added:
" "Scoot believes strongly in the global appeal of our product proposition, which combines great value air fares with an extensive range of innovative inflight amenities and ancillary products. Scoot's network presently spans 23 cities across Asia Pacific. Now that we are preparing to spread our wings further with our first truly long-haul route from Singapore to Athens from June 2017, it is more important than ever before that we continue to broaden our customer reach worldwide. Coming onto Skyscanner's Direct Booking platform will stand us in good stead in this regard,"
To mark the launch, Scoot is offering customers booking through Skyscanner a limited-time promotion of up to 20% off selected FLY fares (base fare only, without baggage and meals) on all Scoot-operated flights, valid from 23 January to 12 February 2017. For now, only Scoot's FLY fares are available on Skyscanner, with more options to be made available gradually*.
Want to find out more about Skyscanner's powerful Direct Booking solution? Learn more here or get in touch.