The opportunity
Emirates was looking to work with Skyscanner, a trusted advertising partner, to improve their return on investment – specifically by reducing their cost per flight search. Having worked with us in 16 markets, they knew that our Direct Response advertising options would deliver results, and so we set out on a journey together to improve performance through testing and optimisation.
The experiment
At the start of the campaign, Emirates had a clear vision of its messaging, but some doubts as to the optimal creative. Therefore, we provided the opportunity to run a live experiment on a sample of our users, to determine which creative would provide the highest conversion rate and lowest cost per flight search.
Creative A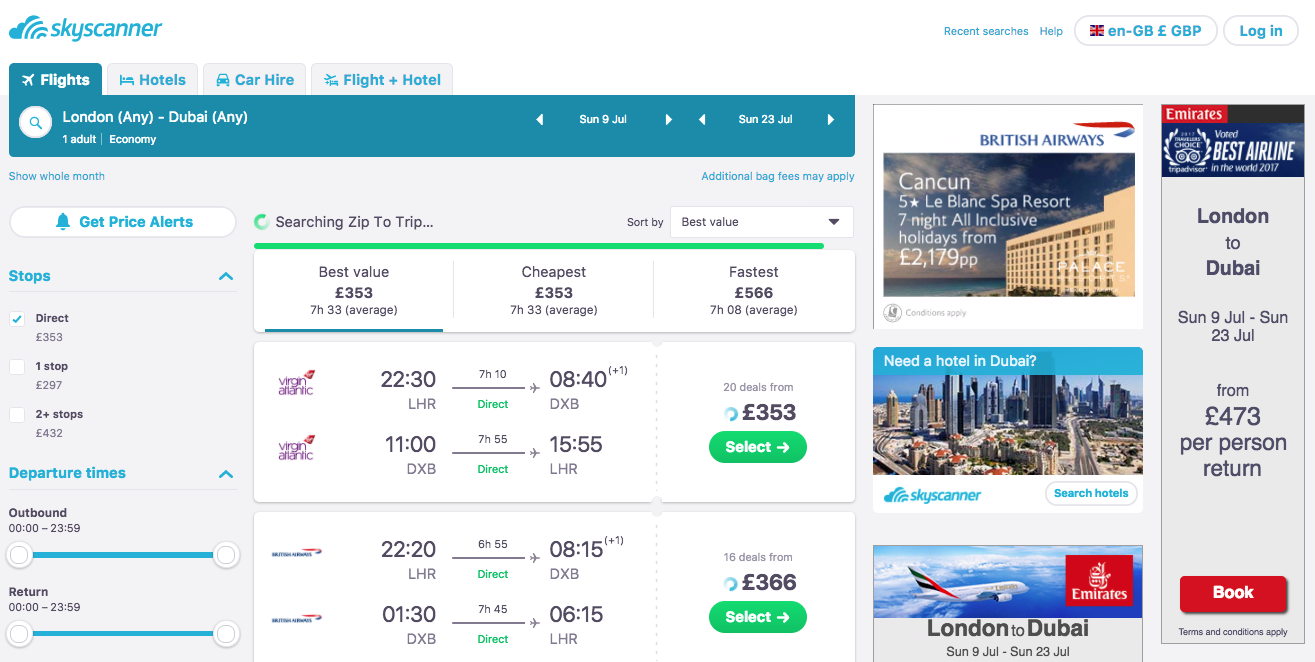 Creative B
The results revealed that Creative B had a 124% higher conversion rate than Creative A. This also meant that it reduced cost per flight search by up to 70% across markets - ensuring that the campaign delivered the strongest possible results from the outset.
The solution
With the messaging and creative optimised, we could ensure that Emirates' Direct Response campaign delivered at – or below – their cost per flight search cap.
Given that the campaign was to be optimised based on Emirate's 'cost per flight search' metric, a combination of our premium native dynamic and in-line advertising placements was used to maximise conversions. Additionally, to maximise the return on investment, we targeted relevant routes and languages; enabling a localised approach on a global scale.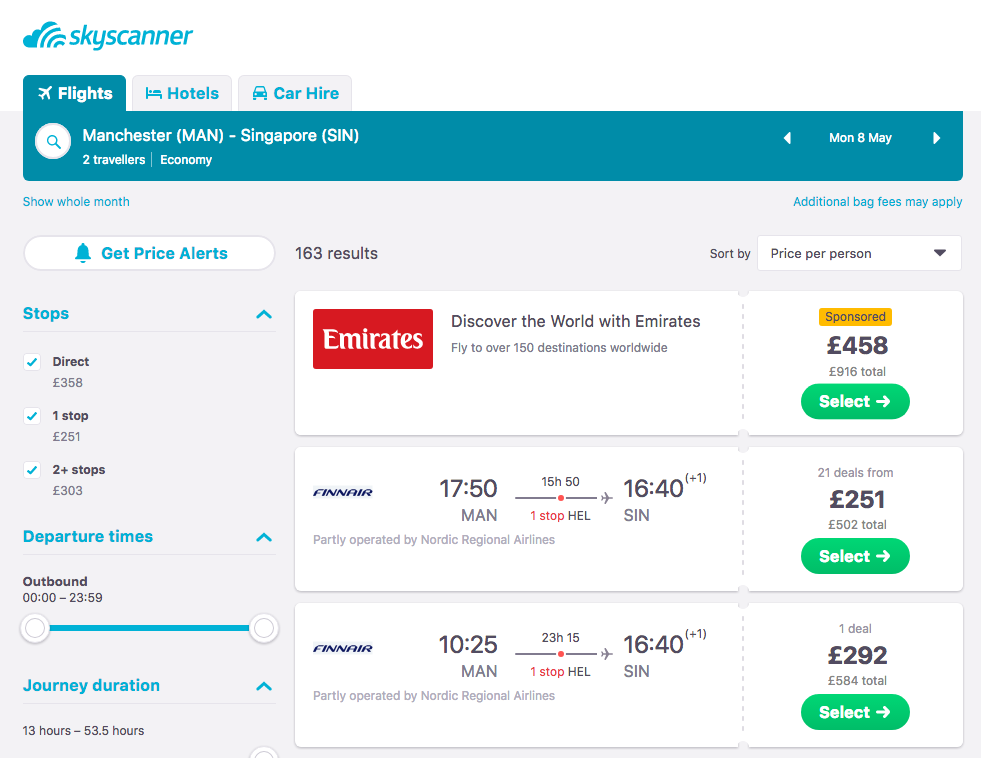 In-line placements also meant that Emirates could customise the messaging across the different routes. This presented the opportunity to highlight sales, and make new route announcements, whilst also showcasing the flight and price details.
Additionally, we improved operational efficiency and advertising performance through the centralisation of Emirates' planning in cooperation with their agency, Havas. Instead of working with budgets on a regional basis, this centralised approach meant that Emirates could maximise their return on investment globally by rolling-out their best performing ad placements globally, and easily reallocate budget based on market performance.
Finally, in addition to constantly monitoring the campaign, the Skyscanner advertising operations team held bi-weekly calls with Emirates' advertising agency and an Emirates representative. This ensured that in-house expertise was leveraged to maximise performance, and that any points for discussion could be covered and actioned during the conversations with Emirates' representative and agency.
The results
The strong performance that Skyscanner delivered, and the relationship that was built, resulted in Skyscanner working with Emirates across 45 markets. An increase in market coverage of 181% from the start of the campaign. Additionally, Emirates are meeting their Cost per Flight Search objective across all 45 markets.
"We are now meeting Emirates' Cost per Flight Search objective across 45 markets, having conducted experiments to ensure performance is optimized globally. We are pleased to be delivering such strong results, and excited to continue to build on our relationship and drive even better results."
— James Stephens, Senior Commercial Manager, Skyscanner