Last year Skyscanner partnered with Edinburgh Airport , powering the airport's flight search tool, and enabling passenger's to see the travel options available to them from Scotland's capital city transport hub.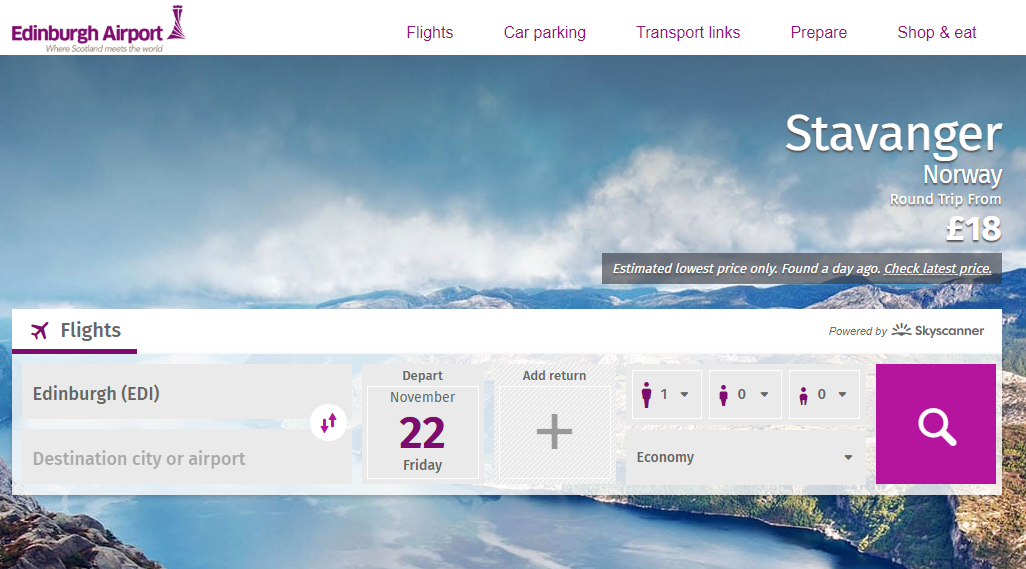 The value of Edinburgh Airport's new flight search tool
Edinburgh Airport, Scotland's busiest airport which processed over 10 million passengers last year, integrated the flight search solution last November. The solution provides the airport's travellers with the ability to quickly and easily make travel plans and book their flight, all from the convenience of Edinburgh Airport's own site.
"We wanted to offer passengers the ability to book flights on the Edinburgh Airport website, and we felt that using a White Label platform from the leading flights comparison service would offer the best service for our passengers. Our users quickly want to be able to see what flights go where from Edinburgh Airport and then to buy them - the White Label which Skyscanner for Business designed for us allows for passengers to do this.
— Rob Lang, Head of Marketing, Edinburgh Airport"
Developing a custom solution with Skyscanner
Skyscanner developed the search engine, customising the tool to fit with the Edinburgh Airport branding that their users are familiar with. The flight search White Label has also been adapted to be offered on Edinburgh Airport's mobile responsive website, and will soon be integrated into the airport's app – making travel planning easy and accessible on the go too.
Partnering with Skyscanner has provided tangible benefits to Edinburgh Airport. Since integrating the White Label, the airport has seen increased revenue from passengers booking flights via the Edinburgh Airport website, as well as receiving great feedback from satisfied customers who have used the excellent service.
Moving forward with the partnership
The progress for the partnership doesn't stop there. Look out for more great things to come in the future; next year Edinburgh Airport will be integrating the White Label into their new site and also plan to make use of the data they're getting from the service to better understand what routes their customers would love to see from Edinburgh Airport in future.
Interested in delivering a bespoke flight search service to your passengers? Get started with the Skyscanner Travel APIs now.