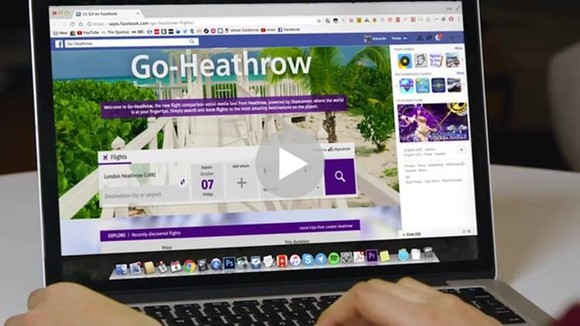 The UK's hub airport Heathrow has today launched the first flight aggregation Facebook tool Go Heathrow, in partnership with Skyscanner, to help customers with their search for the best deal when flying from Heathrow.
The Go-Heathrow tool
The new tool sits within Heathrow's Facebook platform, making it the first time this search based technology has been used on social media. Go Heathrow allows Facebook users to search and book their Heathrow flights directly from the social media page.
The tool is easy to use and is designed to ensure users find the most competitive fares for their chosen destination across a wide range of airline and travel websites. This is the first time Heathrow has directly supported airline partners with ticket sales bringing together over 180 destinations in 85 countries from Heathrow together in one place.
Thoughts on the partnership
Head of Passenger Communications, Marc Ellams said: "We are excited to be launching this new technology which gives Heathrow passengers a useful and innovative tool for getting the best fares and journey plan that suits their individual needs. This new technology aims to make planning the next adventure as simple as possible, bringing the world to our customer's fingertips."
Mike Ferguson, Senior Commercial Manager for Skyscanner said: "We are delighted to have worked with Heathrow to create this bespoke and highly innovative new flight search tool for users. This is the first time Skyscanner has partnered with an airport to build a travel search tool within their own social media profile, and I believe this inventive travel search mechanism represents an exciting new way for travellers to engage with Heathrow and find their next holiday all within their Facebook feed."
A summary of the new service is available on the Heathrow Facebook Page.