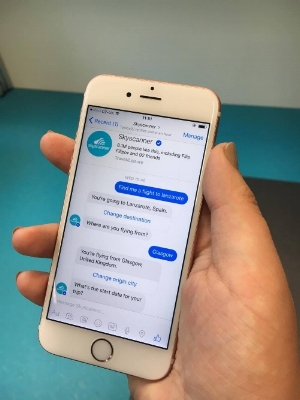 Skyscanner has today announced the launch of a Facebook Messenger bot allowing users to search for flights conversationally - powered by travel search engine's cutting edge APIs.
Available to any Messenger user typing in English, travellers will be able to interact with the bot to ask for live flight prices, as well as to ask Skyscanner for destination inspiration.
About Skyscanner's Messenger bot
The flight search bot responds with answers to user travel queries in a natural conversational manner. Messenger users can then follow a link to Skyscanner's site to book their chosen travel itinerary.
Skyscanner has been an early adopter when it comes to the recent conversational search trend. Earlier this year the metasearch site became the world's first travel search brand to create a voice search skill for the Amazon Alexa voice service and now with the launch of the Messenger bot, Skyscanner has ensured that it has been ahead of the curve in the travel search space.
The Messenger bot combines several components of Skyscanner's innovative technology. In addition to the travel search engine's powerful flights API data, the bot also returns inspirational destination suggestions based on user search trends and cheapest pricing, similar to the 'Everywhere' functionality in its website and apps. Users can simply type "not sure" when asked where they wish to go, and suggestions start to appear.
Applying Skyscanner's API Technology for Conversational Search and the Messaging Economy
Skyscanner's B2B partners have also been using the search engine's innovative technology to build conversational search tools, including calendar scheduling start-up Meekan, who have built a bot for Messenger powered by the Skyscanner Flights API to tie in with their diary scheduling suite.
Filip Filipov, Director at Skyscanner commented, "The messaging economy and conversational search are areas which we believe are incredibly important evolutionary features for the travel industry. It has been a top priority for us to take a pioneering approach when it comes to building a bot for the Messenger Platform. We want to make travel search as easily accessible as possible, and believe that the launch of our Messenger bot will allow more people to search for their travel in a fun and informative way."
The Skyscanner bot can be found by visiting m.me/Skyscanner.