The importance of China as a travel and tourism market over the past few years has not gone unnoticed; China was the fastest growing outbound travel market in 2016, according to the latest ITB World Travel Trends Report, and looks set to overtake the US as the worlds leading business travel market, with Ctrip Corporate Travel predicting a 10% growth in 2017.
With both leisure and business travel from China shaping the international travel industry, therefore, it is of some interest to understand where Chinese travellers are keen to travel to, as this will help inform route planning for travel businesses.
Using our Travel Insight tool, we've collected all the search data from 2016, with the user originating in China, to give an indication of what destinations are the most searched for.
The graphs below show the top five searched-for cities in APAC, EMEA and AMER, and how many users originating in Beijing and Shanghai (blue), and the rest of China ('Others' in grey), have made a search for these destinations.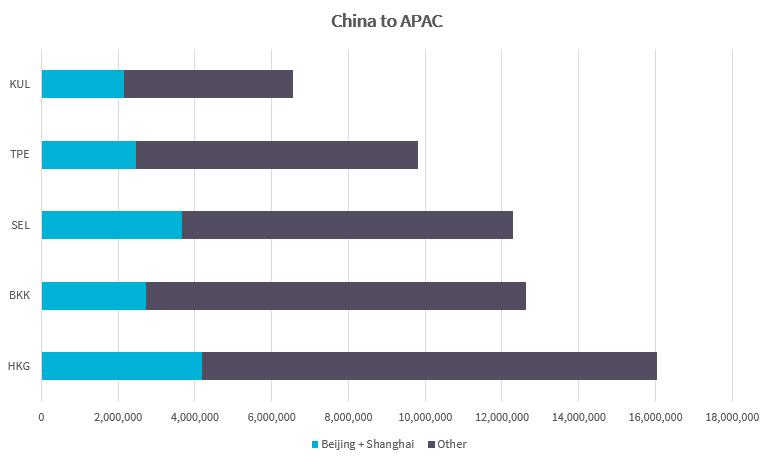 As we can see, the most popular destination in APAC is Hong Kong, with just over 16 million annual searches; incidentally, this is also the most popular destination globally for travellers originating in China. The fifth most popular destination for travellers from China is Kuala Lumpur, in Malaysia, with around 6.5 million searches.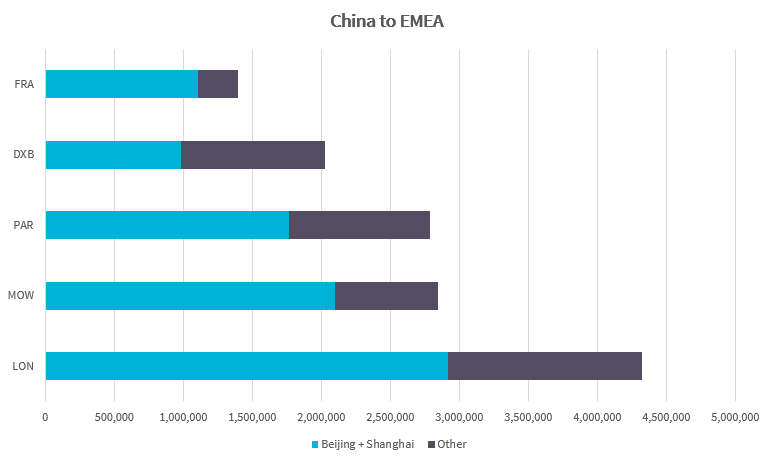 Looking further abroad, we see that the destination in EMEA with the most Chinese searches is London, with just over 4.3 million annual searches. It is interesting to note here that, while London is the most searched-for destination in EMEA, it is still less popular than Kuala Lumpur; it would appear that China is no different from other regions in that the general preference for travellers is to stay within their own region. At just under 1.5 million, Frankfurt is the fifth most search-for destination in EMEA.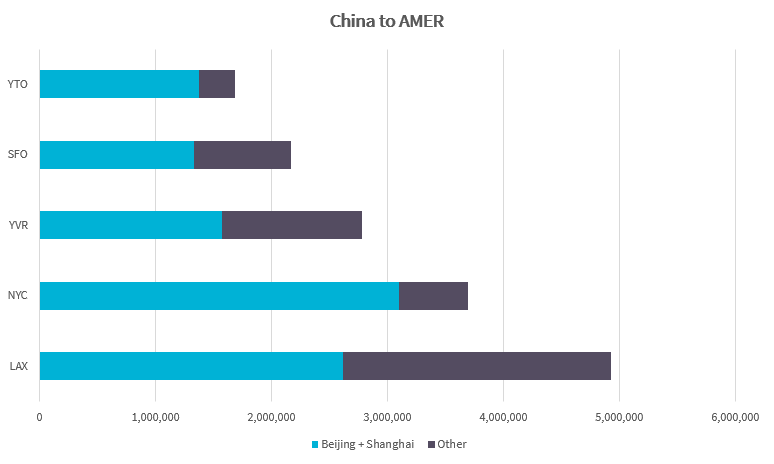 Finally, we looked at the search volumes for cities in AMER, and found that the most searched-for destination is Los Angeles, with nearly 5 million annual searches originating in China. Toronto was the fifth most popular, with just over 1.5 million.
While the destinations shown above may not be ground breaking - they are also popular destinations for travellers originating outside of China after all - the growth of Chinese travel suggests that flight volumes for these routes are only going to increase; travel companies should be ready for this, and plan accordingly.
Interested in getting access to more data?
Skyscanner's Travel Insight tool captures global search data and traveller intent from the search engine's 60 million+ monthly visitors, offering a comprehensive big data set to help businesses accurately predict future travel demand - helping drive competitive advantage.