As the large legacy US carriers make moves to introduce basic fare economy classes, there is an increased focus on US travellers' desire for low cost air fares. The rise of the ultra-low cost model has also brought further competition to the legacy carriers too.
In the latest of our industry trends and analysis partnership series, we team up with OAG to shed some more light on regional variations in preference for ultra low-cost versus legacy choices, price differentials on certain competitive routes, route networks and look at the differences between air craft sizes and seats.
The rise of low cost in the US: The three groups of players now in play
The US legacy carrier group, which consists of United Airlines, American Airlines and Delta, may have begun to introduce basic fares but they are competing on a twin front. Firstly, there's the Low-cost carriers (LCCs) such as Southwest Airlines and JetBlue who have been challenging the legacy airlines in the market now for quite some time.
A newer group to enter the fray, however, are the ultra low-cost carriers (ULCCs). Spirit Airlines, who according to OAG are the now the 7th largest US carrier, operates 2.7% of the seats operated by US domiciled airlines and Frontier Airlines, the 8th largest carrier, operates a further 1.5%. Together they operate 4.2%, but this is on the rise, up from 2.9% just three years ago.
Mapping regional preference: Great Lakes region favours Ultra Low-cost while North East is still a fan of Legacy
While there has been widespread acknowledgement in the rise of preference for low-cost fares, Skyscanner data points to a variation between regions in the uptake for tickets by the ultra low-cost carriers versus legacy.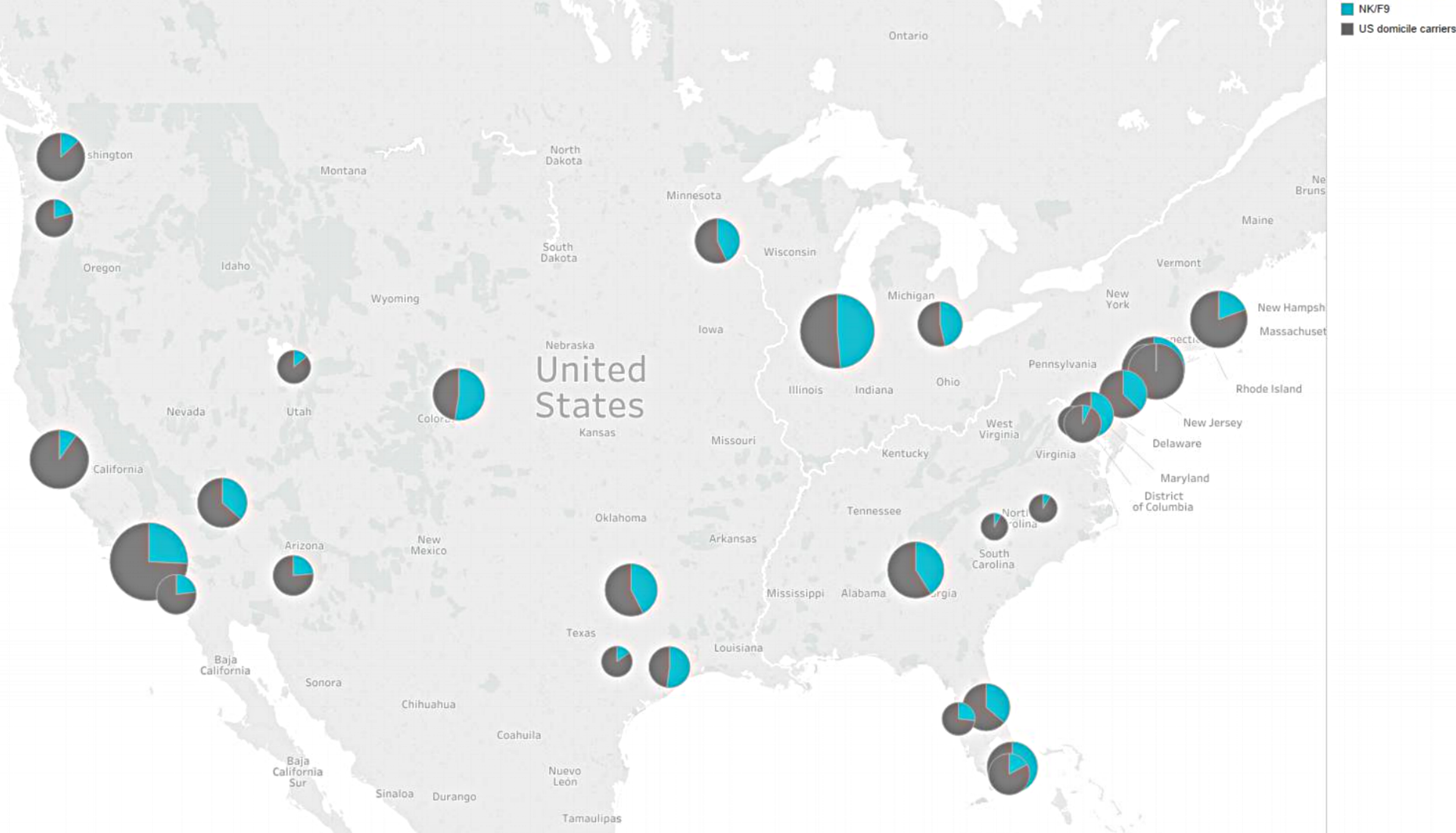 Skyscanner map showing sum of seats booked based on Origin airport
Skyscanner stats indicate that the Great Lakes region, in particular, has a greater preference for ultra-low cost. Domestically, almost half of all bookings made for flying out of the Chicago area were for ULCCs, showing the potential for Spirit and Frontier to begin to consolidate within that area of the country. Ultra low-cost carriers also appear to be doing well in the Mid-West with over half of domestic seats booked out of Colorado being with either Spirit or Frontier, while the South-East hubs in Atlanta and in the Floridian cities also have a reasonable uptake for NK or F9 seats.
Perhaps the reason that the ULCC's have a greater presence in the mid USA markets is because the lucrative coastal cities have already been dominated by the legacy carriers. Skyscanner data shows that the North-Eastern seaboard regions including the hubs in New York City and Boston are still seemingly dominated by a preference for legacy carriers. Although showing slightly more preference for ULCCS than its Eastern counterpart, the West Coast also appears to be more in favour of legacy carriers. Around three quarters of booked seats on Skyscanner out of LA for example are for United, Delta or American, while in San Francisco the legacy airlines remain dominant.
It is not a surprise that the major airline consolidations that have taken place have to a large part been about locking down and consolidating in those markets where yields are higher, demand higher and more service based sectors exist.
Exploring price differentials
Frontier's largest route in term of seats according to OAG is Denver (DEN) to Salt Lake City (SLC). Skyscanner data shows that compared to the legacy carriers' pricing on that route, Frontier's pricing competitiveness has fluctuated greatly over time. Back in February 2015, Frontier tickets on the route were actually slightly above those of legacy carriers, but have dropped down as much as 70% below legacies as of December 2016, and have sat at around 50% lower more recently in March 2017. This indicates that when needed Frontier has been able to drop and raise its pricing against the legacy ticket costs, although it almost always has historically offered these tickets at a significantly lower rate.
Meanwhile on Spirit's largest route – New York to Fort Lauderdale - a similar pattern in the data is clear, albeit with less significant fluctuation in the percentage price differential. Back in January 2015 Spirit airlines pricing on the route was above that of the legacies but has since dropped below it extending to the greatest percentage price differential in February 2016 when tickets were around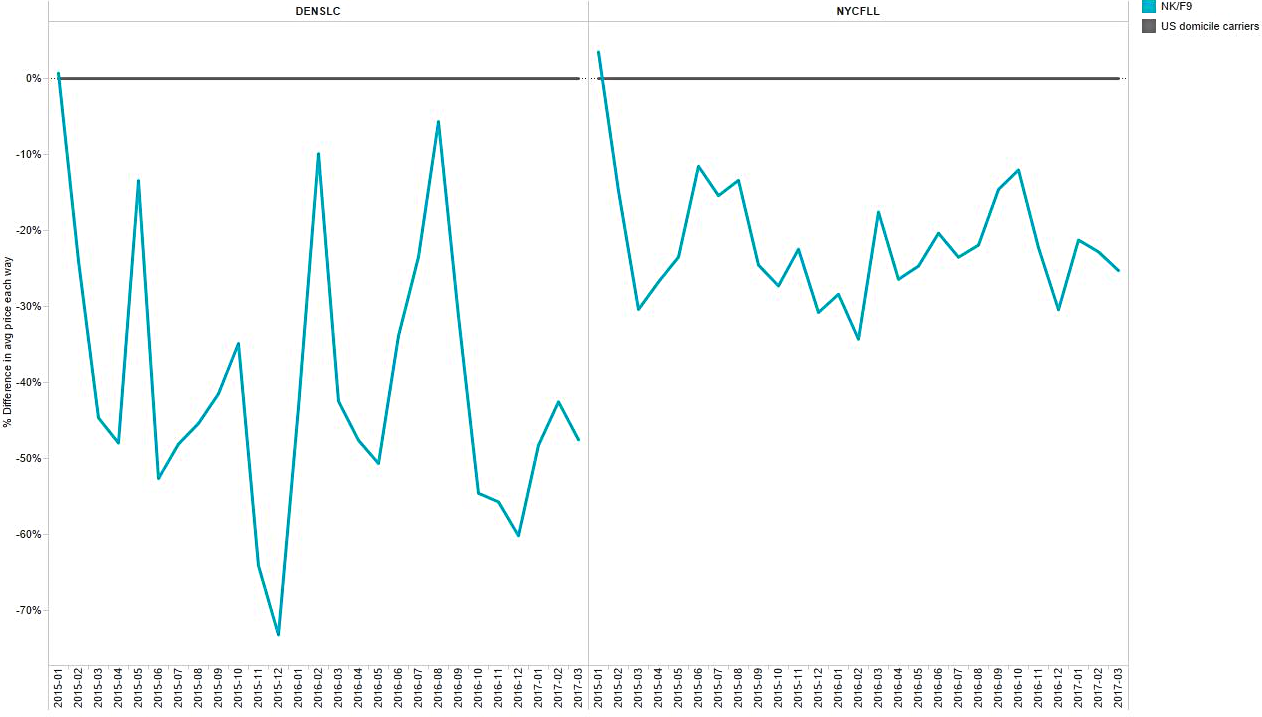 Chart by Skyscanner shows the trend in % difference between legacy carriers (grey flat line) and ULCCs (blue graph line) in average price each for each month for Den-SLC and NYC – FLL routes
ULCCs: Frontier and Spirit's Route Expanding Route Networks
OAG analysis shows that in February 2017 Frontier Airlines have added 46 routes to the total number operated in the same month last year, bringing the total to 139 routes. The number of airports served has grown from 7 to 52. Much of this expansion, says OAG is down in part to network restructuring which has seen the airline depart from a strategy of a hub-and-spoke system centred on Denver to a point-to-point network.
Over at Spirit Airlines, the volume of airports the airline is operating out of has remained steady , however there has been an expansion in the number of routes operated, increasing from 112 in February 2014 to 174 by February 2017.
In total OAG estimates Frontier Airlines is operating 7% more seats and Spirit Airlines is operating 12% more than the same time last year.
Measuring up: comparing Legacy US domicile carriers with ULCCS on seats and aircraft size
As OAG have noted, the launch of the 'Basic Economy' fares by the legacy carriers is an attempt to address the challenge, particularly from the ULCCs. While this will help them to compete on some fronts, it may not address cost issues for the legacies, which are tied around aircraft types and volume of seats.
The ULCCs - Spirit Airlines and Frontier Airlines- and the legacy carriers - American Airlines and Delta Air Lines - all operate is the Airbus 321. However the number of seats on each aircraft varies by group. While as the OAG chart shows, legacy airlines average between 187 and 192 seats per aircraft, the ULCCs are able to accommodate on average between 218 and 230 seats per plane. The maths here is pretty simple. The more seats on each aircraft equates to lower cost per passenger travelling, which allows the ULCCs to price their tickets more competitively.
Delving into the two largest routes per ULCC that we touched upon earlier is also telling when it comes to cost reduction. On the Denver to Salt Lake City route, Frontier operates the lowest number of flights yet it has the largest average aircraft size. Similar is true for Spirit Airlines' biggest route, from Fort Lauderdale to New York's LaGuardia Airport as compared with the legacy carriers when comparing frequency against aircraft seat numbers.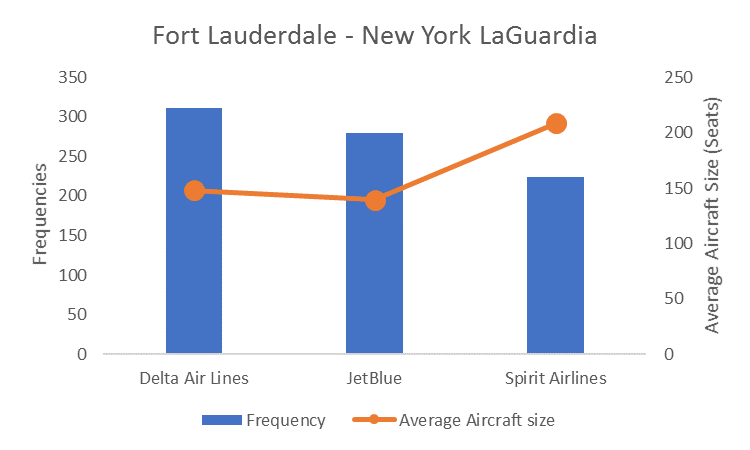 This article draws on data and analysis published by OAG North American Blog Series. The original OAG piece 'Cheap Dates- the US love affair with ultra low cost' can be found here.
Want to find out more about Skyscanner's cutting-edge data tool Travel Insight? Learn More