All Skyscanner White Label users are able to customise the look and feel of their White Label within the configuration engine. A key component of this is selecting the colour theme, or set of individual colours that will form the basis of the White Label.
With partners spending valuable time trying to determine the optimal colour scheme for their website, we started to ask ourselves whether 'umming and aahing' between blue and green was worthwhile and, subsequently, we decided to do a deep dive into how the use of colours impacted exit performance to see if it would provide any answers.
The Deep Dive Method
The data used was taken from all active White Label partners, over a three-week period, looking at the nine major 'Colour Groups' that can be set within the configuration engine
Colour Group 1: Text for currency/language text and search results timings, sharing and favourites

Colour Group 2: Main text for search controls, price, and flight details

Colour Group 3: Search icon, book button, pax icons

Colour Group 4: Filter icons

Colour Group 5: Filter selection, filter hover and lowest price chart selection

Colour Group 6: Drop down selections

Colour Group 7: Lowest price chart background

Colour Group 8: WhiteLabel search panels and search results bottom bar backgrounds

Colour Group 9: Main background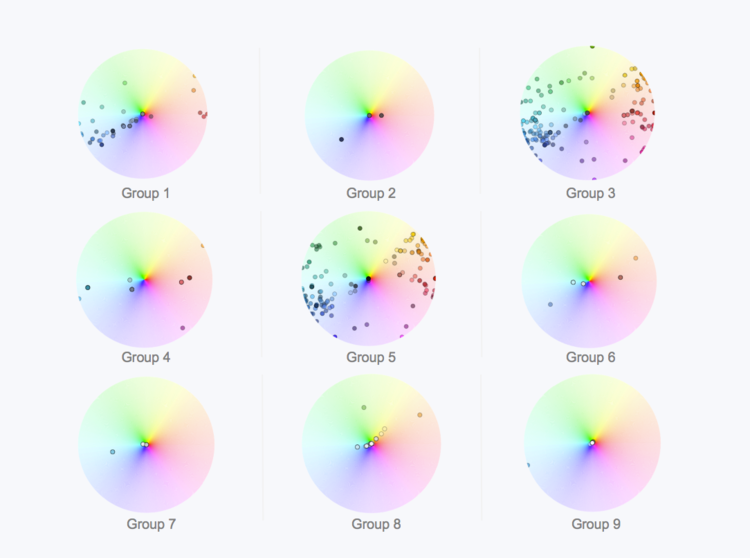 Our findings showed that the most popular colour theme for the White Label was the pre-set theme - meaning that the majority of White Label users do not configure their own colours. Additionally, in the cases where configurations were made, only Colour groups 1, 3 and 5 saw widespread use.
Taking the Colour Groups with the widest spread and quantity of data - 1, 3 and 5 - it is possible to start categorising the different colours into twelve main groups in order to identify the most popular colours.
Colour Group 1 has the highest tendency to be in the cobalt segment, or greyscale colours which are not shown on the wheel. For Colour Groups 3 and 5, cobalt and cyan are the most popular colour buckets. The investigation also revealed that certain colour buckets are being used a lot less frequently than others, with the blue/green or red/orange parts of the wheel being applied most widely.
The final phase of our deep dive was to investigate whether there was any relationship between the colours selected in Colour Groups 1, 3 and 5 and the performance of the White Label (based on user exit rates to downstream partners). This was achieved by splitting exit rate into two segments - low (<10%) and high (>=10%) - and running a series of chi-square tests.
Our Findings
The analyses revealed that Colour Group 1 colours (greyscale and cobalt) did not possess a significant relationship on performance (2(1, N=231) = 2.9, p=.09). Similarly, the popular colour selection within Colour Group 3 (cobalt, cyan, orange and red) and Colour Group 5 (cobalt, cyan, orange and greyscale) revealed no significant relationship with performance (2(3, N=193) = 0.3, p=.962; 2(3, N=200) = 1.3, p=.735).
Although these results might appear negative on the surface (you can't have a quick improvement in performance by using cobalt), in reality what our investigation has revealed is that partners have the ability to use the full scope of colours within Colour Groups 1, 3 and 5 without hindering their performance. The world (or colour wheel) is your oyster - so start exploring it!