Skyscanner, the global travel search engine, was launched in 2003. Since then we have achieved a phenomenal rate of growth, which shows no signs of slowing. 2016 was a big year for us, as we have been acquired by China's Ctrip.
In 2017, we continued to break new barriers in terms of market reach and the value provided to our partners. Here, we expose some of the most recent milestone numbers and reveal what these could mean for our partner airlines and online travel agents.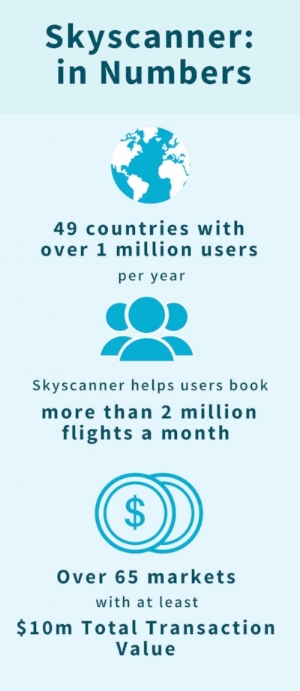 49 Countries with over 1 Million users Per Year
At Skyscanner, we believe we have the most global range of coverage and users among metasearch sites. Each month, we have over 60 million visitors to our site, yet increasingly, thanks to the great efforts of our local market teams, we have an increasingly global spread of that traffic. We use a local product market fit approach, meaning that although the core functionality of the Skyscanner site and app is consistent for our users across the world, we tailor many specific features to suit the needs of users which vary from one market to the next.
That's why in Korea we have tailored market payment solutions, in China, our app user flow is centered around inspirational travel, and it's why in several markets where it's appropriate we also offer camper-van hire
What does that mean for you as a partner? It means that even if your sales are currently predominantly centered on one particular region, Skyscanner offers you the opportunity to expand your reach into new markets. So, if you're mainly limited to the Americas, we offer a fantastic opportunity to increase your exposure and sales in different markets, for example, Asia, or if China is your domestic market, we are able to offer a range of European countries where we can elevate your brand.
Skyscanner Now Helps Users Book Over 2 million Flights Per Month
Every day, we are working towards making travel search as seamless as possible for travellers around the world. The growing number of booked flights per month, which is over 2 million, means that we are moving in the right direction. At Skyscanner, we focus on delivering value and provide relevant offers to our users.
A strong percentage of our users are repeat customers, meaning that we have the audience who already value our service and trust us. Therefore, our partners have the opportunity to reach an engaged audience that is ready to convert. To increase the trust among our users even further, we are working towards personalisation and value-driven search, which is increasingly important in the travel industry. This approach is explained in further detail in our white paper "The value-drive proposition in travel".
Over 65 Markets with at least $10 million Total Transaction Value
At Skyscanner, we place emphasis on becoming the most valuable metasearch site for our users. To achieve this we implement various initiatives that would improve the travel search process. For example, we recently introduced a Partner Quality Score that displays ratings for each supplier based on traveller's booking experience feedback from the past 91 days. This feature plays an important role in the user decision-making process and improves trust among our partners. It helps our partners to work towards providing value for our customers and helps them improve their service.
This and other initiatives, helped us to achieve $10 million Total Transaction Value in over 65 markets. For you as a partner, it means that you can benefit from the wide reach and quality traffic in most of the markets as well as user trust. The Total Transaction Value is the important metric for us as it considers the value provided by Skyscanner to users and our partners.
We believe that implementing Direct Booking with all our partners can lead to the maximisation of the Total Transaction Value. You as a partner will benefit from the stronger brand opportunity and will have the ability to surface your ancillaries. Partners, who implement Direct Booking can benefit from the 100% uplift on ancillary and 20% conversion rate uplift. Additionally, mobile conversion rate increase by 50% meaning that the solution helps to offer better user experience across all platforms, especially mobile which becomes more important over the time. This, as a result, will help to offer a more seamless flight booking experience for travellers.
Want to find out more about Skyscanner's Direct Booking solution?