The last few weeks have seen a couple of different stories circulating concerning secondary airports and their place in route planning. United Airlines President, Scott Kirby, was recently quoted as saying that the airlines move from JFK to Newark nearly 2 years ago was "the wrong decision". Meanwhile, Thomas Cook Group Airlines have come out as saying that they believe secondary airports present big opportunities for new routes, and that they will be focusing on these in the future. While these two stories obviously consider secondary airports from different angles, airline hub vs. route development, they got us thinking about secondary airports, and how they perform compared to their primary counterparts in general.
It is widely known that secondary airports have seen increased traffic over the last several years, due in part to the current role of these airports in the route strategies of low-cost carriers (LCCs); as a result of this many secondary airports have seen improvements, extensions, and additional routes added over the last few years, which in turn has facilitated further growth in traffic.
Given this trend, we wanted to look at how fast secondary airports in popular destination cities are growing in comparison to their primary counterparts, when it comes to Skyscanner customers.
This travel trends piece uses data from 2015 and 2016, gathered using our Travel Insight tool, to discover the year on year growth rates of secondary airports across different regions. To give us a top-level overview of how secondary airports compare against primary ones, we chose the top five busiest airports with secondary counterparts in each region; these can be seen in the tables below.
EMEA
As can be seen from the table below, the secondary airports that we looked at in EMEA are doing well. Secondary airports showed higher growth rates in four out of the five cities we looked at, especially in London where Gatwick airport grew 184% faster than Heathrow. Istanbul was the only city here where the primary airport showed stronger growth, growing 32% faster than its secondary counterpart.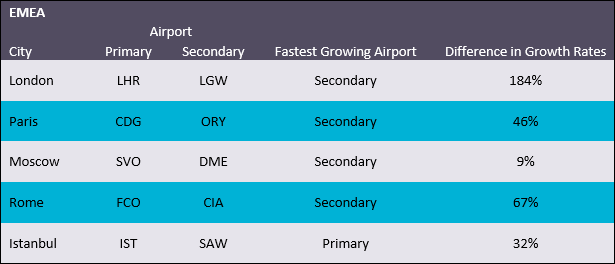 AMER
Looking next at AMER, the data shows again that secondary airports in four out of the five cities we looked at are growing at a faster pace than their primary counterparts. Secondary airport growth was particularly strong in Orlando and Sao Paulo, with these airports growing 879% and 1107% faster than their primary counterparts, respectively. Miami alone showed faster growth for its primary airport.
It should be noted here that, while secondary airports did grow more than primary airports across 2015/2016, the actual number of passengers still remains heavily biased towards primary airports in most cases, and this is especially true in AMER.
APAC
Finally, Travel Insight revealed that secondary airports in the top three APAC cities we looked at are growing faster than their primary counterparts; particularly in Bangkok, where DMK is growing 80% faster than BKK. In Taipei, the primary airport grew 15% faster than the secondary one, and in Kuala Lumpur both airports grew at the same rate.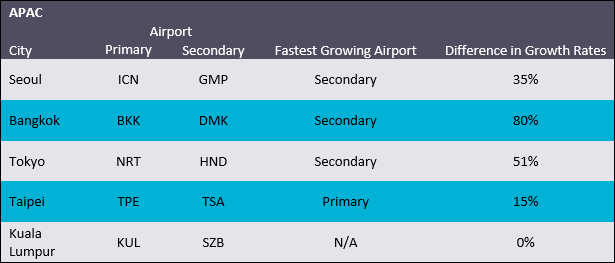 Overall, the data shows that secondary airports are doing well in popular global destinations, with the majority showing a higher or equal growth rate to their primary counterparts. It's not surprising, given the estimation that world travel was up by 4-5% last year (according to the ITB World Travel Report), that travellers would look for travel options that are often less crowded. In addition to this, secondary airports are currently the focus of most LCCs which means that routes involving these airports are cheaper; a further reason for travellers to use these routes.
While this is the current trend, however, the future of the primary/secondary airport divide is still unclear; with many secondary airports including London Gatwick and Newark putting effort into major refurbishments and expansion, and some LCCs turning their eye towards primary airports, the lines between the roles of primary and secondary airports are blurring. These changes are likely to increase competition and have a significant effect on route planning strategies both now and in the future.
Want to learn more about our Travel Insight tool? Contact Us