Welcome to the first in a new series where we shine a spotlight on some of our most interesting strategic partnerships.
We'll be exploring how these companies were built, their relationship with us, and what their visions and ambitions are for the future.

Kicking off the series is FlightConnections.
FlightConnections is one of the best tools around for travel hacking, trip planning and inspiration.
Its website and app are based around an interactive map allowing travellers to see every flight, airport and route worldwide, with timetables for the next 12 months.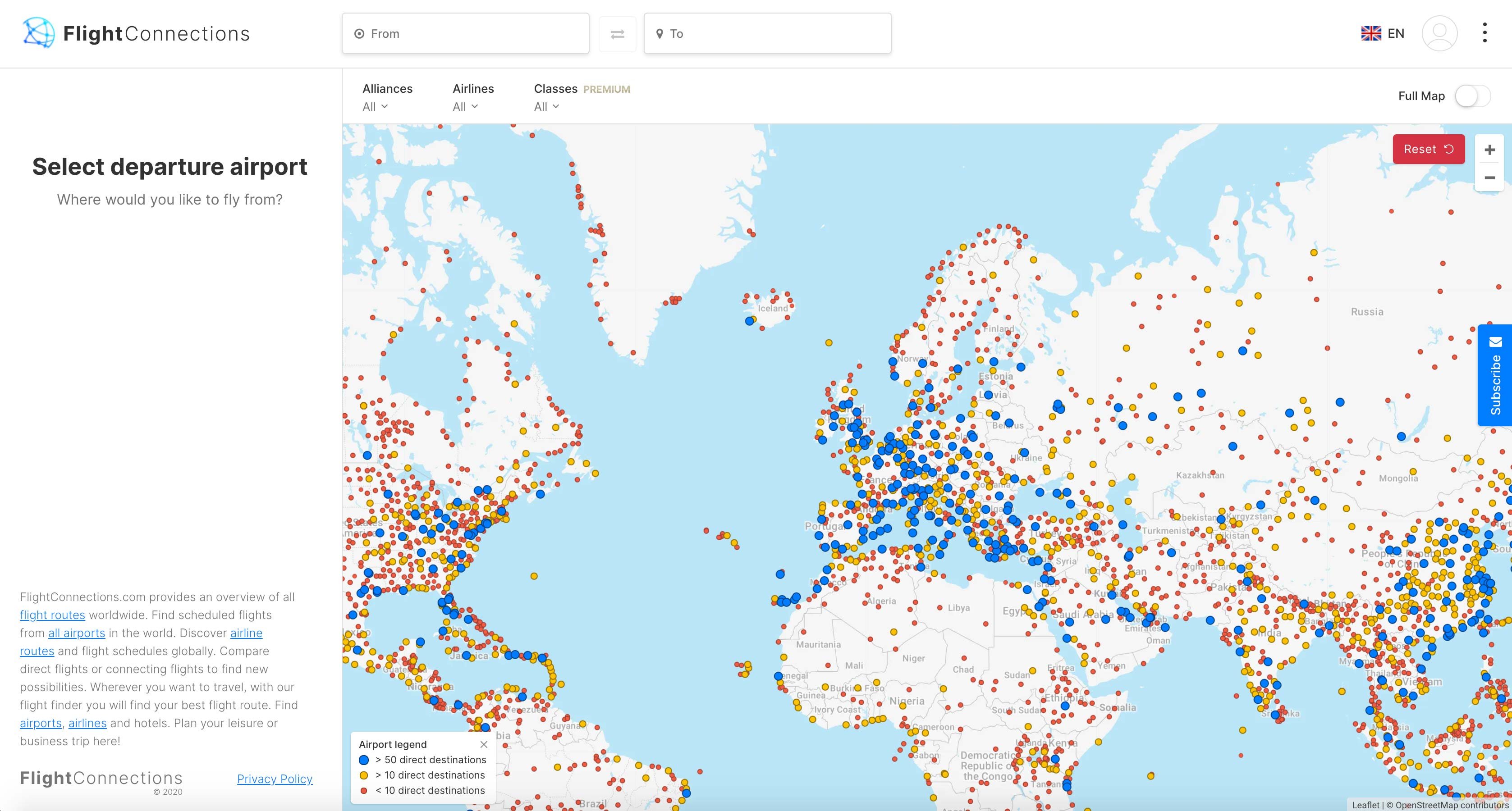 FlightConnections serves almost every airport in the world, even heliports.
FlightConnections is our referral partner. When one of its users finds a route, they can check the available flights and prices on Skyscanner with a simple click. We pay FlightConnections for every traveller who then redirects to one of our partners.
We caught up with co-founder Kevin Joling to talk about the company's journey, the impact of Covid-19, and what the future holds.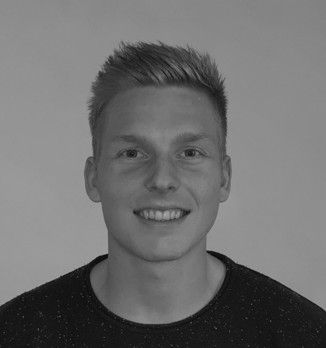 Q: When did you come up with the idea for FlightConnections?
"About 15 years ago, one of our founders wanted to know the best flight to get from near his hometown in the Netherlands to his family in Italy. But at the time, this meant searching all possible routes on every airline's website.
Back then, I was working as a Process Engineer at a manufacturing company in the Netherlands. I figured it'd be useful for my career to learn how to code. My brother was in the same situation, so we started a coding project together.
This project, after lots of iterations, became FlightConnections."
Q: What was the mission behind the idea?
"We wanted to inform travellers about the fastest and easiest ways to fly from point A to point B."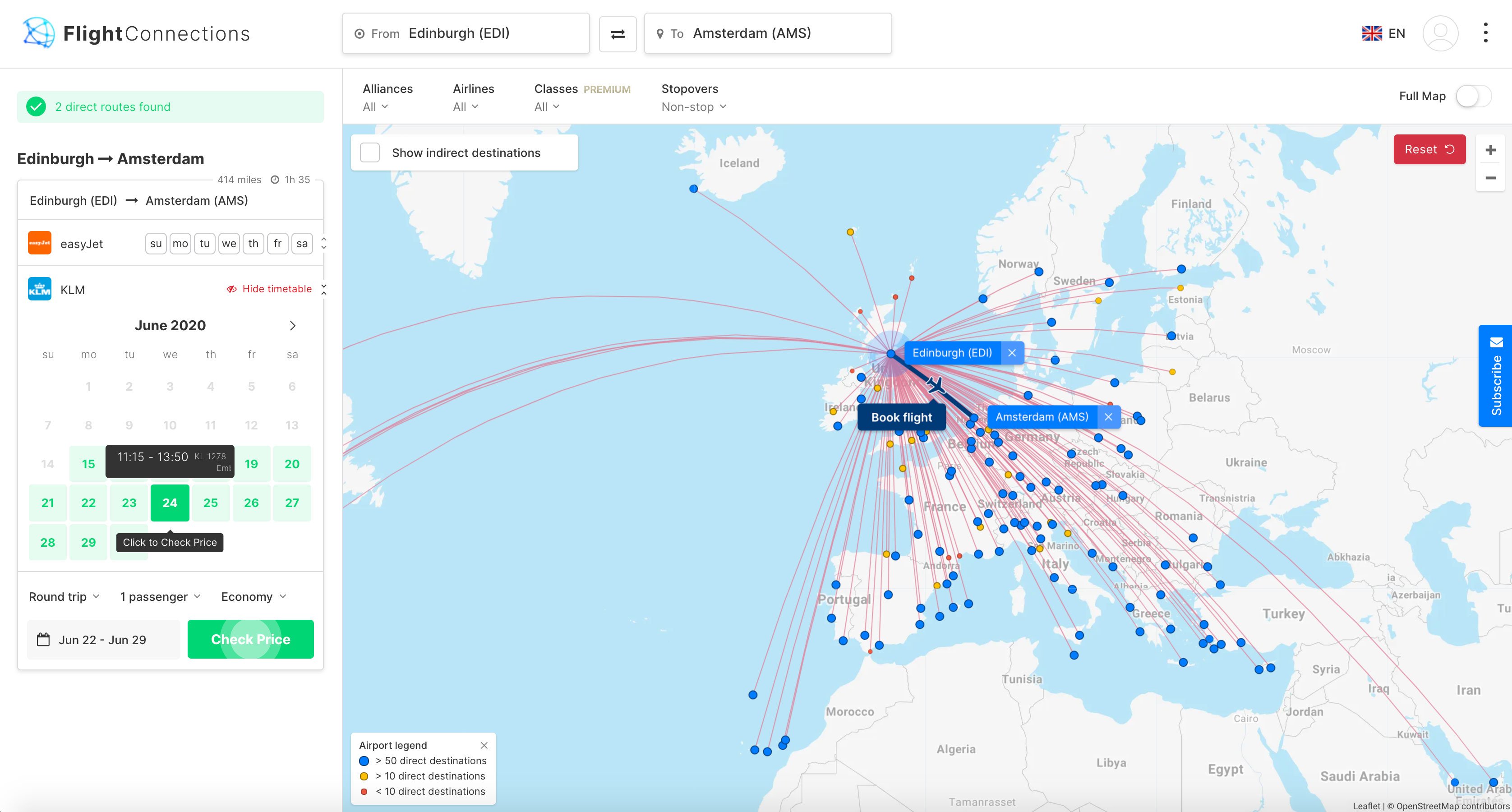 All routes from Edinburgh, with Amsterdam highlighted.
Q: What's been your biggest success to date?
"Releasing our business-to-business flight route maps. These maps are available for airports and airlines to embed in their websites – so they can promote their network connectivity and help travellers plan trips. Prague Airport, for example, is a client.
We also offer b2b maps for tourism boards to help promote their destination and show people how to reach them. We recently worked with the US state of Montana."
Q: Why did you want to partner with Skyscanner?
"People generally use FlightConnections at the start of the travel booking process –for inspiration or to explore their travel options.
After they've found the best route, Skyscanner then shows the real-time availability
of seats, so the traveller can compare and buy tickets.
Together with Skyscanner, we cover the journey from the moment someone starts exploring a destination, right through to booking."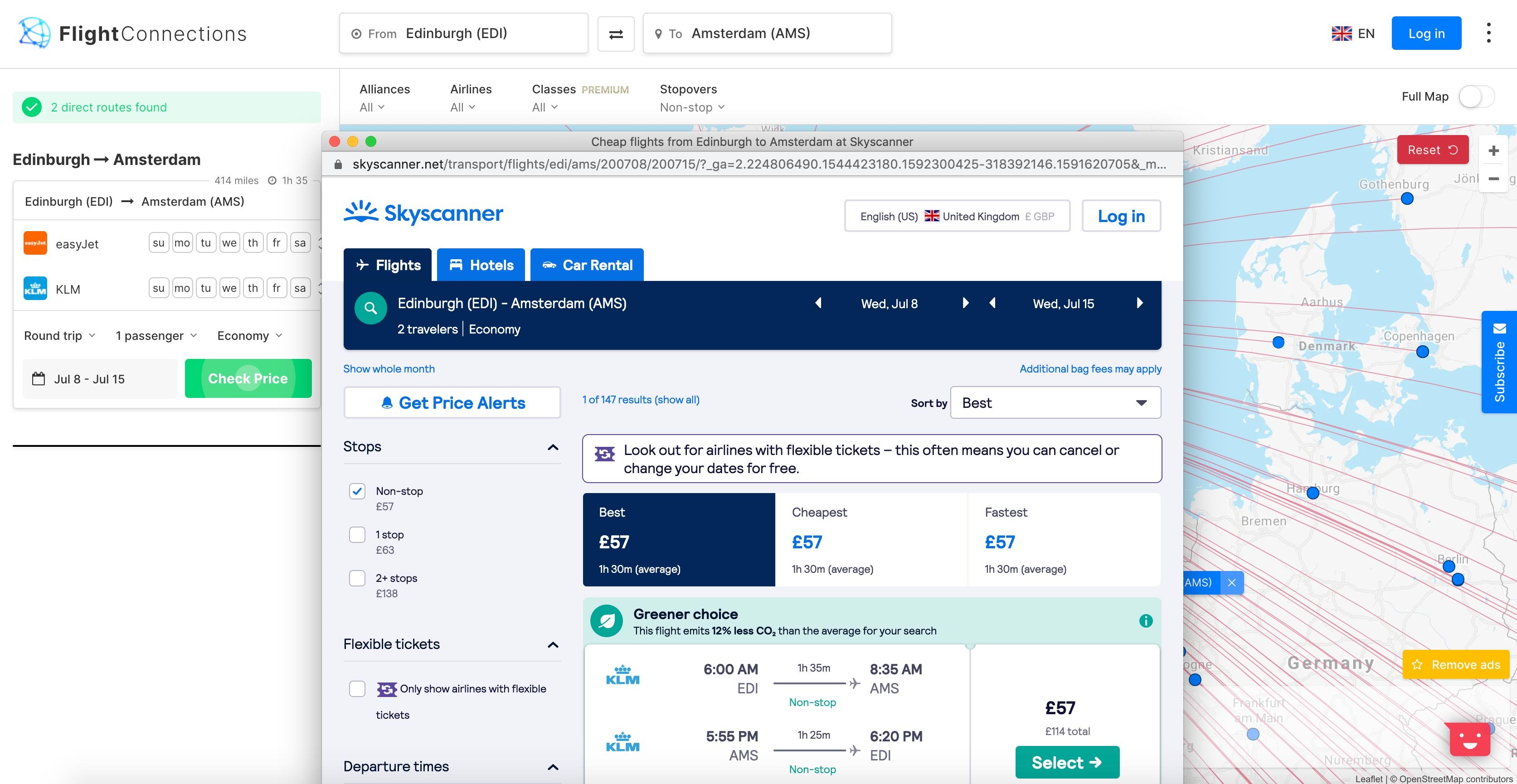 The Skyscanner pop-up search results window.
Q: What's been achieved through the partnership?
"Skyscanner supports our growth goals to reach more and more people in the future.
Like FlightConnections, Skyscanner continues to develop new features and improve its user experience. It's great that we can count on these continued improvements from Skyscanner's side, so we can keep focusing on optimising our own platform."
Q: How much do you know about your users?
"We're used by regular travellers, as well as travel agents and aviation professionals like pilots and cabin crew.
Most are from the US, UK, Canada and Australia, as the majority of our platform is in English. We also have many German visitors. Recently, we created Dutch and Spanish language versions.
The majority of our audience are aged between 25 and 34, with a 60:40 male / female split.
We've just reached the 50:50 point between mobile and desktop, which was a reason why we launched our iOS and Android app."
Q: What does the future look like for FlightConnections?
"I obviously would have answered this question differently if it was the start of the year, when the future looked bright and most of the world hadn't heard of Covid-19.
It's been hard times for us, but I think, and hope, we've made it through the biggest hit. We can start to look at the future again with the plans we had in January, instead of coping with lots of setbacks that needed our urgent attention.
The future of FlightConnections will be full of optimisations and additional, valuable features. We also have multiple translations planned to reach a wider audience.
We're launching new filters too – such as aircraft type, departure and arrival times,
and flight duration, as well as the ability to search by country and by month."
Q: What's the toughest part about running a start-up?
"In general, it's the decisions. As you're building a company from scratch, it's deciding which features have the highest priority to build, and which activities help and accelerate growth – all the while figuring out a viable business model that benefits users as well as the product and the company."
Q: How has Covid-19 affected your business?
"For years, we'd been working on a product in a growing industry, within a growing market, where we were just seeing product-market fit. I'd devoted everything I had into getting FlightConnections off the ground (pun intended!).
We saw amazing growth in 2019 – 750% – going from 2,000 daily active users to over 15,000. We set goals for 2020 and were super motivated to reach them.
And then, in just two weeks, the whole market faded away.
Mentally, it was very tough to see our business go down like that. Our revenue dropped by 90% within two weeks. At the beginning, it was hard to adjust to this new reality, changing our direction a bit and realising we had to decide on new goals for this year. Keeping our business up and running became now our main priority, instead of the high growth we visualised.
But now, after the dust has settled, we're looking to the future again. The aviation industry is here to stay, travel will eventually recover, and we've built a solid product that people love using.
We're positive about the future – and I'm happy to see that people have never lost their urge to explore the world and experience new cultures, which contributes to a better world."
Q: Finally, tell us something interesting we might not know.
"FlightConnections has welcomed users from every single country in the world – including six from North Korea last year."
We'll be shining a light on another partner soon, but in the meantime, check out our blog where every week we share the latest trends and insights from across the travel industry.