As lockdown restrictions begin to ease in some countries, or exit strategies start to get announced, we're seeing searches for domestic travel in the short-term dominate over searches for international travel.
The table below shows the top five searched-for destinations between May and July across eight key markets, for the period April 6 – 26.
For this three-month period, there's an overwhelming desire from people to travel within their own country – perhaps to visit friends or relatives they've not seen for a while, or to begin exploring again in places they feel safer or more comfortable.
Based on our insights last week, we can say that confidence in international travel increases the further away the departure date. For trips in December, for example, long-haul destinations make up the majority of searches in April for most markets.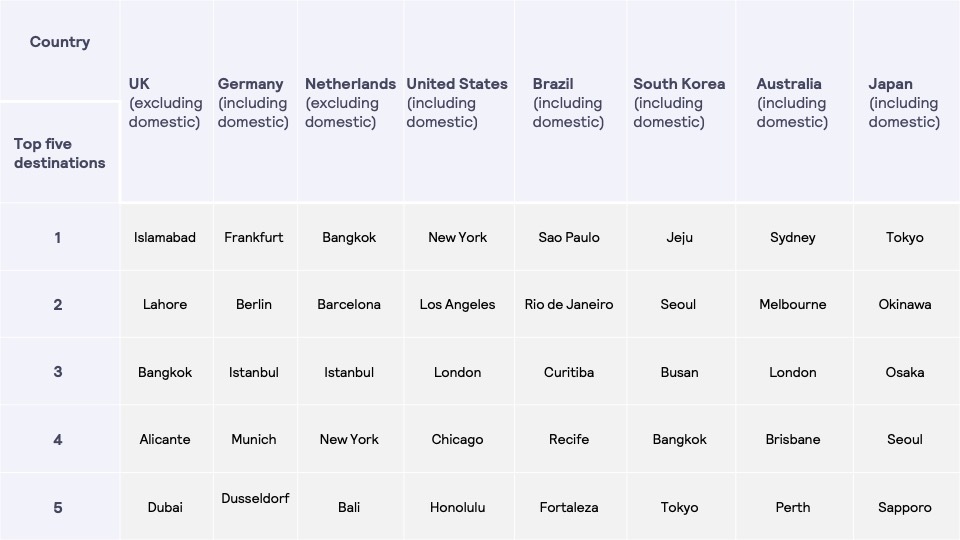 Domestic travel is far more popular than international travel in both western countries and eastern countries, across the southern and northern hemispheres.


In the UK, the top two searches are for cities in Pakistan. With services running from London, Manchester and Birmingham, plus a reduction in services from mainland Europe, flights from the UK have recently risen in popularity.


The only non-domestic entry in the US and Australia's top five is London, as travellers look to visit the UK in the late spring and summer months.


Due to the Netherlands' small size, all its searches are for international destinations – and not limited to one region in particular, with a mix of city breaks and popular Southeast Asian locations.


All of Japan's searches are domestic apart from neighbouring Seoul in South Korea – indicating that Japanese citizens aren't willing to travel internationally in the short term (but if they do, it's not far).


As Covid-19 cases continue to rise in Brazil, its travellers aren't considering leaving the country in the next few months.
Next week, we'll share the latest data and insights from the past seven days on our blog, as well as keeping you updated with how we're helping travellers and the wider industry during the pandemic.