As confidence grows in international travel in the long term, we're seeing more interest in long-haul and international destinations than for domestic travel.
The table below shows the top five most searched-for destinations during April for travel between December 2020 and February 2021 across eight key markets.
For this three-month period, there's a stronger desire from people to travel outside their own country – to explore new places and seek new experiences.
Based on our blog last week, we can say that confidence in international travel increases the further away the departure date. For departures between May and June of this year, for example, domestic searches made up the majority during April.


You can learn more about our data and dive deeper into current and future travel trends with Travel Insight, our powerful analytics tool.
A third will travel "more than ever" once restrictions lift
Last week, we conducted an in-depth survey of over 2,200 people across three continents to understand the effects that constant news, restrictions and uncertainty around travel are having on people's attitudes and future travel behaviours.
It revealed that travel, of any kind, retains high personal value – with 73% now more appreciative of being able to travel freely.
And it remains a priority once restrictions are lifted – with 33% travelling 'more than ever' once it's safe, 31% travelling more cautiously and 22% more domestically.
Our survey also revealed that 34% of Americans will travel 'more than ever' when it's safe, with 21% interested in travelling more domestically.
Using time more wisely
People will continue to travel as soon as restrictions allow, but how they travel may change. With time and money key considerations, many will prioritise the quality of the experience – 63% are keen to make better use of their time for travel. 45% believe they'll spend the same amount of money on travel, while 9% plan to spend more.
These sentiments are shared in the United States as well, where 63% 'strongly agreed' to make better use of their time to travel in the future.
Planning bigger experiences
'Bucket-list' travel is high on the agenda, with 79% of people more likely to visit their dream destination once restrictions are lifted, while 27% wish to be more adventurous in the way they travel.
In the US, restrictions haven't stopped people from dreaming either: 80% say they plan to visit a bucket-list destination once restrictions are lifted.
Reunions are high on the agenda too – 33% of Americans will be visiting friends and family on their first trip.
Changing traveller attitudes
Perceptions of international travel
Globally, travellers view the international situation far more positively than one month ago: 43% believe it's improving – an increase from 13% just four weeks ago.


25% of travellers view the situation as getting worse, significantly down from 68% four weeks ago. 23% view the situation as staying the same.


Split by region, Europeans are the most optimistic.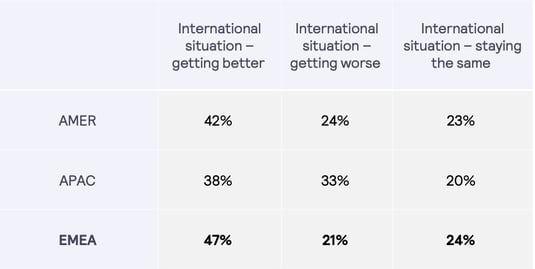 Perceptions of domestic travel
Confidence in domestic travel is increasing globally: 52% believe the situation is getting better, more than doubling from 18% four weeks ago.

22% view the domestic situation as getting worse – nearly two-thirds down from 60% four weeks ago, while 20% view the situation as staying the same.


Split by region, APAC travellers are the most optimistic.


"We're seeing high level of pent-up wanderlust among travellers"
Jon Thorne, Director of User Satisfaction, Skyscanner 
" While travel has changed, it's clear that the desire to discover will endure. It's interesting that this period of lockdown appears to have increased the value of travel in people's minds, with a greater appreciation of the ability to get away. 
"For many travellers, confidence and optimism remain high for domestic and international travel within six months. We're seeing patterns in travellers simply altering their search and planning behaviour to accommodate the restrictions of Covid-19." 
Next week, we'll share the latest data and insights from the past seven days on our blog, as well as keeping you updated with how we're helping travellers and the wider industry during the pandemic.