In our first travel trends report of 2022, we look at attitudes towards travelling in the coming 12 months and how providers can increase confidence levels among the public.
We also shine a spotlight on UK aviation, the return of normal booking horizons and the destinations where demand is currently trending above pre-pandemic levels.
Attitudes towards 2022 travel
We recently conducted a survey with OnePoll to learn how people across the UK, USA, Australia and Germany are feeling about travel this year.*
Holidays/vacations are the most important leisure activity
We asked: How important or unimportant are the following leisure activities to you?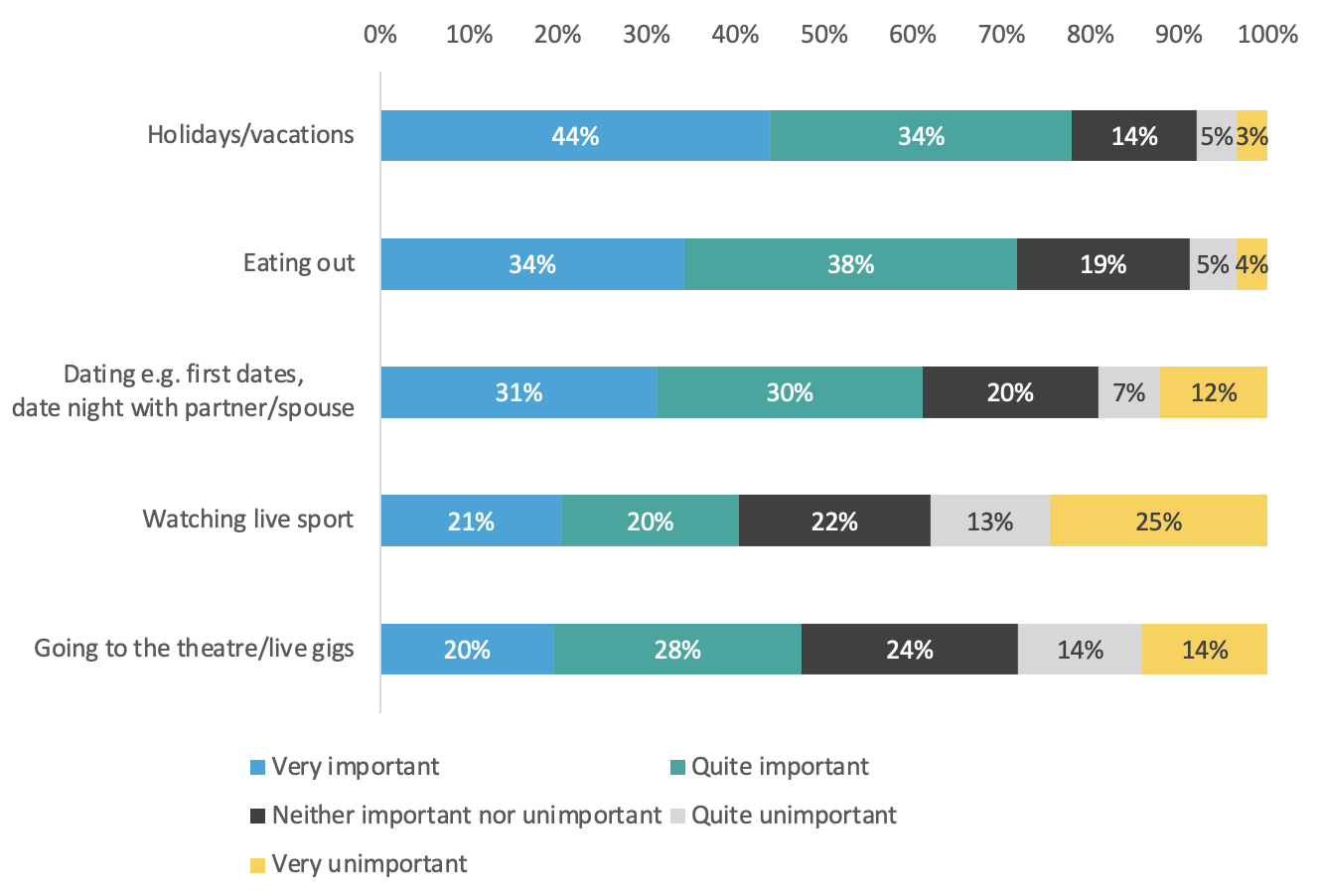 Over three quarters (78%) say holidays/vacations are important to them, with 44% saying they're very important.


72% say eating out is important to them, with 34% saying it's very important.


48% say going to the theatre/live gigs is important to them, with 20% saying it's very important.
Going on holiday/vacation was the second most notable post-lockdown "moment of freedom"
28% say going on holiday/vacation was their second favourite post-lockdown moment of freedom in 2021, coming second after seeing family and friends (44%).


Holidays/vacations beat rescheduled life events and celebrations, such as weddings (21%), and getting back into bars and pubs (16%).
PCR tests are hindering people from travelling abroad
Two thirds (67%) are more likely to travel abroad now if testing rules allow an antigen lateral flow test instead of a PCR test. 37% would be much more likely.


Travellers would be deterred from going abroad right now if the length of quarantine time they faced on return was over seven days.


10% would be deterred if quarantine was up to two days; 21% would be deterred
if it was three to five days; 30% would be deterred if it was six to 10 days; and 28% would be deterred if the time was 11 or more days.


7% say no length of quarantine would deter them from travelling abroad now.
Vaccinations and booster roll out have increased confidence
in travelling abroad
62% say the ramp-up of the COVID-19 vaccination and booster programme has made them feel more confident about travelling abroad in 2022, with 23% feeling much more confident.


26% don't feel particularly more confident and 12% say the programme hasn't made them feel more confident at all.
Airplane space and comfort is a growing desire
49% are now more likely to book business class or spend more on their plane ticket if it guarantees extra space and legroom, with 20% much more likely to, compared to pre-pandemic.


26% are not particularly more likely to and 25% are not at all more likely to.
People are confident on where they can and can't travel
Despite changing travel guidance and destination restrictions, 43% are confident knowing where they can and can't go abroad, with 16% very confident.


16% are quite unconfident and 13% are very unconfident.
Fully refundable airline tickets and hotel cancellations would provide the most confidence to book
We asked: Which of these factors would give you the most confidence to fly or book your next trip abroad?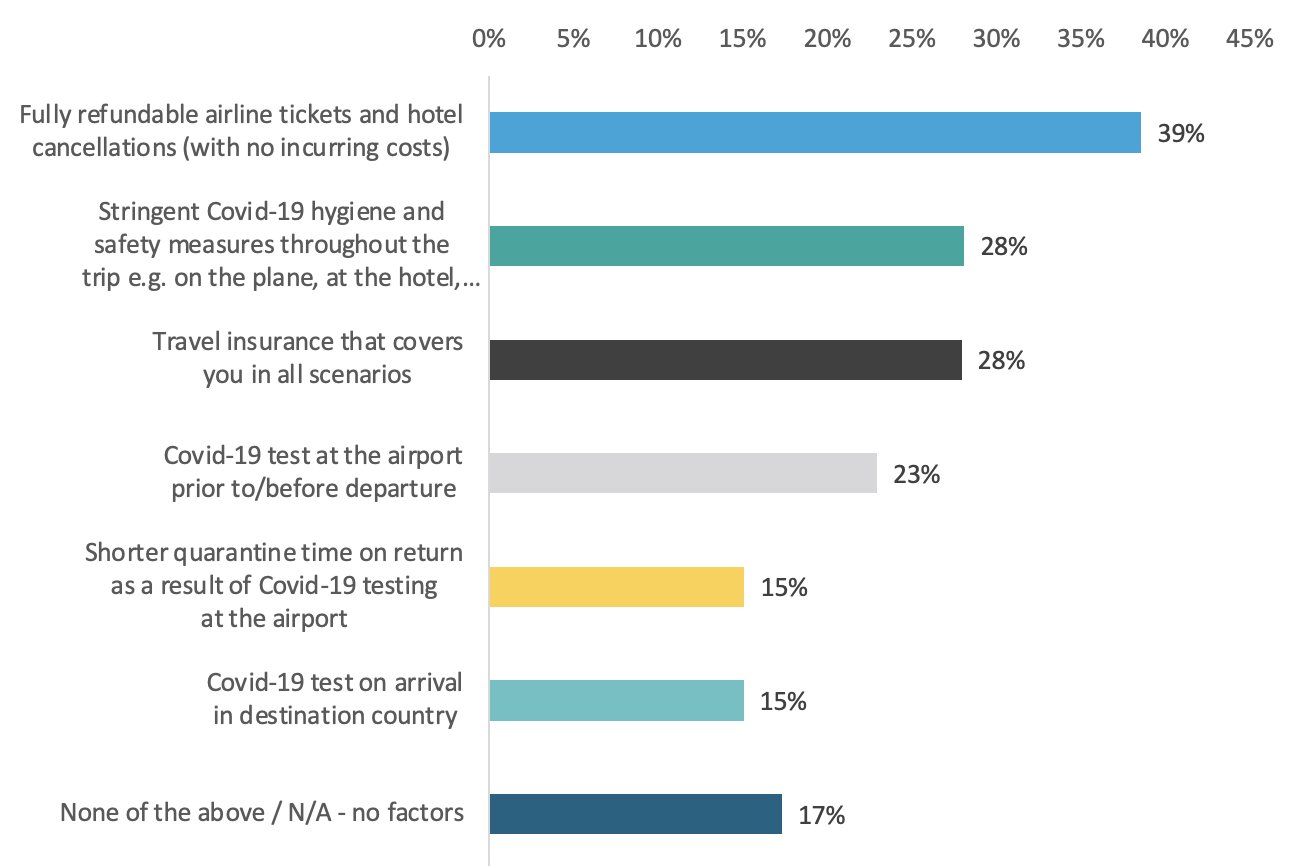 The factors providing the most confidence to fly/book are:
Fully refundable airline tickets and hotel cancellations (39%)


Stringent COVID-19 hygiene and safety measures throughout the trip (28%)


Travel insurance that provides cover in all scenarios (28%)
Word of mouth is the biggest influence for booking travel
We asked: When choosing a destination, what are you most influenced by?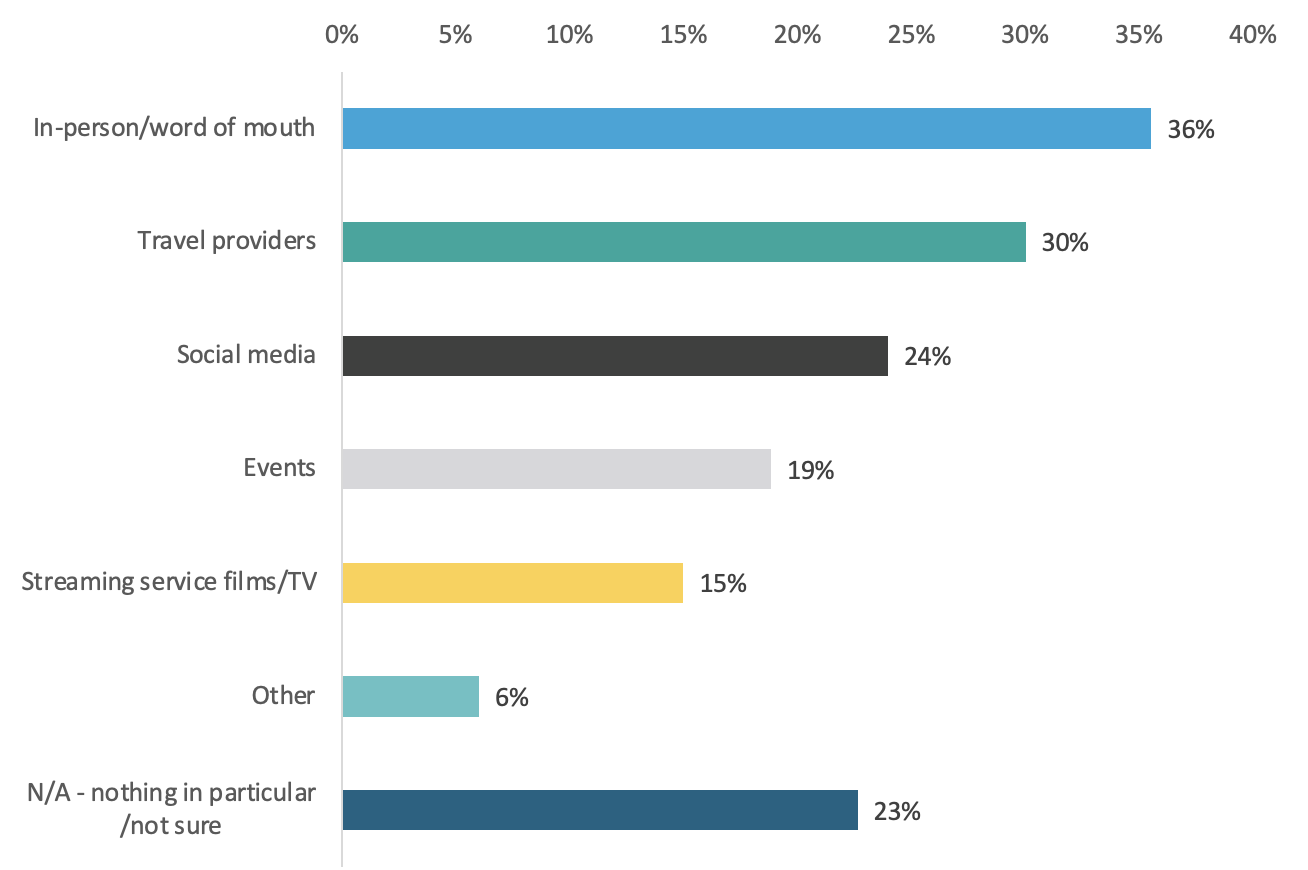 Word of mouth is the top factor, highlighting the importance for travel companies of providing high levels of service and satisfaction so customers recommend them to friends and family.
Spotlight on the UK
With a positive week-on-week growth trajectory since 31 December, green shoots are emerging for UK aviation, with the relaxation of testing last week contributing to an increase in demand.
Consumer confidence is returning too, with booking horizons moving closer to pre-pandemic 'norms'. Across Skyscanner platforms since the beginning of the year, the share of booking horizons for 30-59 days has approximately doubled compared to the same period last year, from 9% to 20%.
The top 5 UK outbound destinations trending above pre-pandemic levels are:**
Maldives +117%
Bangladesh +99%
Mexico +93.5%
Pakistan +81%
Costa Rica +62%
The top 5 UK leisure routes trending above pre-pandemic levels:
London Heathrow to Orlando International +226%
London Gatwick to Cancun +169%
Manchester to Dubai +5%
London Heathrow to New York Newark + 4%
London Heathrow to Istanbul +23%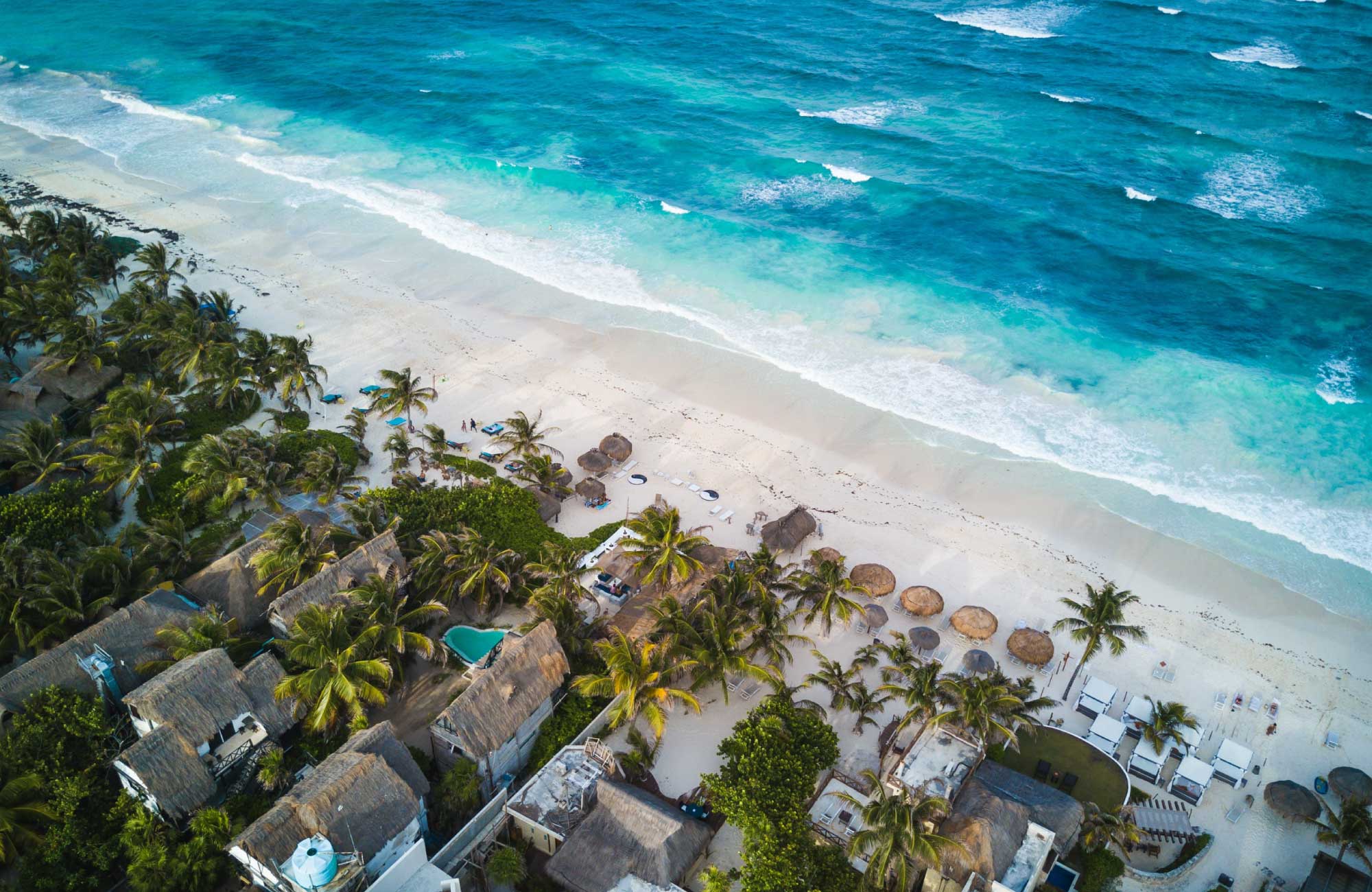 Tulum, a popular destination on the Caribbean coastline of Mexico's Yucatán Peninsula.
Hugh Aitken, VP of Flights at Skyscanner:
"With the easing of restrictions, we're seeing more signals that the market is recovering with demand closing in on, and in some cases, starting to exceed pre-pandemic levels. However, it's important to note that this varies significantly at a route level and by passenger type.
"Our data shows that demand to destinations such as the Maldives, Mexico and Costa Rica has started to exceed pre-pandemic levels as leisure travellers set their sights on long-awaited winter and summer sun. At a route level, destinations such as Orlando, Cancun, New York and Dubai are proving popular. And at the same time, we also see demand for VFR (visiting friends and relatives) travel coming back strongly."
Saying goodbye to our traveller sentiment survey
Since the start of the pandemic, we were conducting a weekly global survey to understand how people were feeling about COVID-19, their confidence levels and when they'd be ready to travel once more.
We shared these global and regional charts in these very reports. But as travellers have started to explore the world again and as the world learns to live with the virus, we believe it makes more sense to focus on the latest travel trends and search and booking data as the industry recovers.
So join us in a couple of weeks' time, when we'll be back with more data stories on our News & Insights page.
* OnePoll/Skyscanner survey conducted 6-13 December 2021. 4,000 adults across UK, USA, Australia and Germany.
**Based on redirects (bookings) for all travel itineraries analysed year to date (YTD) on 10 January for outbound travel in 2022. Comparisons are based on the same period in 2019 and ranked by volume of redirects.