At the start of a new year, it's the perfect time to reflect, take stock and think about what the future holds. In this article, We look at how the heavyweight destinations of global travel fared in 2019, as well as revealing the rising stars of 2020:

Before we get into that there's a simple question we need to address first: why would you want to read this?

Data Delivers Results
We help 100 million people a month – in 52 countries across the world – book their flights, hotels and car hire. That generates a lot of data – data this article is built on.

We've analysed searches and bookings made via our site and app, and compared them against the corresponding figures for 2018 – providing a high level of insight into current travel trends.

This is made possible by our powerful data tool, Travel Insight. And we aren't the only ones making use of its abilities. Airlines, airports and tourist boards are also using it to shape their strategies and boost revenue.

We hope it will help inform your thinking as you enter a prosperous new decade.
Please Note...

Throughout this article, the term 'booking' refers to when a user on Skyscanner selects a flight from a partner and redirects to their website.

Emerging destinations are predicted based on their growing popularity between 1 October 2017 and 10 September 2018, and 1 October 2018 and 10 September 2019. Change in popularity is based on normalised data and shows changes in comparative popularity between these two periods.
Most Popular Tourist Destinations in 2019: The Global Top 10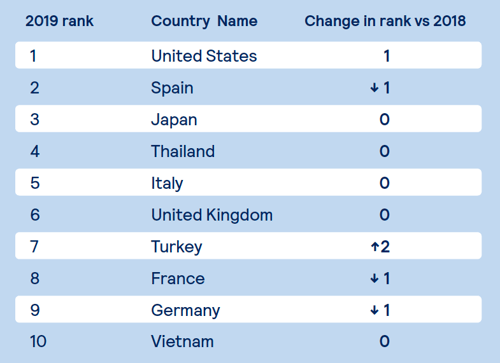 The USA
To many, this will come as a surprise. There was widespread speculation that a strong dollar, coupled to trade-related tensions with China, could lead to a slump in tourism. But with more routes opening up from Europe, the American dream clearly hasn't lost its allure.


Spain
Our data has Spain sliding from pole position into second place. This tallies with reports that the Iberian destination is seeing a small decline in visitors from the UK and Germany, with risers like Turkey reaping the benefit.


Japan
Japan retains its position as number three in the world, and the top destination in Asia. The area is gaining in popularity for visitors both from neighbouring nations and further abroad. Though year-on-year visits from Korea are well down, tourism from China was up 25% in September, and in the same month trips from the Philippines and UK were up 52% and 84% respectively.


Thailand
Another non-mover, Thailand remains popular for a variety of well-established reasons. Our data supports reports that, despite fears of a dip, the country's tourist industry remains steady overall (though there might be a minor demographic shift underway, with Asian visitors increasingly important).



Italy


Italy is still a top European destination, which is unsurprising given that tourism revenues hit an all time high in July of this year.


The UK
The UK also stays put, but projections made this year predict visitor numbers and spend will continue upwards.


Turkey
Turkey may only be seventh but, as the only country to rise two places, it's made the most progress. A great destination in its own right, it offers access both to Asia and Europe, and is growing in popularity – particularly with Russian visitors and travellers from APAC.


France
Our data shows France to have fallen one spot. This may be due to the disruption caused by the 'yellow jacket' protest movement that some cite as causing a drop in foreign visitors during the first quarter of 2019.


Germany
Despite falling two spots, things don't look too gloomy for Germany's tourist industry, with sources claiming a rise in hotel stays by foreigners over the first half of the year.


Vietnam
Yet another destination to maintain its position, Vietnam has seen solid growth, fuelled by rapidly rising demand from China and South Korea.
Global Emerging Travel Destinations
Not much has changed at the top, but that doesn't mean travel trends are static. As with any industry, if you look away from the most established players, you usually see signs that things are shifting. These destinations may offer investment opportunities (and returns) that more mature rivals simply can't...

The below lists are based on percentage increases in bookings and searches, rather than totals. They represent three tiers of popularity: Top (the countries ranked 1st – 50th globally), Medium (those ranked 51st – 100th) and Smaller (101st upwards).
Top Emerging Destinations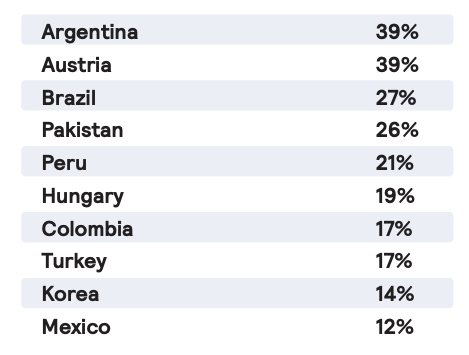 Argentina
Up 39%, Argentina has become easier and cheaper to visit owing to a combination of new travel routes and a relatively weak currency.


Austria
Also up 39%, Austria is only second by dint of alphabetical order. As both a ski destination and a trove of cultural treasures, Austria attracts tourists all year round.


Brazil
Brazil is up 27%, possibly a continuing consequence of changes to its visa process.


Pakistan
Pakistan comes in just below Brazil at 26%. It's the only entry from mainland Asia on the list, as new routes transport more people to the capital Islamabad, who are then using the city as a base to explore the rest of the country.


Peru
Peru saw a rise of 21%, with the increase in sales of online packages a probable factor.


Hungary
At 19%, Hungary saw the second biggest rise of any European country.


Colombia
Up 17%, Colombia's success marks yet more growth for South America.


Turkey
The only country to appear both on the top 10 for overall popularity as well as growth, Turkey gained 17%. Stop offs for travellers from Asia, Australia and New Zealand have been one reason for the surge.


South Korea
We saw searches and bookings for South Korea rise by 14% in 2019, making it the fastest rising star in Asia outside the subcontinent. Much of this demand is based in APAC markets.


Mexico
Up 12%, Mexico has nevertheless experienced a slow down, seemingly due to a fall in interest from US visitors (perhaps a result of State Department warnings) and the dissolution of the government's Tourism Board.
Medium Emerging Destinations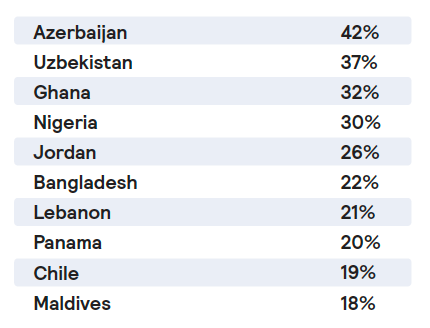 Among the fastest growing middle-weight destinations there's strong representation from regions as yet unmentioned, including Africa, Central Asia and the Middle East. Though unlikely to trouble the global top 10 anytime soon, these destinations could be part of your longer-term thinking...
Azerbaijan
Despite a drop in visitors from the Middle East, an increase in tourism from Central Europe – as well as places like Turkey, Russia and Georgia – has been a boon to this unique destination.


Uzbekistan
While the country – which lies on the ancient Silk Road trading route – is of huge historical interest, it's not just events of the past helping draw in tourists. A programme of government subsidies seems to have been highly effective.


Ghana
Enjoying a 32% rise in popularity, Ghana seems to have benefitted from its 'Year of Return' campaign, which sought to attract tourists representing the African diaspora – particularly from the USA.


Nigeria
Nigeria is looking to a tourism boom to create 100 million new jobs by 2028. This year, searches and bookings rose 30% – a strong start.


Jordan
Home to a host of historical wonders, Jordan rose 26% – with places like Jerash and Petra seeing an influx of visitors.


Bangladesh
Often overlooked in favour of neighbouring India, Bangladesh is on the rise – up 22%. The country's efforts to become more tourist-friendly appear to be paying off.


Lebanon
With Saudi Arabia lifting a travel warning issued to its citizens and European visitors warming once again to the destination, Lebanon's tourist industry – which has suffered greatly as a result of the Syrian conflict – looks to be recovering. Our data shows searches and bookings up 21%.


Panama
Despite some sources predicting a major slump, Panama is growing in popularity. It's up by 20%.


Chile
Traditionally, a lot of Chile's tourism has come across the Andes from neighbouring Argentina. Though that market has dropped off, significant increases in demand from China and Europe have helped Chile bolster and diversify its visitor base. Our searches and bookings were up 19%.


Maldives
The Maldives is benefitting from new air routes, with Africa its fastest growing market, as the islands continue catering for more people with modest budgets.
Small Emerging Destinations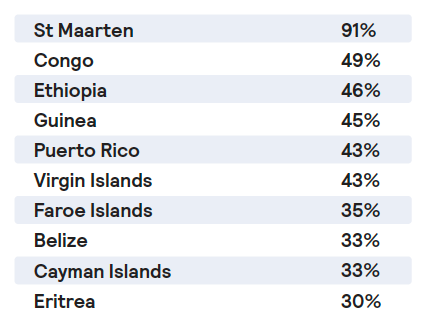 When you're dealing in smaller numbers, major growth is easier to achieve – so it's little surprise to see a number of lesser-known destinations making major strides. These countries could represent an opportunity to 'get in on the ground floor'. Context is key though. Three of these destinations can pin their growth on recovering from natural disaster – suggesting the boom is temporary.
St. Maarten
This Caribbean island has seen a 91% surge in searches and bookings, but this is more a return to form than a bolt from the blue – with visitor numbers recovering now that much of the damage caused by hurricane Irma has been addressed.


Congo
Despite concerns visitors may have (recent kidnappings and the on-going Ebola outbreak among them) the DCR is increasing in popularity, with wildlife and national parks a huge draw.


Ethiopia
The beneficiary of improved transport links and relaxed visa controls, Ethiopia is another African nation on the up.


Guinea
With nearby Australia providing much of the traffic, Guinea looks to be going through major development and is unlikely to remain 'under-touristed' for too much longer.


Puerto Rico
Much like St. Maarten, Puerto Rico's recovery from devastating hurricanes is helping draw more travellers back. Searches and bookings are up 43%.


The Virgin Islands
The Virgin Islands also saw a 43% year-on-year rise – and for the same reasons as nearby Puerto Rico.


The Faroe Islands
While Iceland is famously struggling to deal with demand from tourists, this archipelago – which shares much of the former's charm – is far less visited. However, thanks to growing media attention, that's changing.


Belize
With more flights from North America and more cruises taking time to stop there, Belize is offering a strong alternative to Central American competitors.


Cayman Islands
Better transport links and more accommodation options are helping make the Cayman Islands an increasingly viable and attractive options for travellers looking for something different.


Eritrea
Though still not a hugely popular destination, Eritrea is seeing an increase in tourist numbers thanks in part to an easing of tensions with bordering Ethiopia.
Thanks for Reading...

Just what this all means for you, will depend on your sector and market – so we leave it to you to draw your own conclusions on what the future holds. That said, one thing is certain for everyone working in travel: unless you can identify trends, you can't capitalise on them.

If you want to dive deeper into any of the issues brought up in this report, we can help you get even greater clarity via our data tool, Travel Insight.
About Skyscanner Travel Insight
This research has been created using Travel Insight, Skyscanner's powerful data tool. It analyses the behaviour of 100 million Skyscanner users every month to reveal more about today's travellers and where they're going in the future. Travel Insight is helping leading airlines plan routes and revenue management, airports find new opportunities and catchment areas, and tourist boards shape demand.