IBS Software is a global provider of innovative IT solutions, with a focus on the Travel Industry, and was the winner of the corporate prize at the latest IATA NDC Hackathon. During the 36 hours available to the hackathon participants, the IBS team developed a Chrome extension that could be used to generate a door to door itinerary within a single click, using a combination of APIs including Skyscanner's Hotels and Car Hire APIs.
In this Q&A, catch up with IBS team member Bratati Gosh, to get a view from the team on how they found the hackathon, their experience of using the Skyscanner APIs, and what their plans are for the winning concept going forward.
How would you describe IBS?

IBS Software is an innovation driven company, offering products and domain led IT services to the Aviation, Travel, Hospitality and Oil & Gas industries. We actively partner with our customers, using our extensive domain expertise and technical capabilities to enable a transformation in their businesses, equipping them to take on challenges of the present and the future.

Why did IBS decide to participate in the NDC Hackathon?

Our culture of innovation is evident in the range of next-generation products we have on the market. All of them are the result of significant investments in R&D and demonstrate advanced capabilities in their architecture. Participating in hackathons provides a space to extend our capabilities, and continue to innovate.

This hackathon was a particularly good fit, as it is based on the NDC protocol of IATA, in which we already have a significant amount of expertise, thanks to our R&D focus. Our PSS product, iFly Res, was the first major NDC-native solution in the market. This means it was designed with the NDC protocol embedded into its architecture, enabling it to process service requests at an incredible speed, beating out the closest competition by a whole order of magnitude. Our expertise came through in the hackathon, particularly in our creation of an API for SunExpress with processing times of less than 100 milliseconds – other solutions averaged between 1 and 10 seconds!

Given our commitment to NDC, it was natural that we elected to have a team fly to Dublin to participate in the hackathon and help showcase the industry transformation that can be engineered with the help of NDC.

Also, we believe that external contests and hackathons, organized by our customers, partners or even competitors, provide our people an opportunity to evaluate themselves against their peers and thereby sharpen their axes to take on even larger challenges that face the business.

How would you describe your hack?

PhoTra is an application which enables what we call 'Inspiration shopping' in travel.

Imagine this scenario: You see a picture of a beautiful tourist destination on the internet – let's say the Eiffel Tower in Paris. All you need to do is to right click on the image, and choose an option "Wish I was there" offered by the PhoTra plug-in for the Chrome browser (which is how we prototyped it for the hackathon). Instantly, the app creates for you an entire door to door itinerary (airport transfers, flights, hotels and in-city cabs) without any additional effort from your side – and at the lowest cost possible. All you need to do is to confirm whether the itinerary suits you, and you can then make the booking or share it with friends on social media. As a bonus, you get to know the carbon footprint you would leave behind with this itinerary, and seek alternatives that are more environmentally friendly. In short, PhoTra saves you the trouble of finding out what destination is shown in the picture, doing your own research about traveling there, searching for flights, looking for suitable hotels, booking cabs and finally choosing the most suitable itinerary combination before making the booking – and that too with no knowledge of how the environment is affected by your impulse purchase!At the back end, PhoTra is composed of the following APIs:

• Google Cloud Vision API – To get latitude-longitude data of the location depicted in the image, we use the geo-tag information available in the image itself. If this is not available, we use the Vision API to estimate these.

• SITA airport API – To identify the nearest airports for a given latitude-longitude

• Sun Express NDC API – To find air fare to the destination

• Skyscanner – To find cars and hotels at the destination

Why did you decide on this solution?

PhoTra is a very simple but extremely powerful idea. By reducing the customer's effort in the booking process, there is an increased probability that the booking process will be successfully completed, thus contributing revenue directly to all companies on the value chain. We have designed the architecture in a very modular manner, which means the solution is completely scalable. Additional content can be plugged in with minimal effort.

What value did the Skyscanner APIs add to your solution?

Given the nature of our PhoTra app (door to door itinerary creation), the APIs from Skyscanner were highly critical. The itinerary would be incomplete without hotel and car content, which the Skyscanner APIs provided seamlessly.

How did you find the integration process?

Our team gave very positive feedback about the use of the Skyscanner APIs. The documentation was fantastic, and whatever wasn't clear from it was quickly solved for us by the Skyscanner support team.

What are your plans for your solution? Will you be developing it further?

There has been a tremendous amount of interest in our product since it was demonstrated at the hackathon. We are evaluating the leads and trying to identify the best modality to implement this.

Finally, how can innovation partners like Skyscanner and IBS transform the Airline industry together?

The disruptions in our industry have traditionally come from complete outsiders (e.g. Uber, Airbnb). Also, flexible retailing and distribution in the travel industry have been held in check by the stronghold of traditional aggregators and connectors. NDC equips new challengers like Skyscanner and IBS to work in new, innovative ways to create solutions that enable airlines and other suppliers to win by embracing more flexible business models to compete for different segments of customers.
Congratulations to IBS Solutions on taking home the corporate prize - we are excited to see what happens next!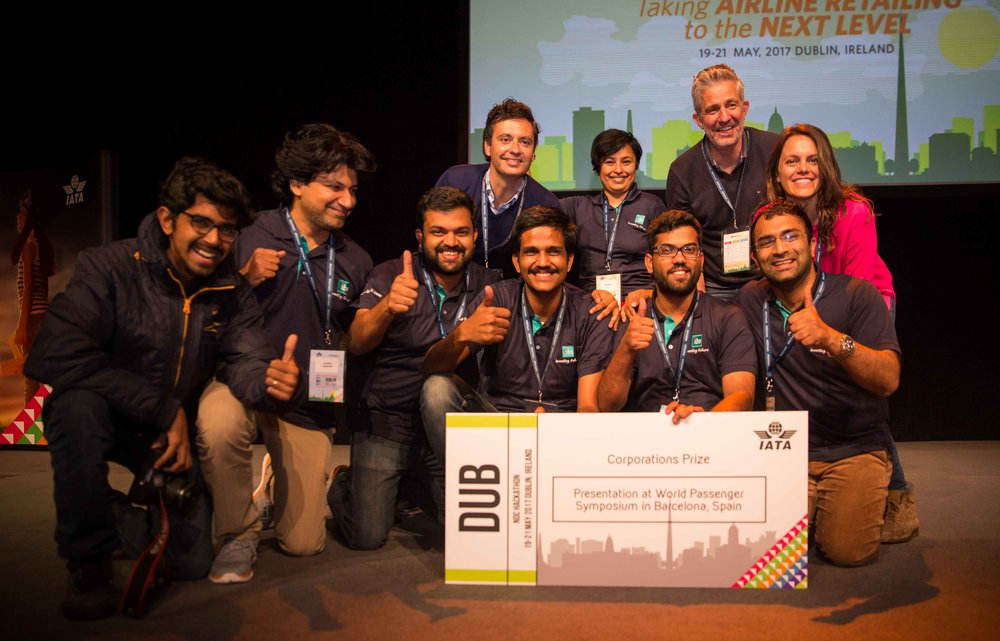 Interested in using the Skyscanner APIs to power your successes? Get in touch with the team today.