As part of our mission to lead the global transformation to modern and sustainable travel, we want to encourage our travellers to do their bit for the environment.
That's why we've made it easy for them to offset their flight's carbon emissions during checkout on our Direct Booking platform.
Direct Booking allows people to buy tickets from a partner without leaving our app or site. It's quick and easy for them – and results in a higher conversion rate for partners.
During the booking journey, travellers can now choose to offset their flight's carbon emissions by making a small donation. If selected, this gets added to the final payment.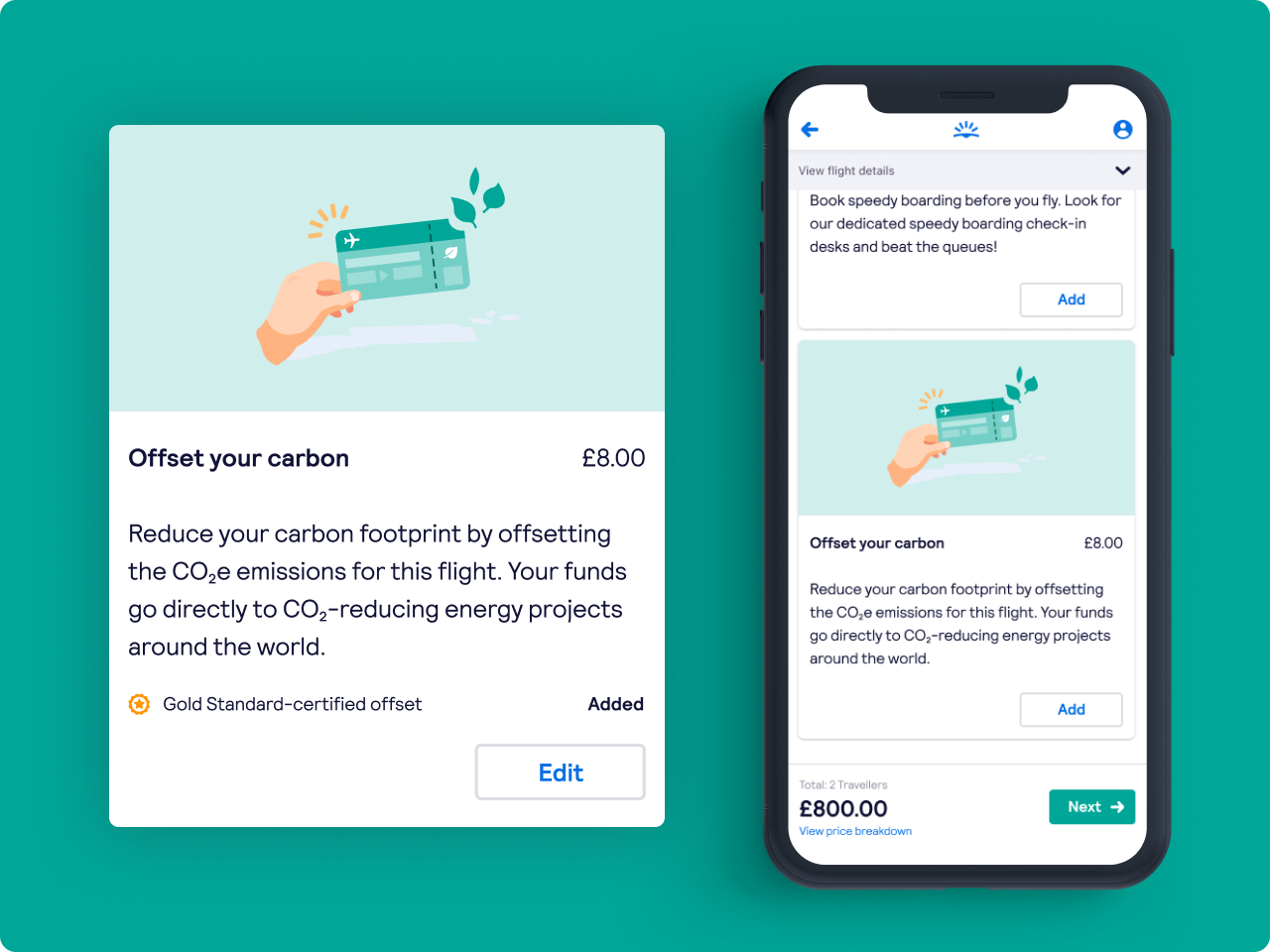 We've picked CHOOOSE as our carbon offsetting partner
Any carbon offset contribution made is debited directly by CHOOOSE and put towards a Gold Standard-certified project, to reduce an equivalent amount of carbon. For every contribution made, CHOOOSE retains just €0.70 to cover their running costs.
Why CHOOOSE?
CHOOOSE is a company dedicated to reducing carbon emissions in the battle against climate change. Their team selects the most impactful carbon-reducing projects around the world.
All their projects are certified by the Gold Standard, a leading international carbon protocol. This ensures the projects have a real impact and benefit local communities, so travellers know their money will make a difference.
Project examples include creating more efficient, greener cooking stoves in Myanmar, distributing clean water filters in Cambodia, building small-scale hydropower plants in Honduras, and installing a sustainable wind farm in Costa Rica.
You can see how we're talking to our travellers about CHOOOSE right here.
"Skyscanner is focused on raising awareness of the climate impact of flying, and enabling customers to support high-quality climate protection projects that also
help communities develop on a sustainable pathway."
Margaret Kim, CEO of Gold Standard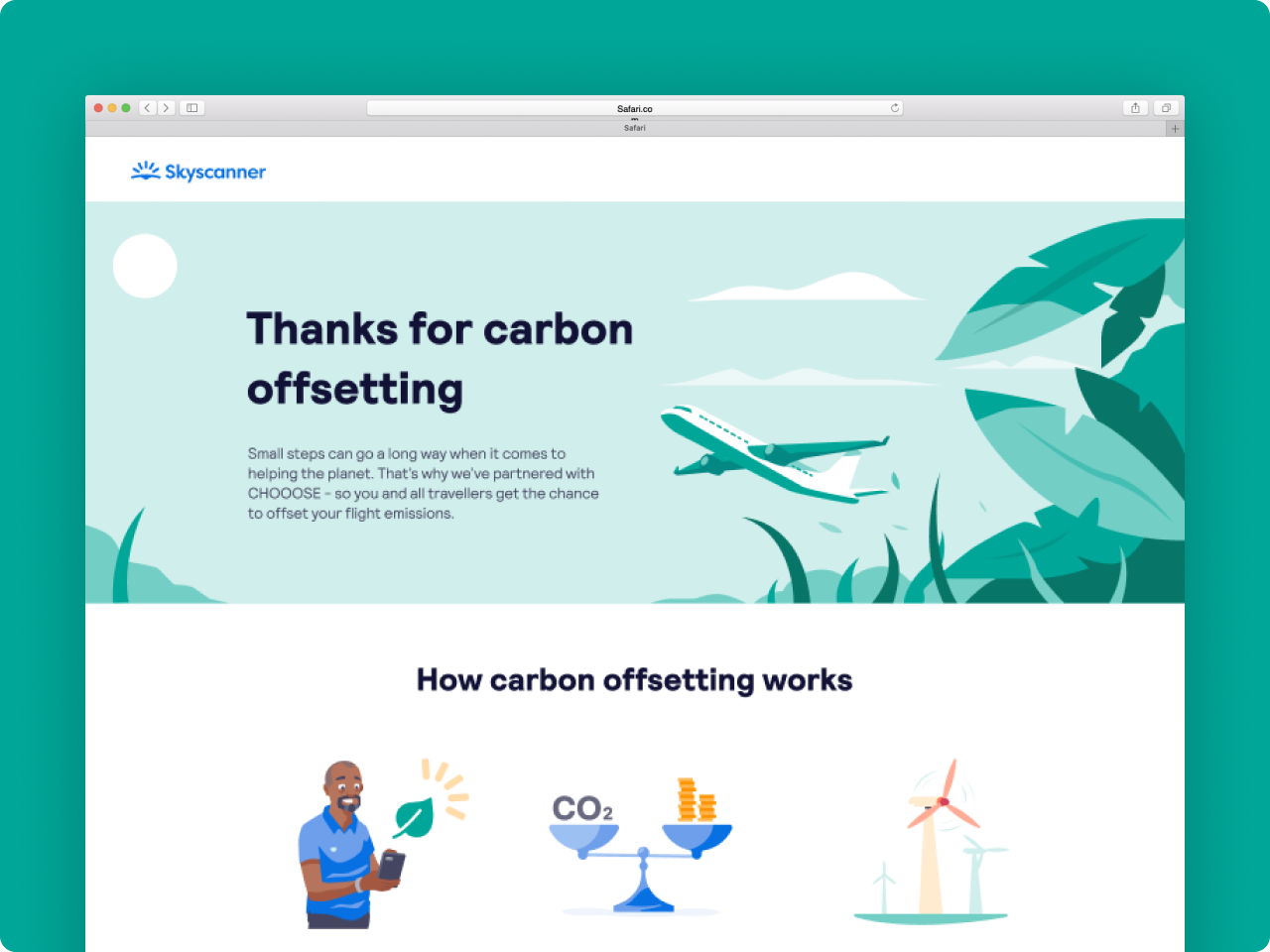 How we calculate carbon emissions
We calculate carbon emissions using several criteria. These include the aircraft model, with newer planes often being more fuel efficient; the distance being travelled; whether the route is direct or indirect, as direct flights are usually more efficient; and seat capacity: the more seats, the lower the fuel consumption per person.
We also refer to the recommended emission factors from the UK Department for Business, Energy and Industrial Strategy (BEIS), which are updated annually. We apply its 1.9x radiative forcing index to all calculations to account for a flight's wider impact on the environment.
Our calculations depend on various sources but are as accurate as possible, and we work continuously to keep improving their accuracy.
What's radiative forcing?
Commercial aviation's impact on the climate involves more than just the effects of CO2 emissions. There are also non-CO2 gases released, as well as aerosol particles and water vapour that affect atmospheric composition and cloudiness. These impacts on the climate are measured with a metric known as 'radiative forcing'.
Our other sustainable initiatives
Our 'Greener Choice' flight labels, represented as green leaf symbols, show travellers searching on Skyscanner which flights emit less CO2 than the average for that route. This classification is based on the type or aircraft, the number of stops, and the seat capacity, so travellers can make an informed decision. Last year, 11 million people selected a Greener Choice flight.

We've also been considering the issue of over tourism and how we can help by shifting demand to less crowded places. We've run a pilot on our website encouraging travellers who are searching for a popular or busy destination to switch to a quieter month or a similar yet less crowded destination nearby. For example, if they select Venice, Italy we'd also highlight Trieste. Early results have been extremely promising, and we plan to focus on developing and expanding this feature in the future.
We're a founding member of Travalyst, a global initiative led by the Duke of Sussex, which includes fellow global industry leaders like Trip.com Group, TripAdvisor, Booking.com and Visa. We've come together out of a shared passion for travel and a belief that it can be a real force for good.
Through Travalyst we're helping ensure a positive future for destinations and local communities in every part of the world for generations to come – from conserving natural resources to finding more impactful ways to reduce and offset carbon emissions associated with travel. We know we've got a responsibility to our planet and each other, and together we're a catalyst for change.
You can learn more about CHOOOSE and how we're talking to our travellers about carbon offsetting right here.