Digital health passes have the power to kick-start aviation's recovery, help get the industry back on its feet and empower travellers to explore the world once more.
Earlier in February, we attended a webinar run by the World Aviation Festival and IATA looking at the potential of digital health passes, like IATA's Travel Pass, the technology involved, its challenges and their role beyond the current pandemic.
Enabling frictionless and contactless travel
IATA's Travel Pass will enable people to travel and move through airports in a more seamless, relaxed manner, ensuring people have all their documents in one place and won't be held up along the way.
The pass will be made up of four modules:
A registry of health requirements – Powered by Timatic and with 200 daily updates, this helps travellers find accurate information on travel and testing (and eventually vaccine) requirements for their journey, beyond current visa and passport requirements.

Registry of testing and vaccination centres – Helps passengers find testing centres and labs at their departure location which meet the standard at their chosen destination.

Lab app – Allows authorised labs to send test results securely to the customer.

Contactless travel app – Enables passengers to create a 'digital passport'.
Currently, IATA is talking with the WHO, the EU and various governments including the UK, to better understand their requirements and help them build confidence with people about travelling again.
IATA's also currently working with 20 airlines and speaking with 30 – 40, as the pass will be integrated into each airline's app or digital offering so people won't need to download it independently.
The pass will launch in March 2021 and will be rolled out globally. It won't use a central database, as all data will be held on the traveller's device locally within a wallet. This will be important to communicate to people. The airline industry has a history of data breaches and the panel believed airlines shouldn't store data.
IATA is just one player in the digital health pass market. CommonPass and AOK Pass are two other pioneers enabling travellers to securely store and present their health and COVID vaccine status on their smartphones.
While these passes have slightly different offerings, they're all being built to ultimately integrate into airline apps. They're also all calling for the same thing: interoperability and the harmonisation of global common standards to ensure digital health passes and other technology can help unlock future travel.
The panel discussion: Digital health passes are crucial in kickstarting travel
The panel included Paul Charles, Founder & CE of PC Agency, Brad Moore, Senior VP of Ground Services at Qatar Airways and Alan Murray Hayden, Head of Airport, Passenger and Security Products at IATA.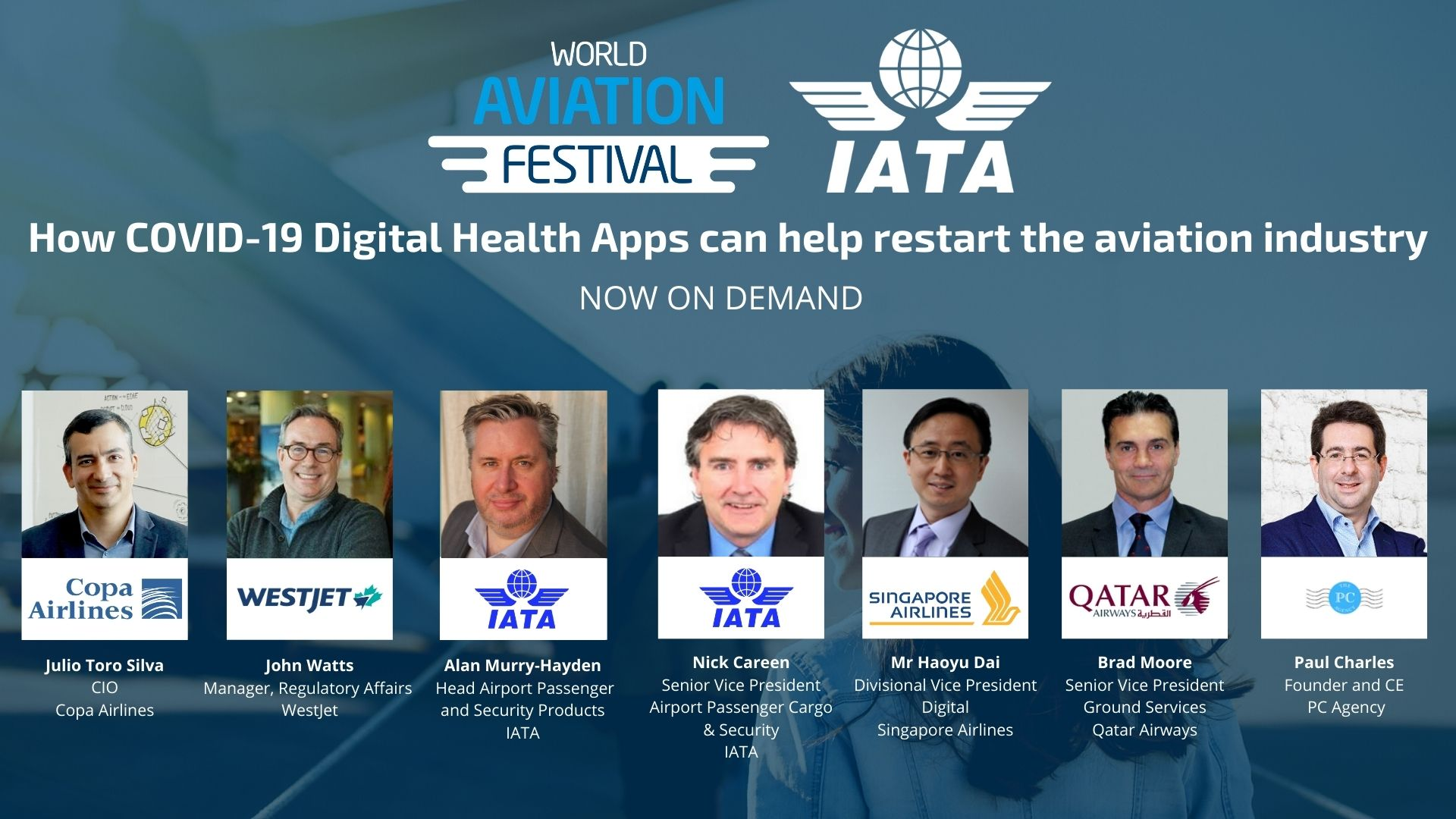 Here's what we learned:
The panel believed digital health passes will be crucial in getting travel going again and will be around for some time to come.

John Watts from WestJet believes one of the biggest potential benefits of digital health apps is automation. In Canada, they don't have the peoplepower to handle thousands of passengers and verify whether each one can travel. The digitalisation of relevant health data (e.g. test results) via a health pass can help overcome this.

Brad Moore from Qatar Airways and Mr Haoyu Dai from Singapore Airlines said they had no plans to charge travellers to use digital health passes. For them, the priority is opening borders.

IATA were keen to stress they're not a b2c brand and have no desire to build a standalone app. Health passes should be part of each airline's app in the future.

All speakers on the panel said companies should focus on building a single standard for verifying health status. This standardisation should be used across different health passes, e.g. CommonPass / AOKPass. Travellers then have the choice to select which app they'd like to use going forward or simply have this technology integrated directly into the app of the airline they're flying with.

Singapore Airlines want to focus on making IATA's Travel Pass available through its own app, and are working on delivering this right now.

Initially, it will be up to airlines to get travellers to adopt these passes and police their use. But in time, it's expected that governments will take control and travellers will have a relationship with the government to manage and verify their health status. This will be similar to how Australians manage their visas currently.

The speakers stressed how important it was for the world to avoid a two-tier travel system. All people should have equal access to travel. If someone doesn't want to download the Travel Pass app, for example, there should be provision for them to speak to an agent. Digital health passes should never become mandatory and therefore prevent some people from exploring the world.

The panel said they need help with advocacy and the adoption of digital health passes, to demonstrate to governments how they can be used to securely re-open borders, while proving and reassuring people that its safe to travel again.
To watch the full recording on demand, please click here.