Destination Trends is a new feature for Skyscanner's Travel Insight Vision data suite to power smarter, faster decisions for destination marketers.
Global demand data for smarter destination marketing
Make your destination the first choice for global travellers with our unrivalled, original, forward-looking data.
Generated by Skyscanner's millions of daily users around the world, our data will help you discover where your visitors come from, how they search and travel, and who your biggest competitors are.
By understanding future demand and trends, you can react faster to market changes, differentiate your offering and win more visitors.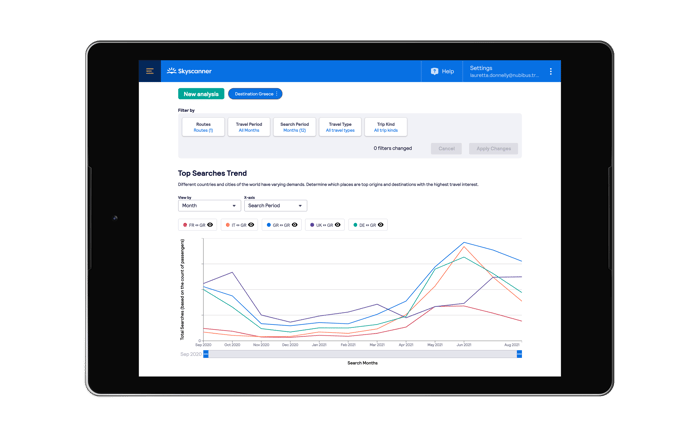 Request a demo
If you've not tried Travel Insight Vision before, you can request a demo here.
Already a user? Log in to start using Destination Trends today.
Go further with Travel Insight Vision
Destination Trends follows Catchment Analysis, Unserved Routes, Network Market Share, Market Trends and Competition Analysis as our latest addition to Travel Insight Vision.

The module is interactive, customisable and enables you to analyse inbound travel trends in greater depth than ever before.
Find out more about the power of Travel Insight Vision right here.
Global demand data for smarter destination marketing
Know your travellers 
Find out your most popular inbound markets and how demand changes over time. Use booking horizon data to improve targeting and influence people at the best time.
Win more visitors 
See which other destinations people are searching for alongside yours, so you can stand out from the competition and increase market share.
Act faster than ever 
Stay ahead of competitors with instant access to the world's largest source of traveller search demand data. It's fully transparent, updated daily and direct from us. 
Empower your destination with Travel Insight Vision
Travel Insight Vision is our visual SaaS data tool for travel trend analysis, route development and route optimisation – and has been designed for airlines, airports and tourist boards.
Instantly access the world's largest source of traveller search and booking demand data – via your own personalised online portal – to help power your COVID-19 recovery and find new opportunities to win in your markets.
Break down and analyse our data, then visualise your findings as graphs and tables for the insights you need to make smarter, more profitable decisions.