This is a guest blog by Catherine Gibson of Tripmatch. Interested in sharing the story of your business? Get in touch!
When Ostap (Tripmatch co-founder & CEO) and I met back in 2014, we were both studying abroad at the University of Tartu in Estonia – I had travelled from the U.K. and Ostap had moved from Ukraine. Living abroad can be challenging and we were always on the lookout for cheap flights to enable us to meet up with our friends and families. Rather than always travelling to the same cities to see them, we liked to plan reunions in different destinations and combine it with the opportunity to travel and explore new places together. In the space of a year, we met up with friends in Copenhagen, Paris, Brussels and Florence!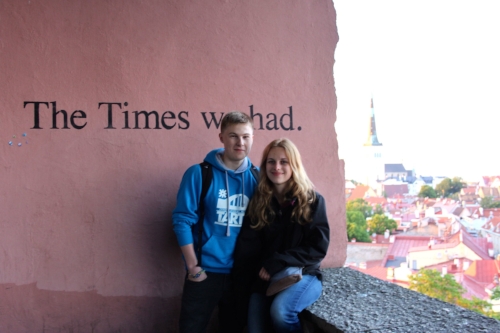 Tripmatch was born out of our experience of having to spend many hours trawling through flight comparison websites to compare flights from different departure airports to the same destination. We found it really frustrating to have to flick back-and-forth between multiple browser windows and manually input different search options. It was not only time-consuming to find flights to the same destination which were both affordable within our student budgets, but synchronising our arrival and departure times also proved challenging. What was the point in meeting up for a weekend if one person arrived 12 hours after the other?
The process of turning Tripmatch from an idea into a reality was begun by our team of developers at the Skype University Hackathon in Tallinn in April 2015. The first prototype – built in just 48 hours - went onto win both First Prize from the judges and the People's Choice Award. Spurred on by our initial successes and the 'can-do' atmosphere of the Estonian tech scene which has produced start-ups such as Skype and Transferwise, our team put their heads together to develop our concept into a fully-fledged website.
We decided to approach Skyscanner for Business for a couple of reasons. Firstly, it was the only large flight search engine which was willing to offer free access to their API. Secondly, despite their size Skyscanner for Business was willing to work with and support our start-up. Once we got started, we were impressed by the speed with which were able to integrate with the Skyscanner Travel API, giving us access to an enormous amount of aviation data. What's more, the opportunity to build a relationship with one of the industry leaders and a trusted household name provided Tripmatch with an enormous leg-up in growing its user-base.
Tripmatch is still in beta, but we have big ambitions and lots of ideas which we are excited to be implementing in the coming months. Our development process is user-centred and we are working hard to incorporate feedback from user testing to optimise our design and add new features to meet our users' needs. To attract more mobile users we are also developing an Android app. We are passionate about making it easier for friends and loved ones to reunite and travel together. Let Tripmatch help you plan your next trip!
Interested in delivering a bespoke flight search service to your passengers? Get started with the Skyscanner Travel APIs now.