On May 23rd, Microsoft and Skyscanner held the Office Traveller Hackathon. The event gave attendees the opportunity to discover new ways to extend their solution and engage users through Office, O365 and Skype. Skyscanner Developer Advocate, David Low and Product Manager, Stefan Sabev also attended the event to provide an introduction to the Skyscanner Travel API and support the 'hackers' through its integration.
One of the attendees of the Office Traveller Hackathon was Richard Astbury, Senior Consultant at Two10degrees.

Two10degrees is a software development business that has delivered solutions in industries including satellite communications, search and rescue, construction, public sector and finance. They also offer a Global Alerting Platform, which supports global communication and safety management through lone worker monitoring, the tracking and tracing of people and assets and business intelligence.
As a Microsoft Azure MVP (Most Valuable Professional), Richard Astbury joined the Office Traveller Hackathon with a view to use the Skyscanner Travel API to complement the Two10degrees travel system.
"The Two10degrees travel system calculates a risk score based on the regions you visit on a trip. It can then suggest mitigations to ensure your travel is completed safely. Integrating with the Skyscanner Travel API allows users to interactively add hotels stays (and soon flights) to the itinerary, and see how changing their travel plans can affect the risk level."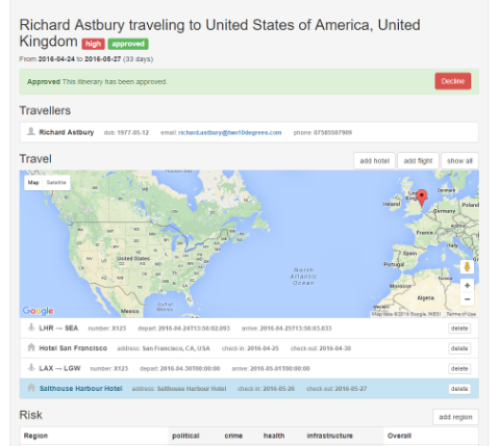 It was rewarding to see the event enabling such an important and valuable integration. David Low commented:
"It was refreshing to see an integration that added value to an existing product, and so quickly too. It shows how our Travel API can be put to work and solve problems outside of the travel industry. We're really pleased to see this kind of rapid integration and hope it inspires others to have a go too."
Richard was able to integrate our API in under 2 hours – proving just how much could be achieved in a single afternoon!
"I was impressed with how simple the Skyscanner Travel API was to use. It's well documented and powerful. I'm currently exploring other ways the API can complement our products."
— Richard Astbury, Senior Consultant at Two10degrees
If you want to use our Travel API – and perhaps see if you can beat Richard's time – you can get started by requesting access today!