If you follow DuckDuckGo on Twitter, you might have seen their tweet last week featuring our newly released Instant Answer.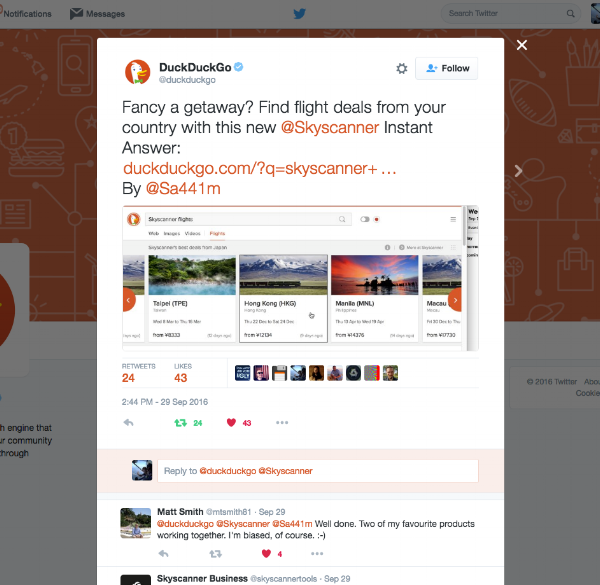 A few months ago we also released a cheat-sheet for our APIs to help developers working with them. In this post Skyscanner Developer Advocate, Sam Heyman, tells us more about DuckDuckGo, our Instant Answers and how you can get involved.
What is DuckDuckGo?
DuckDuckGo is, in their own words, "The search engine that doesn't track you. A superior search experience with smarter answers, less clutter and real privacy."
It's a general purpose search engine that is intended to be the starting place when searching the Internet. Use it to get more Instant Answers, less spam and real privacy - which DuckDuckGo believe adds up to a much better overall search experience.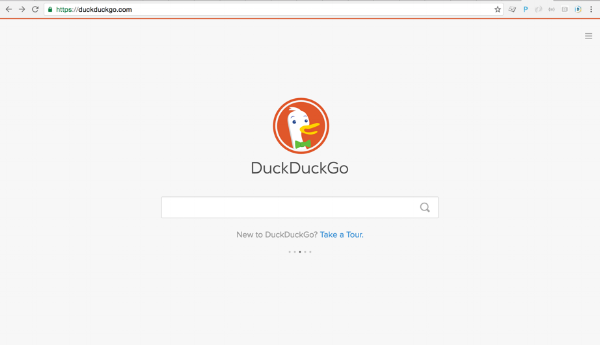 What are Instant Answers?
The Instant Answers feature of DuckDuckGo helps you to find what you are looking for in fewer clicks. Everything from a stopwatch for your workout to finding movies with Chuck Norris can be found without leaving the search engine!
There are two main types of Instant Answers that you can develop on DuckDuckGo: Goodies and Spices.
Goodies
Goodies provide their results entirely through server-side code. They tend to use a static data file stored on DuckDuckGo's server. Check out the Docker cheat-sheet below, which is a good example of a Goodie.
Spices
Spices retrieve data from third-party APIs and display the results in pre-designed templates. Optionally you can customise your own if needed. Below is the Amazon Spice showing books by Tolstoy.
What are the Skyscanner Instant Answers?
API Cheat-sheet
We created a simple cheat-sheet for our APIs. The aim of this Goodie is to give developers a go-to-guide for getting started with our APIs. You can start using our cheat-sheet here.
Inspiration Instant Answer
We built an inspiration Instant Answer, or spice, as an example of how our Browse Cache API can be integrated. It shows the cheapest flights users have found on our site for different routes - take a look of an example here.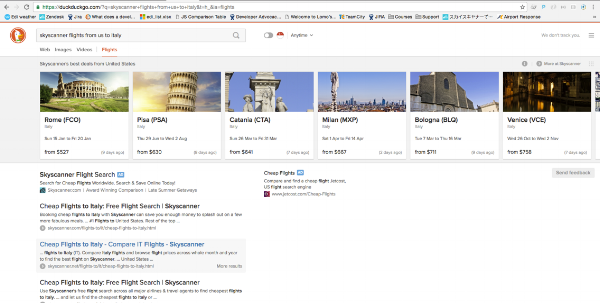 You can search:
Skyscanner

Skyscanner flights

Skyscanner flights to anywhere

Skyscanner flights from UK to Italy

Skyscanner flights from Bulgaria to France

Skyscanner Flights from Spain to London
The 'from' field is optional and can be any country. If nothing is specified, then it will use the user's country. Similarly, the 'to' field is optional and can be 'anywhere', a country or a city. If nothing is specified, then it defaults to 'anywhere'.
Why is Skyscanner Building DuckDuckGo Instant Answers?
DuckDuckGo's mission is to be the best search engine for developers, providing them easy access to cheat-sheets for all programming languages and tools. It also has a Git integration that lists Git repositories under the 'Software' tab.
DuckDuckGo is therefore an excellent way for Skyscanner to reach out to developers who are looking for Travel APIs to add content to their projects. The cheat-sheets give them easy access to our documentation, our git repositories (via the 'Software' tab) and our Spice Instant Answers that demonstrate what can be done with our APIs.
Interested in Getting Involved?
You can contribute to and help improve both our cheat-sheets and our Spice Instant Answers through our Git repositories:
You can also look out for our hackathons. following the successful Quack and Hack hackathon which David Jones and I co-organised a few weeks ago, we are looking to organise another one. So watch this space!