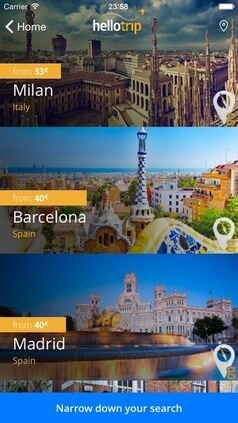 Hellotrip is a refreshing product that generates travel destinations for users when they are lacking inspiration. The product's real unique selling-point, however, is their "buy or wait" function on certain routes, which advises users when the best time to book their flight is and the likelihood of future price drops.
Hellotrip partnered with Skyscanner for Business back in December 2014. Nearly a year on, we wanted to find out a little more about their Skyscanner for Business journey as well as their future plans for the Skyscanner API integration. We were lucky enough to catch up with the COO of Hellotrip, Benoit Mouret, to find out more.
1. What does your company do in a nutshell?
Hellotrip develops smart tools for travellers. We have created an exciting tool to give travellers inspiration by showing them a world map with plotted destinations which they can fly to, based on their budget and desired date of travel.
For people who know where to fly to and don't require inspiration, we have just released a new technology that informs travellers of the probability of an increase or decrease of the price of a specific flight. This way we can help travellers save money by advising them to book right now in order to avoid an imminent price increase or to wait and catch a likely price drop.
2. When did you start your company and when did you start working with Skyscanner for Business?
Back in January 2013 we started working on our unique price prediction technology for flights. That was a huge project that was going to take some time, so we wanted to help travellers in other ways as well! So in June 2014 we wanted to also create something that helps people to get more inspiration for their next trip, which is an issue we were facing ourselves often as well.
We started working with Skyscanner for Business in December 2014 after a eureka-moment in which we found a solution to that very common problem using Skyscanner's Business API.
3. Why did you choose the Skyscanner API?
From the moment we wanted to build an amazing and unique inspiration tool, we faced a lot of technical issues limitations in terms of needed data. Skyscanner's API was like music to our ears, as they have an extremely flexible interface which gives us access to an incredible pool of data which we can use to drive our new product. Thanks to great documentation, our development team faced no pain in integrating the cache API and the live pricing, which allowed us to create the perfect experience for our users
4. How exactly are you using Skyscanner's API on HelloTrip's product?
All of our flights data exposed on the website is coming from Skyscanner. We use the live pricing API on our regular flight search which has our price prediction technology integrated on routes that are supported and we get all the power of Skyscanner API for our inspiration tool. We implement the cache API to provide the latest quote for worldwide destinations and then do a live pricing call to get the latest prices for best deals.
5. What problem/business need does Skyscanner's API answer?
First of all, we wanted a platform where users could search and compare the best flight deals available online, so we needed the best data on the market in one API, which turned out to be Skyscanner.
And then, we wanted to be able to perform queries that gave us worldwide destinations from only one city of departure. We also wanted to be flexible in term of dates, so we implemented different Skyscanner's cache calls (City to anywhere for example).
We were expecting to have to implement multiple APIs from multiple parties in order to build what we had in mind, so we were really amazed that we could fulfil all our technical needs with a single point of interaction.
6. Are there any tangible results you've seen since you partnered with Skyscanner for Business?
Thanks to the Skyscanner API, we were one of the first start-ups in the world that can provide an inspiration tool from a city to anywhere, with specific return dates and covering all the best deals possible.
From that moment, we've had great feedback from users and our traffic is growing by 20% each month.
7. What's next for your Skyscanner API integration?
We have recently implemented the A to B search on hellotrip.com so you can find the best flight for a specific destination. We have also released our unique price prediction technology that goes on top of it which is currently in test for certain routes departing from Amsterdam.
Users can also choose their destination, check the best flight that suits their criteria and with the help of machine learning and historic measurements we will create a predictive model that calculates the probability of a decrease or increase of the price in the next 14 days. That's very cutting edge technology and we are the first in Europe to offer this.
We rolled out 30 routes from Amsterdam and 5 beta-routes from Paris are coming soon, so if you're curious to see what we're doing, have a look on our website!
Finally, we are currently implementing the grid view call in order to provide an even broader overview of prices on a specific destination for our users!
Interested to read more before getting started with our Travel APIs?