Newly launched app, LuckyTrip have just released one of the most promising apps on the market – a budget based tool, which finds you a complete trip in one tap.
The concept is simple, yet creative; the apps one tap search concepts finds you 'Somewhere to go + Somewhere to stay + Something to make you happy'.
Users select their budget, tap 'Lucky', and instantly see a trip to one of 300 destinations. LuckyTrip use the cheapest flights from Skyscanner, the best places to stay from Booking.com and handpick unique things to do at the chosen destination.
Users can then save trips, share them with friends and book, all on their iPhone. The Android version is currently in development.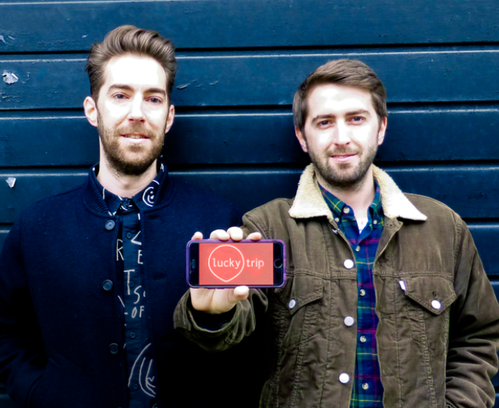 Interview with LuckyTrip founder and CEO, Tiff Burns
When did you start your company and at what point did you start working with Skyscanner?
My brother Alex and I founded LuckyTrip in July 2014. We both love to travel, but hate the admin. We think going away for the weekend should be easy and booking a trip should be part of the fun. We only just launched at the end of August 2015 and we've had a great response so far. We're really excited for the future! We first started working with the Skyscanner test API with our development team back in December 2014.
Why did you choose the Skyscanner API and how exactly are you using it?
The technology behind the Skyscanner API is way ahead of anything else out there. We really like the 'browse cache' functionality, which works super fast. The data structure is easy to work with, and there are some cool technical features that no other flight API offered.
We're also very aware of Skyscanner's presence in the market. We wanted to partner with the most popular flight search engine, with a brand people trust all over the world.
The Skyscanner API forms part of the backend system we've built called 'Atlas', which combines unique industry-leading travel search tools, handpicked content, and our 'LuckyLogic' algorithm to provide great trips for our users.
Skyscanner allows us to provide the cheapest flight prices from all possible origins in the UK to all of our destinations in Europe. Currently we have over 300 destinations active.
Are there any tangible results you've seen since you partnered with Skyscanner?
The Skyscanner API has a really fast response rate which helps keep loading times as quick as possible.
Our algorithm is doing a huge amount of work every time a user taps Lucky, sorting through live data from lots of different sources. So the fact that Skyscanner is quick really helps to make LuckyTrip a fast, fun and casual experience so our users keep coming back to use it.
What's next for your Skyscanner API integration?
As we grow LuckyTrip and expand into new countries we'll be adding lots of new exciting destinations and routes. We've built our integration with Skyscanner to be easily scalable, which is going to help facilitate our growth going forward.
Any parting words for others considering partnering with Skyscanner for Business?
Our experience working with Skyscanner has been excellent. Our integration went smoothly and technical support was on hand whenever we needed it. We would definitely recommend Skyscanner as the partner of choice for flight search.
Visit our Travel APIs page to find out how we can support your business goals.