This is a guest blog by Emma Fielding, founder of CompareMyTravel. Interested in blogging for us? Get in touch here.
CompareMyTravel is a platform that compares the price, duration and departure times of different travel options (busses, flights, cars and trains) across the UK. Forget searching on multiple websites and comparing different operators - with CompareMyTravel you can cut search time by viewing all the options in one place.

The idea for CompareMyTravel was sparked by my own travel troubles. A friend and I were returning from a trip to Rome, but we managed to miss our train back from King's Cross station to Newcastle. We eventually got a train to Leeds and then a lift back from there, but we didn't arrive home until 4am. The silver lining is that during this long journey I dreamt up the idea of a website and app that could have compared all my travel options within a single space - and so the CompareMyTravel concept was born.
Although the initial idea came to me in February 2015, it was not until several months later that I acted it on it by entering a local app competition hosted by Sunderland Software City. My expectations were limited initially, but we ended up winning the public vote via social media and received initial funding to use for the app's development.
Since this first success and our public validation it has been a whirlwind of development. Now we have finally launched the first version of our app, featuring Skyscanner flights, with the website to be launched soon and the app to be further developed.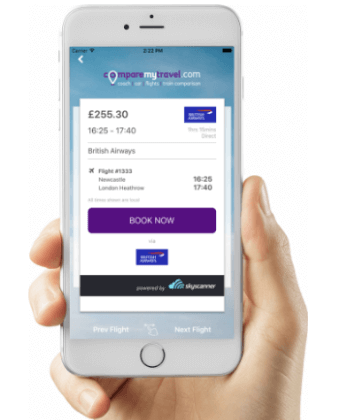 We chose to work with Skyscanner not only due to its rapid growth and excellent reputation, but also because we resonate with its history - not too long ago Skyscanner was just an idea and this shows just how far CompareMyTravel could go.
Additionally, with the Skyscanner API in place we can offer the best flight options at the best price. This will enable our customers to genuinely identify the travel option that provides the best value for money. As customer satisfaction is at the heart of CompareMyTravel, it is important for us to start with partners that can guarantee a quality experience and using the Skyscanner API will help us to deliver on that.
We are in the very early stages of the CompareMyTravel journey, but the future certainly holds exciting opportunities for growth - and more successes!
Interested in developing your own travel solution? Sign up to set up your API application here.