Built using the Skyscanner Travel API, Wing it Travel needs only your budget to serve up your next holiday destination. We interviewed Eileen P. Kelly, founder of Wing it Travel, to find out more!
1. How would you describe Wing it?
Wing it is a mobile app that lets you shop flights by your budget and through a feed of geo-tagged photos that are integrated with Instagram
2. How did you find out about the Skyscanner API and what made you interested in using it for your product?
It really came down to reputation and flexibility in terms of the ways in which we could work with flight data. Our team researched dozens of ways in which we could link our app to flight data that was going to allow for flexible search options. The Skyscanner Travel API was also reviewed positively by so many start-ups across the travel industry that we decided to approach you about gaining access to it. The browse cache allows us to make an initial scan for prices based on a certain budget before serving live prices. This really linked up with what we were trying to accomplish with the application; simplicity of booking travel through one budget.
3. How did you find the integration process?
Really seamless with loads of support from the Skyscanner team and in particular, our account manager. We've been live for about two months and working through on-going normal bugs but finding that Skyscanner is incredibly supportive and helpful in trying to resolve and improve the quality of our flight data. We recently built an "explore" section that integrates geo-tagged photos from select travellers on Instagram. Since the API's data structure is easy to work with, our developers were able to build a flight search feature in our explore section that now allows users to buy flights off images they like on Instagram.
4. What value does the integration add for you and your users?
For our team, the API is pivotal to the value proposition of Wing it Travel. We're able to connect to a network of flight information in a pretty seamless way. The technology behind both the browse cache and live price search also works incredibly fast. What's more, by diverting traffic to the site of Skyscanner's travel partners we can focus on layering on other capabilities that ultimately expand our user base.
Skyscanner's API also taps into both low and high end flight data which is crucial to our customer demographic who are searching for the most affordable flight to one of many desired destinations. Since we were able to combine the API with our Instagram integration, we're also offering users the capability to shop flights off images they "like" throughout the day.
5. What has the reaction been like from your users since setting the integration live?
Users have been pleasantly surprised by the number of places they can travel to on their budget. We know that millennials travel differently. They expect to see it all during their lives, value unique experiences over simply hitting up the same tourist sites their parents went to, and they're planning with less lead time. With the Skyscanner Travel API, Wing it is able to provide a variety of destinations within seconds. We're skipping the generic quality of flight booking and allowing users to build their own guidebooks off their budget and images from respected travellers around the world.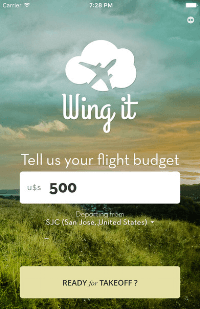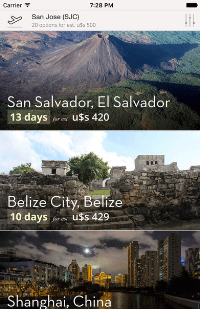 6. What does the future hold for Wing it?
Our team sees a huge opportunity in leveraging the insights from travellers from around the world in order to help users plan a more curated and authentic travel experience. We're also building a "suitcase" concept, which will provide a full trip planning experience within our app - enabling users to shop not only for flights and hotels, but also for relevant travel gear needed on a certain type of trip.
Our partnership with Skyscanner is a key part of this vision: not only is the flights data a core part of our business, but as we look for ways to differentiate our app and expand our user base we are confident that Skyscanner will play a pivotal and supportive role.