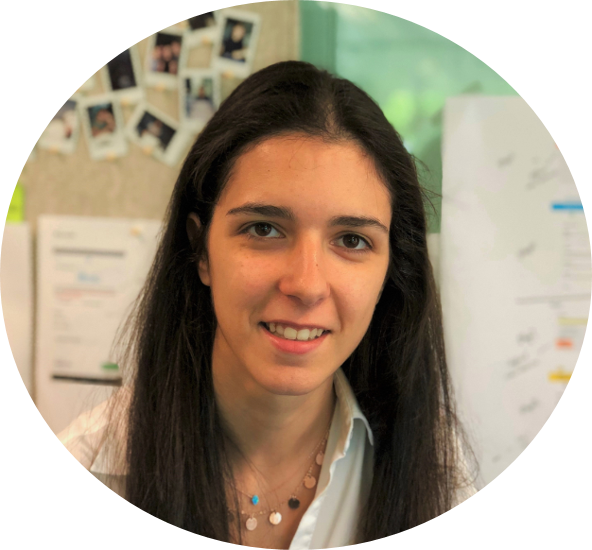 This is a guest blog by Advertising Commercial Manager, Zeynep Mutlu Bigalı. With her experience in Growth marketing in Turkey & MENA, Zeynep brings a wealth of experience in acquisition channels promoting content and experimentation. Sponsored content is a new advertising format on Skyscanner – reaching out to our 70 million travellers every month globally.
Interested in finding out more about how we use sponsored content and data at Skyscanner? Contact Zeynep via LinkedIn.
The techniques used to promote travel and destinations have gone through many transformations over the past years with the launch of new social and communication apps, blogs and other forms of multimedia. Travellers are more connected with each other than ever. As we put our users first in everything we do at Skyscanner, our sponsored content is designed to inform them through valuable content from destination marketing organisations, airlines, and other travel brands.
As we work with partners to create engaging and valuable content, here are some considerations to make as you look to promote your brand both on and off Skyscanner.
1. Take the traveller on a journey
Storytelling and creating a themed journey are key to inspiring readers. It provides context for content and helps travellers gain knowledge to make an informed decision. Taking users on a journey also helps to increase the number of brand touchpoints. This enables brands to speak to users in various ways at different stages of the purchasing funnel and can be applied through the inspiration, planning and booking states to guide users to a point of action. At the point of inspiration for example, content in different media formats can be leveraged to influence destination selection and prompt planning – or a search!
2. Influence intent with content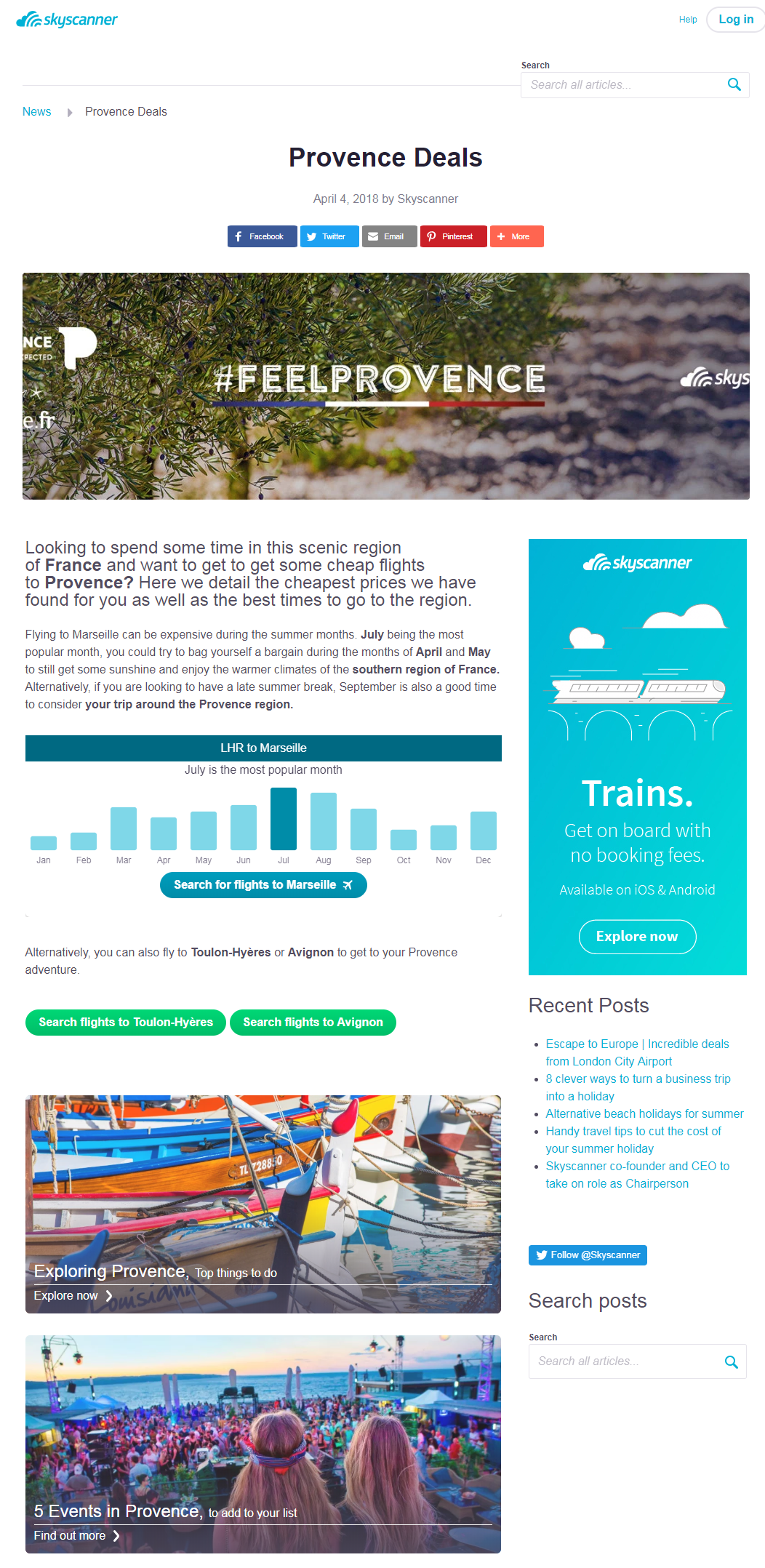 Use content titles that clearly reflect the intent behind the person's desire to travel. By introducing elements such as an offer, an upcoming event or a brand-new product or destination, you can elevate engagement and excitement at the prospect of a new journey. There are different types of title leads that can be leveraged e.g. utilizing listicles or questions to make sure the content is hinted at in a concise and impactful way. This is a powerful technique to get your audience to start thinking about the prospect of purchasing even before they have read the content.
3. Invest in the right channels
The content distribution strategy is key to the campaign's overall success. It's essential to find where your target audience is from the many distribution channels there are available. Once the optimal channel mix is identified, a balanced time and budget allocation will lead to funnelling quality traffic to the campaign. As a next step, you can start using the data captured to adjust your resource allocations. This way, it is much easier to make changes that have an incremental impact on the overall performance.
4. Leverage current trends and insights
With more connected travellers than ever, providing current information is significant to not only to grab the attention of the readers but also to highlight offers and news which help achieve campaign objectives. We have the ability and the responsibility to provide the right information to our travellers at the right time. By making use of data captured through search behaviour, there are various ways to engage with travellers at the right time and context. For example, using advanced audience segments can ensure that your content is promoted to high intent individuals. In the case of a brand looking to promote ski deals, they could target individuals who are interested in winter ski destinations.
5. Research and follow-up with social media
Using social media to look at which types of content work is an easy way to help choose topics and title structures. Social listening tools have ample insight about trends which should guide content writing especially if virality is going to be used as a promotion technique. For example, making use of comments on blogposts and rates of engagement to see what information travellers are trying to find can help determine your content plan.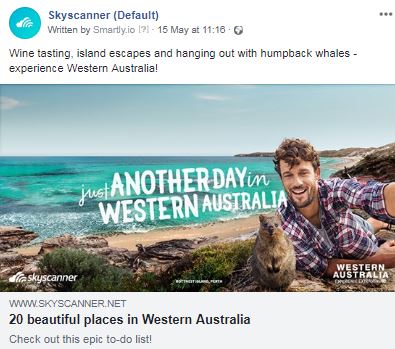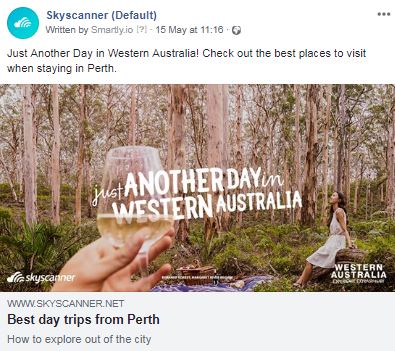 6. Localise for impact
Ensure that the content reflects the way readers engage with content in each market. This has a dramatic impact on engagement and the actions initiated within sponsored content. Knowing which markets respond to written content better than video or image-led content is one of the key factors helping you decide when you may want to optimise or A/B test. Localisation also helps us to connect with travellers on an emotive level that is unique to their origin market. This not only showcases the sensitivity we have for the travellers on our platform but also allows brands to have their local voice be heard in different markets.
7. Set clear objectives and benchmarks
Having a clear set of objectives and benchmarks wherever possible will help decide what the north-star metrics need to be to determine the success of the campaign. It is also useful to have a benchmark against previous similar results to set expectations from the start. In doing so, you will be able to pivot your campaign at a much earlier phase, saving you time and money. When looking at slightly different content pieces, you can benchmark by categorising content campaigns. For instance, it could be useful to segment by theme, distribution strategy or using a mixture of both for certain elements of sponsored content campaigns. Travel planning – depending on the user type, destination and price – can take on several phases and occur long before a purchase is made. Therefore, benchmarking against a set of objectives with similar conditions is also very important.
8. Analyse and optimise
Having detailed dashboards and keeping an eye on performance throughout the campaign ensures no opportunities are missed in terms of re-allocating budget. Depending on the complexity of the campaign (e.g number of content pieces or audiences), it's important to consider the length of time needed to gather statistically significant data. This can then be used for optimisation. As data changes significantly over time and is influenced by a multitude of campaign variables, having performance dashboards at your fingertips is key to spotting changes on the go and at the point where you are looking to optimise.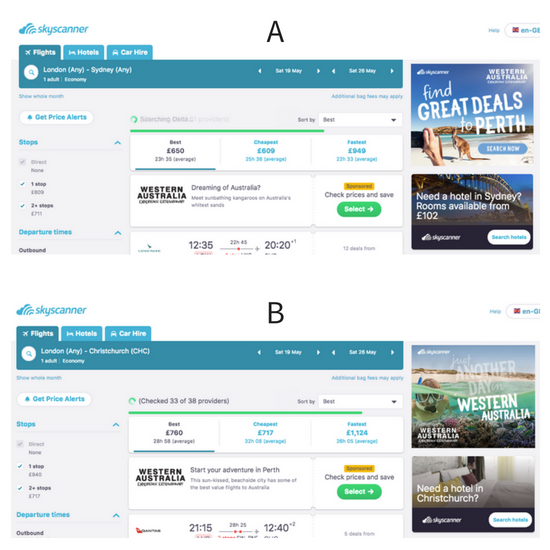 9. A/B test to maximise success
We also need to highlight the importance of A/B testing in sponsored content - especially if you have a variety of audiences you are looking to target within your campaign. Having a wide-range of creatives and copy at the start of your campaign will help you to A/B test in a seamless way, as you can optimise your spend towards the top performers while you gather data. This information is also vital for future campaigns as you can retain the wealth of data you will get from the tests and replicate for other campaigns.
10. Monitor performance and capture learnings
Using the right tracking tools to ensure that analysis can be made is vital to campaign reporting. To gain actionable insights, it is important to balance both qualitative and quantitative data sources. For instance, monitoring the analytics available through distribution channels such as Facebook, can offer a view of engagement, as well as user feedback (e.g. comments). Capturing your learnings quickly becomes a great asset for your team. Working in a lean and agile framework enables you to look at previous challenges and successful A/B tests help to curate future campaigns in a leaner approach. This could range from A/B testing of different copy or images to experimenting on a new channel.
Interested in putting your brand and content in front of our 70m unique monthly users? Contact us