We kicked off this year's World Travel Market with a keynote on the future of travel.
With the end of 2020 in sight, news of a potential vaccine in the coming months, and green shoots of recovery emerging from domestic markets and the Far East, we sat down with notable members of the travel industry to look ahead to 2021 and beyond.
What will the future of travel look like? And what form will it take? It's a question we're finding more of the answer to every day.
Watch the event on-demand
To watch the event recording, click here. You'll need to quickly register first.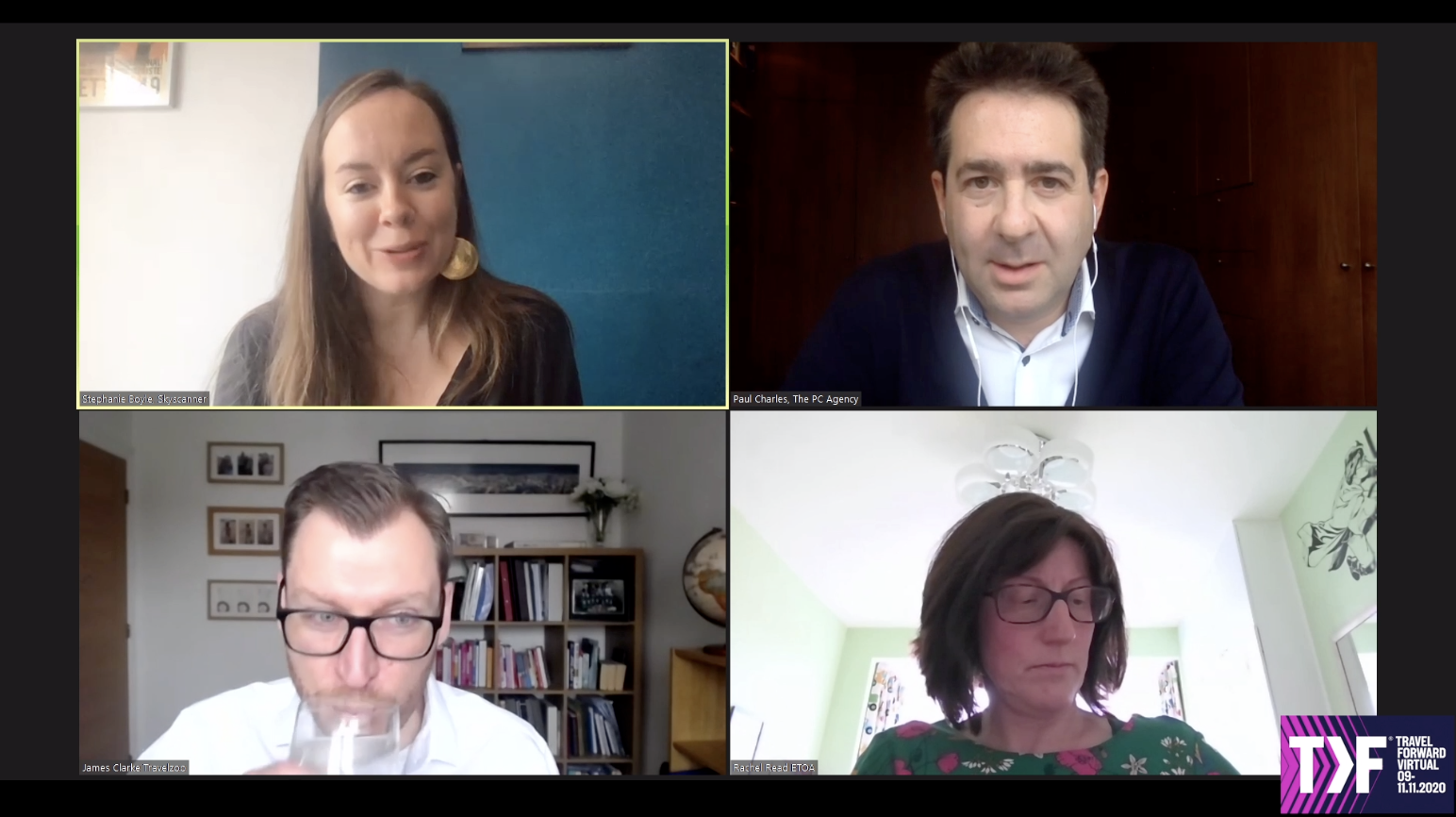 In this Travel Forward session – called 'A Glimmer of Hope' – Stephanie Boyle, our Head of Industry and Partner Communications, joined Rachel Read from ETOA and James Clarke of Travelzoo to share the latest insights and how they're responding to and managing recovery.
Moderated by Paul Charles, travel commentator and founder of the PC Agency, this fascinating conversation proves one thing: Business as usual is gone; business as unusual is here to stay.
Stephanie revealed how, bubbling beneath traveller caution and low bookings – pent-up travel demand is there. For example, following the Canary Islands being added to the UK's safe travel list at the end of October, we observed a 508% week-on-week increase in searches to Spain, with volumes reaching 80% of 2019 levels.*
Another stat Stephanie shared concerned airport testing. In a recent Skyscanner survey, 78% of UK travellers said halving the quarantine time from 14 to seven days would make them more likely to travel abroad.**
The discussion also touched on topics such as:
How booking flexibility and refundability will be more important than price


The future of airfares, business class and the need to rebuild sustainably


The impact of airport testing on traveller confidence and willingness to fly


The rise of one-way flights, domestic trips and shorter booking windows





The increase of rail networks fostering domestic and near-neighbour travel
Want to know more?
Every two weeks, we publish a travel insights report on our blog, packed with the latest global search and booking demand data, traveller attitudes and sentiment analysis, and global and regional travel trends.
*Based on searches on Skyscanner platforms between 19-25 October, compared to the previous week. All itinerary types and cabin classes.
**Skyscanner traveller survey on Skyscanner web and mobile platforms 19/10/20 (n=1120 UK respondents).