In what's been a year like no other, COVID-19 has caused a seismic, permanent shift in how we live, work – and travel. Now, as some countries start to emerge from the pandemic, we're sharing our latest insights on what this new world of travel will look like.
Last week, we hosted our second webinar which welcomed businesses across the travel landscape including airlines, airports, tourist boards and hotels.
In The Return of Travel, we unveiled key takeaways from our report and hosted an engaging discussion with experts from across Skyscanner and the travel industry – exploring everything from 2021's biggest new trends to what travel looks like ahead of this year's peak season.
The webinar included a 20-minute roundtable where everyone shared their opinions on innovations to kickstart travel, the need for greater industry collaboration and clarity, and ways to increase traveller confidence and build back better.
The lively event was packed with fascinating insights from:
Stuart Middleton, Chief Commercial Officer, Skyscanner
Nick Hall, CEO, Digital Tourism Think Tank
David Rutnam, Senior Manager, Industry Distribution Programs Adoption, IATA
Kayee Cheung, VP of Innovation, Skyscanner
Hugh Aitken, VP of Flights, Skyscanner
Stephanie Boyle, Group Head of Industry & Partner Comms, Skyscanner
To watch the recording, please click on the video below.
State of the Industry and travel as a human need
Stuart Middleton, our Chief Commercial Officer, kicked off the session with a positive message about recovery, signalling that it's not 'if' travel will return, but 'when'.
93% of travellers are currently planning or thinking about a trip*

In the US, 2.5 million people flew over the Memorial Day weekend


330 million jobs worldwide are dependent on the travel industry**
"The reality is that as humans we've been starved of travel for 15 months… and it's stopped us connecting with parents, with friends, with family, finding out about new cultures and learning about other people."
2021's emerging global travel trends
Our VP of Flights, Hugh Aitken, explored this year's biggest new trends and asked the question: Will these short-term trends translate into the long-term and create a fundamental change in travel?
Hugh began by talking about the huge levels of pent-up demand we're seeing, showcasing how significant numbers of people are ready to travel if and when allowed. Two examples included:

Source: Skyscanner's Travel Insight data tool
Since the start of the pandemic, booking horizons have become unpredictable. They dropped significantly last summer as travellers had to make shorter-term decisions due to changing entry requirements and restrictions – and have remained unpredictable since. The graph below shows a steady drop from Q2 last year with booking horizons today remaining far shorter than before.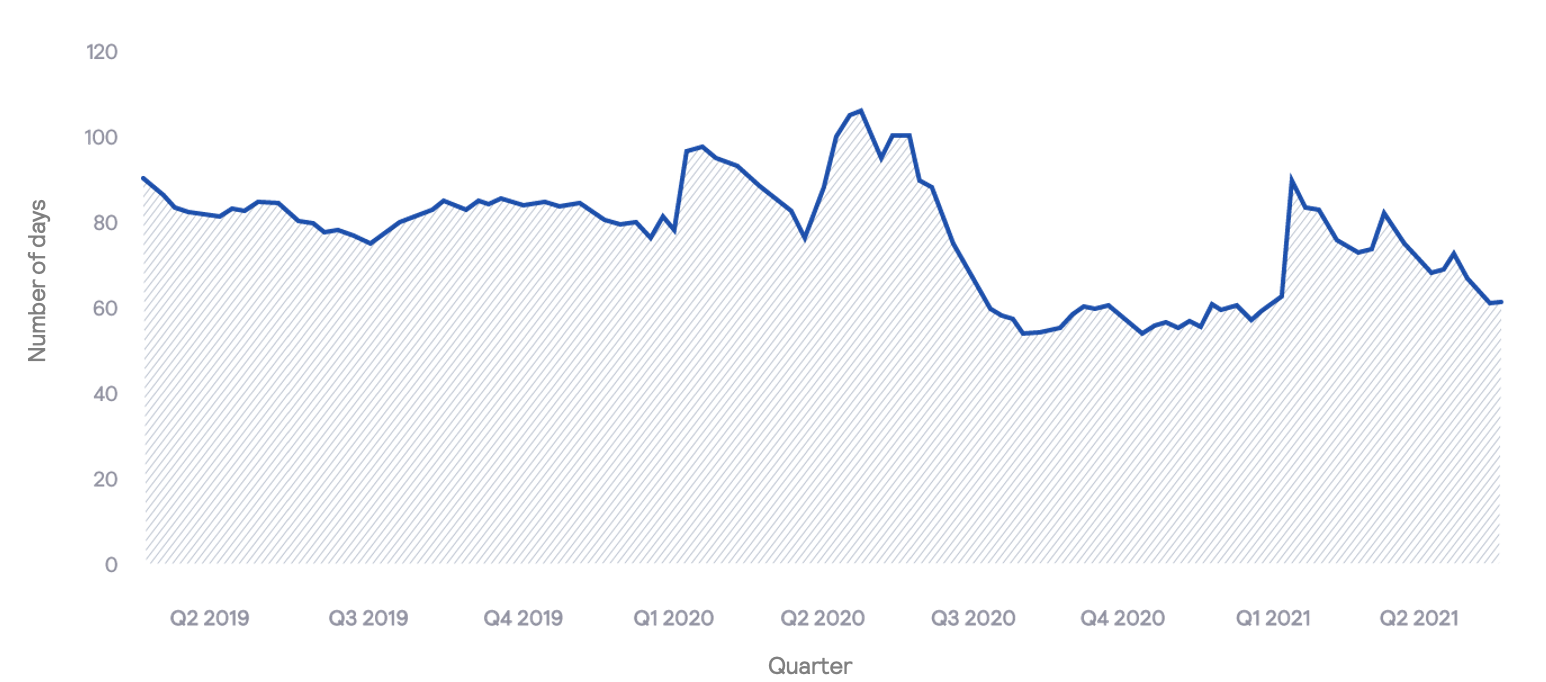 Hugh also comments how average trip duration is increasing, especially for trips of three weeks or longer, with weekend trips becoming much less popular.
More people are also choosing to explore either their own countries or fly short-haul. In 2019, domestic searches made up 17% of all searches on Skyscanner. Today, that figure is now 43%.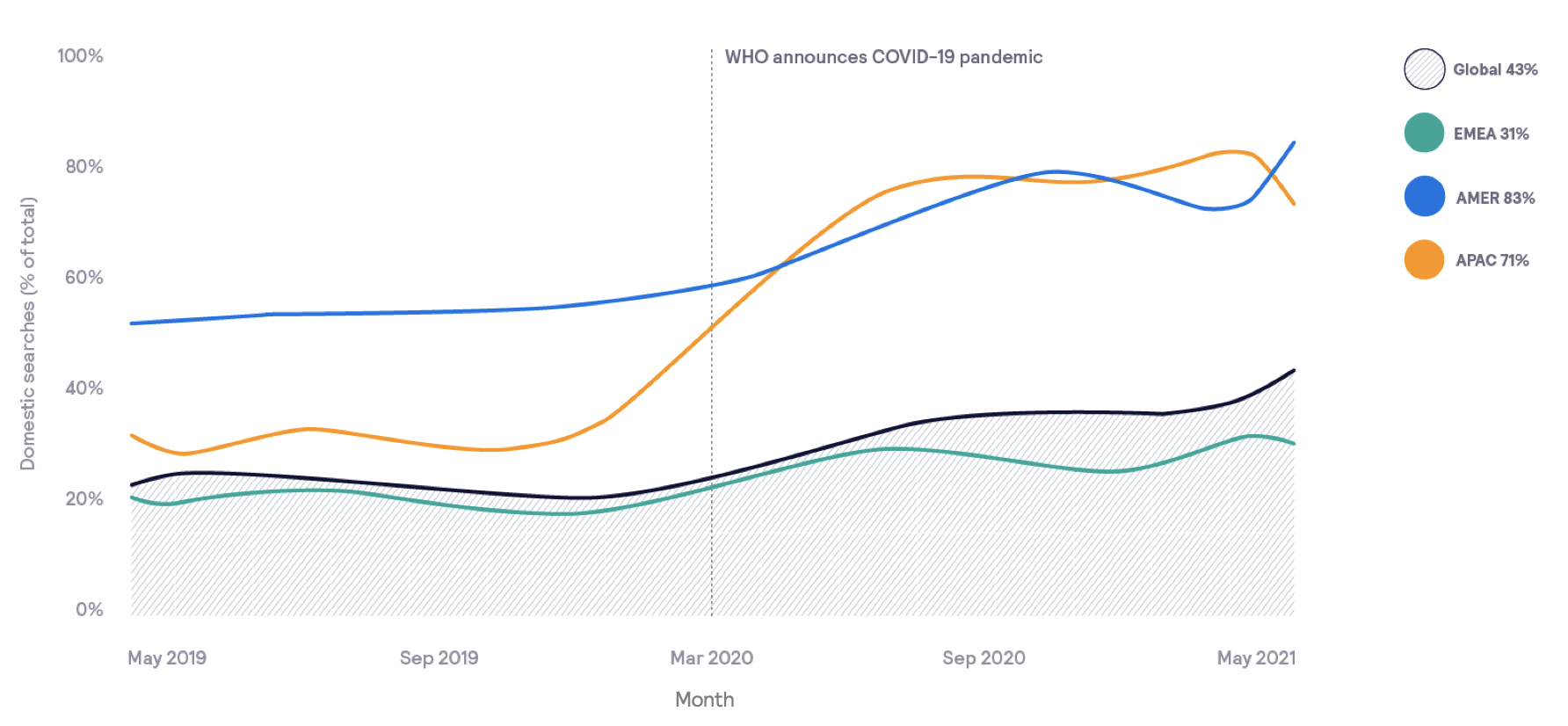 Hugh wraps up by looking at the change in global search ranking of the most popular destinations vs 2019, highlighting how smaller island and coastal places have become increasingly popular.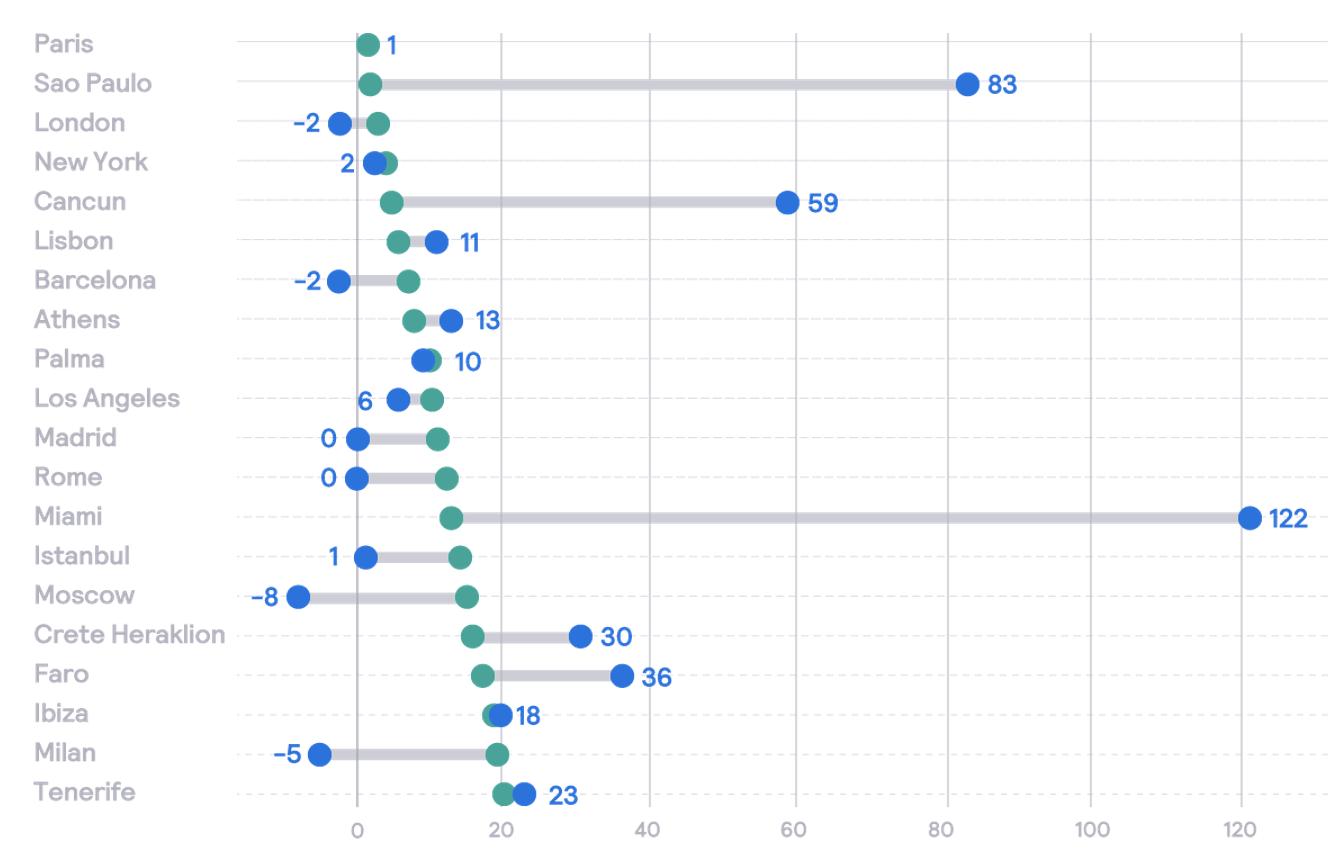 Globally, the top factors affecting destination choice are:
A destination that feels safe (31%)
Somewhere people are allowed to travel (31%)
Somewhere they've been before (26%)
Price (26%)
Being traveller-first: Innovation and adaptation required in the new reality
In this section, Kayee Cheung, our VP of Innovation, looks at what it means to be traveller-first and the role of innovation in creating a more valuable user experience.
At the start of the pandemic, we launched a global sentiment survey to understand the risk appetite of our travellers and measure confidence levels around domestic and international travel – knowing that risk perception would be one of the key indicators of recovery.
The graphs below plot these sentiments from travellers globally and across our three key regions. Each week, we ask how they feel about the fight against COVID-19 – with the options being either it's 'Getting better', 'Staying the same' or 'Getting worse'.
Globally, travellers are more optimistic today than at any other time during the pandemic.

Today, travellers from the United States are the most confident.




Kayee then shared Skyscanner's four principles of innovation – the key considerations that guide our product development and ensure we're always thinking: How can we support the traveller and what information can we surface – and when – to help them on their booking journey. Each product must be:
Traveller-first
An additive solution that scales
Have data-driven iteration and optimisation
Leverage unique attributes
Travellers require more information before booking than ever before and businesses need to adapt to evolving needs. New products should help demystify complexities in a post-pandemic world.
Our live interactive COVID-19 map gives travellers the confidence and clarity to make informed choices about their future travel plans, showcasing travel restrictions and entry requirements for specific countries from their point of departure. 

Travellers now have the ability to search and filter for flights with clear information about flexible change or refund and cancellation policies.

We've partnered with Cover Genius to launch a comprehensive COVID-19 insurance product.

When a traveller searches for a flight on Skyscanner, they see each airline's safety score from 1 to 5, checked against: Mandatory face masks; A daily deep-clean of the plane; Flight crew wearing PPE; Cleaning wipes provided; A change to the food service.
Tourism and destination outlook
Nick Hall, CEO of Digital Tourism Think Tank, gave his destination perspective, sharing insights into how tourist boards can respond to pent-up demand and new opportunities as they arise. He was keen to stress how we're returning to travel, we're not returning to normal. Nick touched on:
The huge shift in demand to island and coastal destinations – and the opportunities these places have to build from this in the long term.

How destinations can turn staycations and short-haul into something more sustainable in the long term, while building back greener.


The importance of trust and consistency in improving traveller confidence.

How destinations can build resilience by not ignoring the off-season but creating new reasons to visit beyond peak travel times.

Why destinations have to respond and react faster, using co-op marketing with the industry to attract and retain visitors.


How cities like Paris, Tokyo and Philadelphia have successfully adapted their advertising.

Creating more meaningful, connected forms of travel for richer visitor experiences.
Aviation Outlook
Our second guest speaker was David Rutnam. He's Senior Manager, Industry Distribution Programs Adoption at IATA, and presented insights from the company's economics team.
David began by supporting Hugh's insights about pent-up demand and the surge of bookings IATA saw for 'green list' countries after the UK government's announcement – which was actually higher than the same period in 2019.
He then shared IATA's estimation that COVID-19 has caused two years of lost growth in the airline industry – but there will be a strong (though not full) recovery when travel barriers are removed.
The recovery is happening fastest in North America and the slowest in Europe, as most flights are international short-haul and impacted by restrictions. The recovery has been quicker in places with big domestic markets such as the United States and China.
Roundtable discussion
In the final 20 minutes of the session, we opened up the floor to a live Q&A with all our speakers, who answered audience questions and shared their views on travel's biggest challenges and opportunities, including:
Whether these new trends are temporary or here to stay.

When international travel will open and which regions have the highest pent-up demand.

Why the pace of recovery and restrictions across regions are so different.

What will be the most important innovation in rebuilding traveller trust.

Clarity, consistency and collaboration – what's the top priority for travel right now
Download the report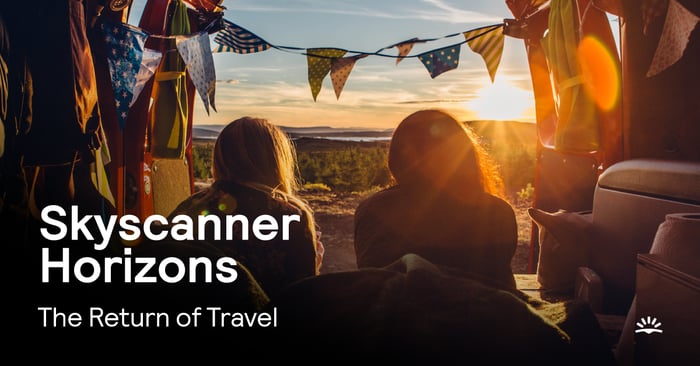 If you'd like to explore the trends and topics we covered in more detail, you can download the report.
*Skyscanner Traveller Pulse Survey
**World Travel and Tourism Council