Welcome to our weekly insight report, where we share our learnings from the previous week as our industry adapts and responds to Covid-19.

December travel for key markets
The table below shows searches from the last three weeks (30th March – 19th April) for return travel in the December holiday season, across our key markets.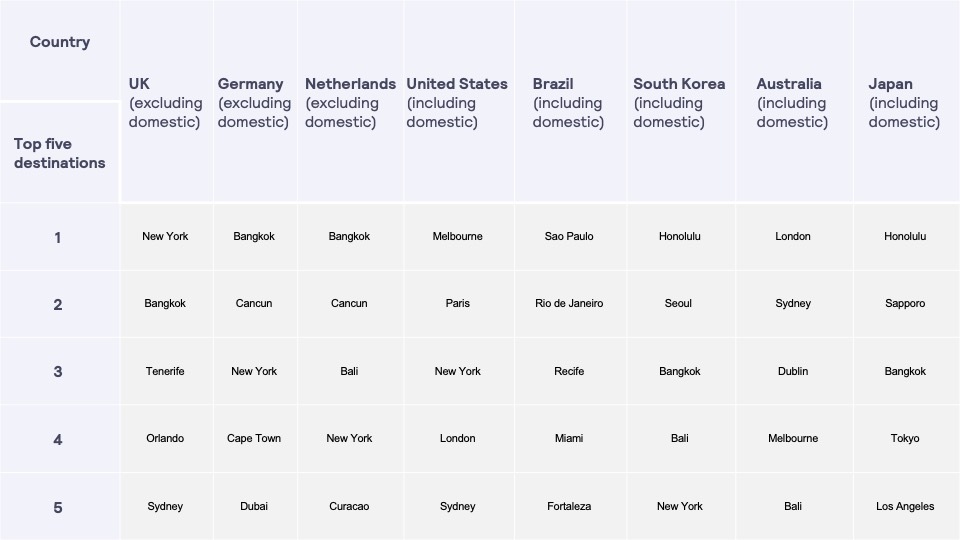 Long-haul destinations make up the majority for most countries – could this be signalling more confidence in international travel later in the year?


All but one of Brazil's searches are domestic.


Honolulu is the top searched-for destination in both Japan and South Korea.


New York and Bangkok feature in all three key European markets, coming top in Germany and the Netherlands.


Dublin is the third most popular destination for Australians at the moment.


Americans searched for Melbourne above all other domestic and international destinations, with Sydney in fifth.

Travel months from May to December
This table shows the percentage change in searches between 30th March and 19th April for travel in the months of May to December, based on return travel.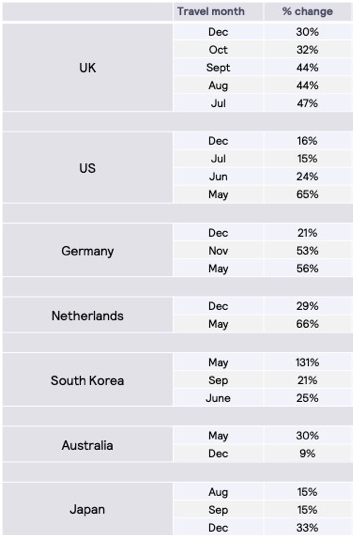 In the UK, searches have increased the most for the summer holiday months of July and August.


There's a large uptick in May in the United States as President Trump says he wants lockdown relaxed by May 1.


In Germany, most states are looking to relax their lockdown policies on May 4, hence the large increase in searches.


In South Korea, May sees a huge 131% increase in searches as the country begins to ease its social distancing and lockdown rules.


After Japan declared a nationwide state of emergency, we can see searches increasing at a higher rate in December.

What travellers are thinking
These are the insights from our fifth weekly pulse survey of more than 5,000 travellers in 17 countries.
Perceptions of international travel:
The percentage of people thinking the global situation is getting worse is reducing: 74% in week one compared to 35% this week.


The percentage who think it's getting better is increasing: 9% to 33%


The percentage who think it's staying the same is increasing: 7% to 22%


'Don't knows' remain the same at 10%, suggesting people are moving their opinion from 'getting worse' to other states.
Domestic travel has a similar trend:
The percentage of people thinking the domestic situation is getting worse is reducing: 71% in week one compared to 30% this week.


The percentage who think it's getting better is increasing: 8% to 43%.


The percentage who think it's staying the same is increasing: 12% to 20%.


'Don't knows' are reducing slowly: 9% to 7%.


Over the past week, the domestic view in APAC is 'getting better' – growing from 42% to 52%.


In the US in the past two weeks, 32% of redirects have been for the summer months, with 8 out of 10 people choosing a domestic destination.


In Mexico between January and April, domestic travel searches increased in share from 38% to 42%. Of all international searches, six out of 10 people chose Europe or Latin America.


Canadians are hesitant to travel internationally in the mid-term, with their highest share of bookings over the October Thanksgiving holiday.
Global and domestic risk perceptions are falling:
Anxiety about global and domestic travel is slowly reducing week on week.


Global and domestic risk perception is falling slowly but remains high. The general risk of domestic travel is perceived to be lower than that of global travel.


52% of APAC travellers believe it'll be safe to travel again internationally in six months, rising to 66% in AMER and 73% in EMEA.


In APAC, there's been a week-on-week increase in optimism about global travel, with 57% believing the situation is getting worse vs 70% the week before.


This week, 18% believing it's getting better vs 12% the week before. There's been an increase too in optimism around domestic travel.

"The travel peak is shifting"
Gavin Harris, Commercial Director of Skyscanner's Strategic Partnerships:
"In the UK, increasing traveller optimism is reflected in our search data for travel in the second half of the year, with searches for long-haul travel increasing 30% over the past three weeks.
"This points to the travel peak shifting to later in the year and is reflected by providers increasing opportunities for flexible booking options to stimulate interest despite ongoing uncertainty as to when international travel restrictions might be lifted.
To reflect this growing need, we have introduced an option for travellers to view flight and hotel options with flexible booking policies on our site and in app."
To read more about how we're helping travellers identify flexible booking policies, check out our recent blog post.