Every year technology greatly impacts the travel industry – from the evolution of apps to the introduction of voice. At Skyscanner, we aim to be at the forefront of technology and to continuously innovate. To stay ahead, it is important that your business does the same. Therefore, within this feature, we will discuss technology trends to look for in 2018 and how you might leverage them within your business.
Improve processes with facial recognition
As the number of global travellers continues to rise, it is becoming increasingly important to implement technologies that improve processes and efficiency. Facial recognition is one technology that can deliver in this area.
A particularly strong use case for facial recognition is at airports. IATA forecasts that 7.2 billion passengers will travel in 2035, which is almost double the 3.8 billion air travellers in 2016. Therefore, as airports are becoming busier, it is important to either plan their capacity, expand the area for passengers or automate the process of checking the passengers. Australia, for example, has outlined an ambitious goal that aims to automate 90% of incoming international air travel processing by 2020. This will be implemented through a combination of facial recognition, fingerprints and iris scanning to help identify passengers without the need to show passports. Some airlines are also embracing facial recognition technology to improve the travel experience. For example, Finnair is testing facial recognition technology for passenger's check-in, and the use of facial recognition during boarding. Such initiatives may not only speed up and destress travel, but their success could enable facial recognition to eliminate the need to have a boarding pass at all.
Facial recognition applications have also been arising in the hotel industry. For example, Ctrip has introduced a "robot hotel receptionist" that is able to complete check-in for guests through facial recognition within 30 seconds. Such initiatives have improved the efficiency of the check-in/ check-out process by 30%.
Stay ahead with Artificial Intelligence
Although it isn't always obvious, Artificial Intelligence (AI) is becoming increasingly prevalent in our daily lives. With the help of an Amazon Alexa skill, or Facebook Messenger bot, we can easily access information and ask for actions to be taken. These simple applications represent only a small part of what AI can offer, but they are indicative of how it can disrupt the travel industry and the customer support needed to deliver its services.
Skyscanner has been an early adopter and pioneer in the exciting world of bots and messaging, as we believe that bots have the potential to enhance the way people search for and book travel. Skyscanner users can now book their flights using a range of solutions, including Facebook Messenger, Amazon Alexa, Microsoft Cortana and Skype Group Chat Travel Bot.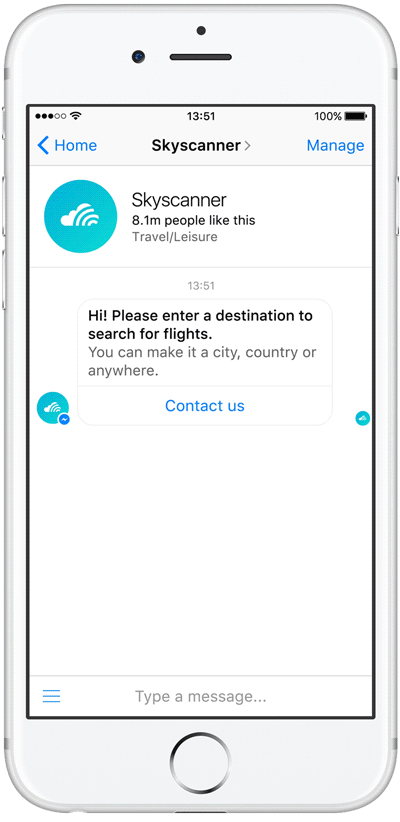 Other applications of AI being used to provide customer service can be seen in the hotel industry; where AI assistants can provide information on the checkout time or local restaurant recommendations. AI can also help to discover as much information about travellers as possible and tailor their experience to meet specific needs. Hilton, for example, has developed an AI concierge called Connie who can advise guests on local attractions and interesting sites. Connie has the ability to fine-tune its responses by learning from frequent requests.
Aside from these user-centric applications, AI can also be hugely beneficial in data analysis and planning for businesses – specifically airlines. In our recent white paper "AI: The future of Airline Route Strategy?" we highlight how AI can be applied to flight search data to help airlines gain a significant advantage in how they evaluate routes in order to make better-informed decisions.
Amadeus has also implement AI technology, in an application that not only informs its business, but also adds value to its users. With a customer's permission, Amadeus can scan their social media activity and build a sophisticated model of interests based on likes, and other social interactions as well as past travels, purchase behaviour and loyalty programme activity. This data is then used to match users with tailor-made offers.
Excite and inspire with virtual reality
Virtual reality has a variety of benefits to offer in the travel industry, particularly when it comes to inspiring travel and demonstrating unique features. Airlines, for example, can use it to demonstrate their luxurious facilities, such as first-class seats or business lounges. Hotels can demonstrate their rooms and the views that they offer. Virtual reality enhances the traveller's understanding of the product on offer and helps to influence informed and risk-free decision making.
Amadeus has already tested virtual reality search as an option for booking. User can search for destinations on a giant globe - and, once they've selected their desired destination, they can search flights and experience a walkthrough of each aircraft as they select their seat.
Similarly, Lufthansa has used virtual reality to offer passengers the opportunity to have a look at the cockpit and cabin. This has given consumers the chance to become more familiar with their cabin classes, airplanes and potential travel destinations.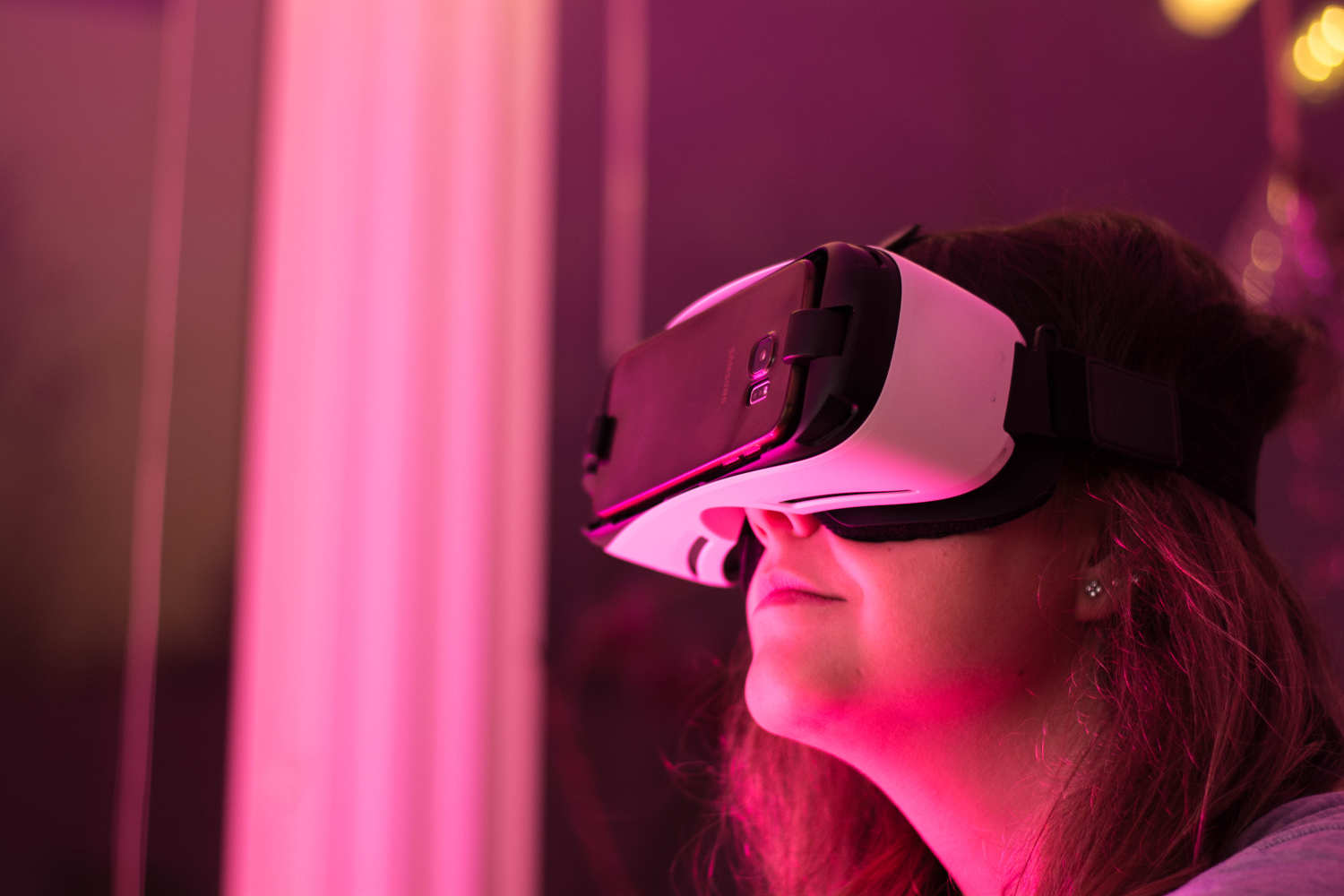 With these examples in mind, it is easy to see the potential impact that virtual reality could have on the travel industry – particularly when it comes to retailing. And although it is in its infancy, Adobe Digital Insights (ADI) found that at least eight of the largest hotels have tested some kind of virtual reality experience. Most of them included virtual reality devices paired with consumer's mobile devices.. Virtual reality technology is growing rapidly and businesses who fail to embrace this could risk falling behind.
The future is mobile-first
Whilst new innovations continue to emerge, mobile remains pivotal to business success. Business Insider forecasts that by 2020, 45% of the $632 billion in total e-commerce sales will be made on mobile. However, China is leading the way, having forecasted that 75% of e-commerce sales will be translated into mobile devices.
As society has become increasingly mobile-centric, businesses are driven to deliver a mobile-friendly experience with personalised and relevant options. And this is paying dividends, as travel companies that personalise user experiences can benefit from 60% of travellers being more loyal. One such example of an airline offering unique value on mobile is Delta Airlines. Their app enables flyers to track their bags using radio-frequency identification (RFID) technology. In this way, the airline offers peace of mind for travellers and successfully leverages technology to remove an existing pain point in the travel experience. Airports are also starting to use apps to help travellers to navigate their way around. For example, Copenhagen Airport offers a wayfinding app, which helps Chinese travellers to access information about the airport and its facilities.
At Skyscanner, we are constantly evolving our app to ensure it meets our user needs and makes the most of the latest technologies. For example, we found that we could improve the in-app experience by introducing a two-step layout on the flight results page, wherein options on a route offered at a similar price point are shown after 'selecting' the price as shown below. We also changed the look of the flight results page to make the list of flight options as easy as possible to scan through on a small screen. Users loved the change, which came through in our improved app reviews. If you want to find out more about how we experimented with this idea, you can read more here.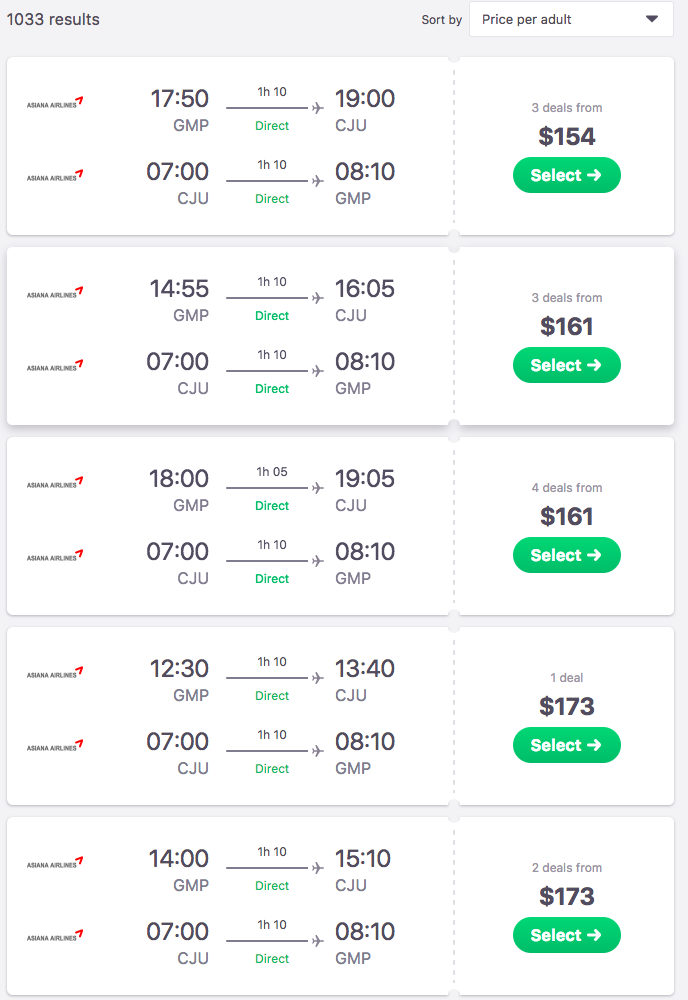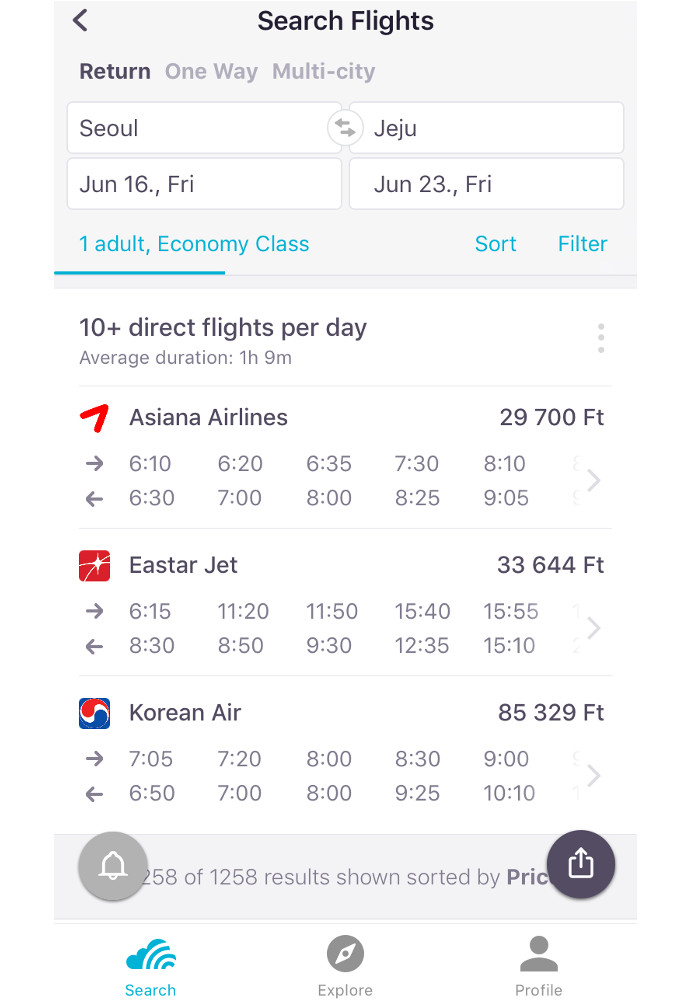 Another change we have made, with the mobile experience in mind, is the introduction of Direct Booking. When booking with providers on Direct Booking, users are now able to immediately book on Skyscanner - instead of redirecting to the carrier's website. This benefits both our users and our partners, as it makes the search and booking experience more seamless, which reduces friction and barriers to payment.
On the back-end, Direct Booking works just like a booking made on the partner's site, as they will still process the booking and payment and retain the customer details. It operates as a store-front on Skyscanner for our partners, through which their upsell and ancillary options are available. In this way, partners can capitalise on Skyscanner's traffic and have the opportunity to upsell ancillaries as well as have higher conversion rates and better yield on those sales.
Online distribution used to be a case of it's either on your website and it's the first party or it's the third party. Mobile has changed the picture. Not only do you have apps and much smaller screen space, but you're also now getting voice technologies: Google Home, Alexa and others, first party, third party. So really there is a blurred line and a gradation of the degree of the first party and third party.
— Gareth Williams, co-founder and CEO
The rise of mobile wallets
According to Business Insider, mobile wallets are beginning to become more popular and if brands can successfully combine multiple features that ease barriers to mobile purchasing into one payment platform, they can increase mobile purchases.
As travellers' expectations develop in this area, the travel industry will need to evolve in line with them. Examples of companies already adopting mobile payment solutions include Heathrow and Finnair, which now supports Alipay on board.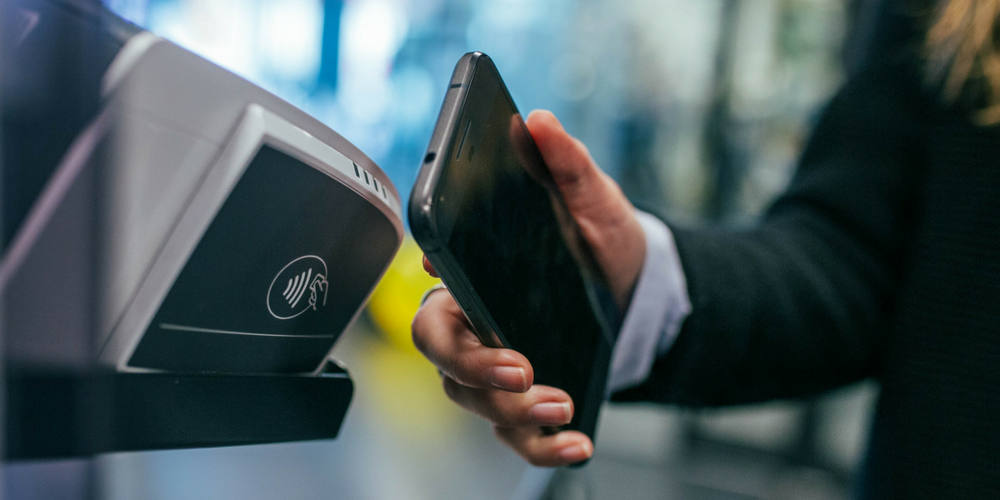 At Skyscanner, we are also working to reduce friction at the point of payment through our Direct Booking solution, which uses the Braintree vault that can securely share payment data and consumer information with airlines and online travel agents regardless of their payment processor. As a result, repeat users can store their payment details – this not only helps to make the checkout process more efficient, but it can also serve to encourage loyalty.
Additionally, Skyscanner users logged into the iOS app can benefit from the Travel Wallet. This feature is designed to provide a central storage location for travel related documents: specifically, passports and loyalty cards. Passports are supported for all of our markets, and we handle all frequent flyer programs. Security is also guaranteed as documents are stored locally on the device, and only accessible to authenticated users after they unlock it with their Touch ID or passcode.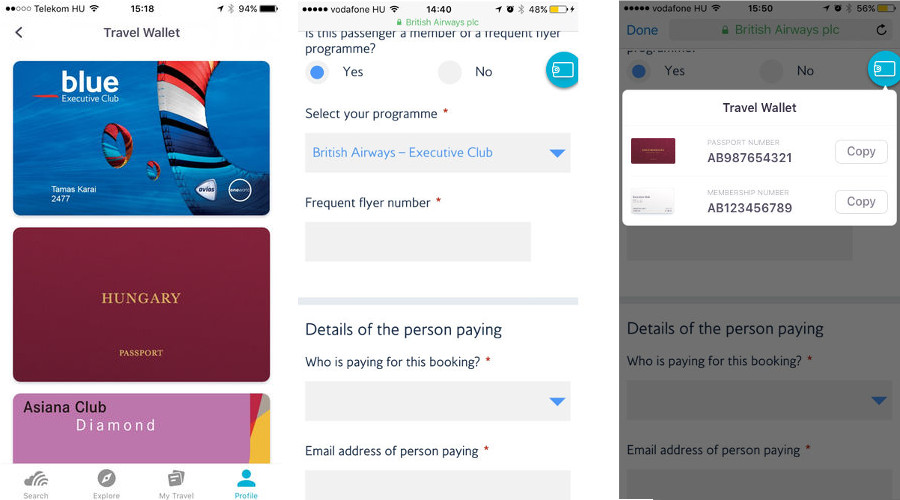 Conclusion
These technological innovations are impacting the travel industry in new ways every day. It is crucial that the businesses of the future stay in sync with these developments in consumer trends.
At this point, serving the needs of mobile users and offering a personalised experience for customers is fundamental to success. The technologies required to provide this – such as facial recognition, virtual reality and artificial intelligence – are becoming more readily available. Now is the time to experiment and find solutions that deliver added value to your users.
Taking advantage of these opportunities will not only put you at the forefront of the industry, but it will also serve to improve your strategy and gain loyal and engaged customers that will deliver growth for your business – now and in the future.
Want to find out more about Skyscanner thoughts on the Value Proposition in travel? Read more