We were thrilled to deliver a keynote at this year's ITB Berlin. As one of the world's leading travel trade shows, it's been bringing the global travel, tourism and hospitality industry together since 1966.
In 'Air Data Talks: The importance of data-driven strategies', Michael Docherty, our Head of Data Partnerships, discussed how, in today's rapidly changing landscape, it's more important than ever to use new data and insights to propel strategies on the road to recovery.
The way aviation worked simply doesn't exist anymore. Pricing strategies can't rely on previous booking curves. Capacities are being driven by open borders and quarantine decisions. And travel demand is changing every single day.
Michael also reveals the level of pent-up demand in the UK. Following the government's roadmap plan announcement on 22 February, flight bookings increased by 69% in 24 hours – with a 176% rise in bookings to Portugal and a 170% rise in bookings to Spain for summer 2021.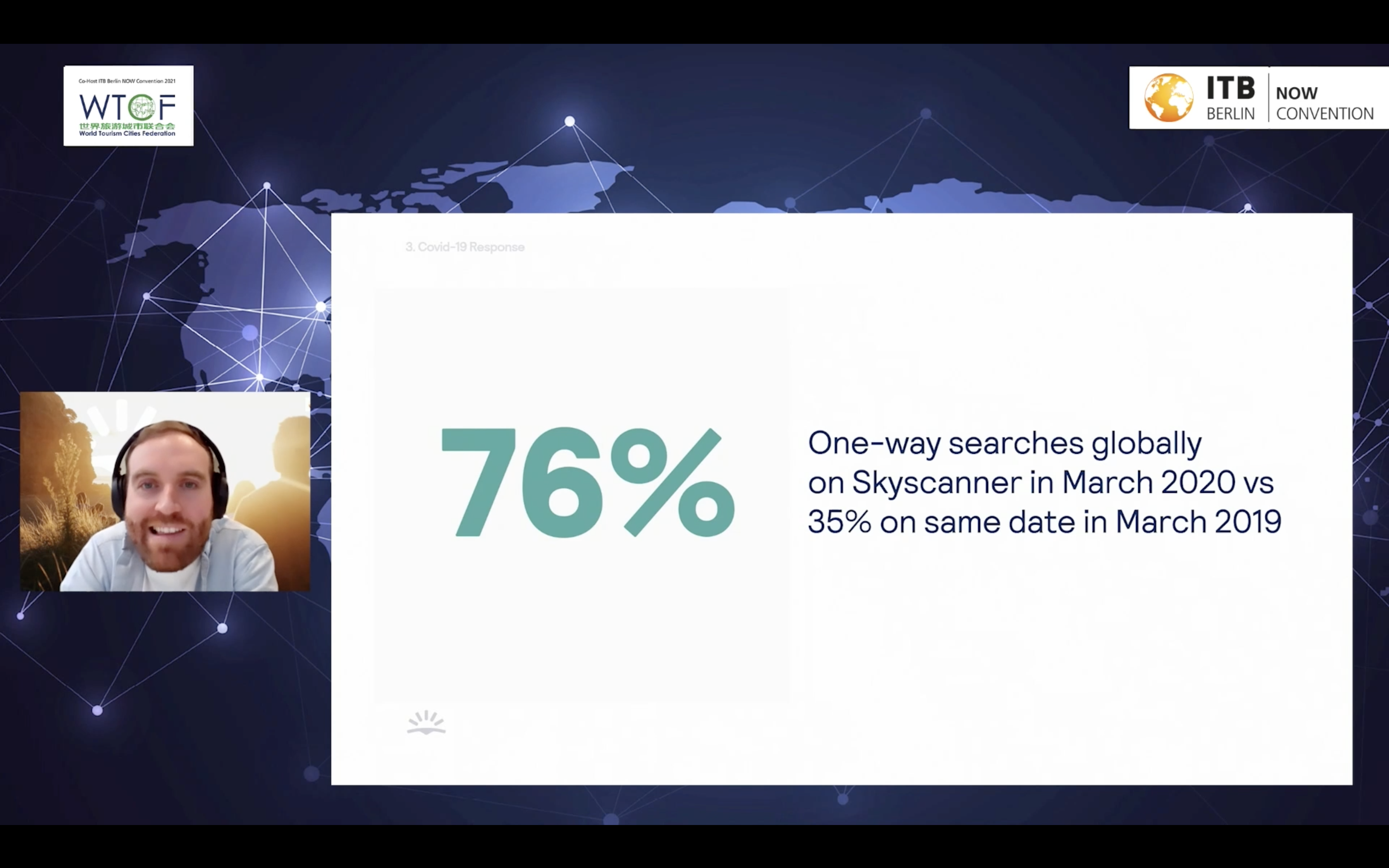 In the session, Michael touched on the following topics:
Why access to forward-looking real-time demand data is essential for any business wanting a quicker route to recovery.


Backward-looking data won't help businesses understand traveller intent and mindset to plan successful recovery strategies.


How COVID-19 has forced the industry to step back and reconsider how it re-emerges in order to build the right strategy for the future.
Michael also spoke about how data has powered Skyscanner's decision-making throughout COVID-19 and will play a critical role in everything we do going forward.
Combining behavioural data, surveys and qualitative interviews helps us keep the traveller at the forefront of our decision-making.


Monitoring search and booking behaviour, as well as capturing traveller sentiment through a weekly pulse survey, means we understand our users like never before.


Sharing this data with our partners means they can make smarter, faster decisions, while new commercial solutions have helped them navigate a more profitable path to recovery.


Launching Travel Insight Vision has enabled partners to analyse traveller behaviour, understand true travel demand and learn where people want to go in the next 12 months.
At the end of the event, Michael talked about our partnership with Aena, the leading airport operator. You can read our case study here about how Travel Insight is helping Aena during the pandemic to evaluate demand, gain greater market visibility and operate more efficiently.
Watch Michael's talk on demand.
To watch the recording, click here to visit the ITB Berlin site. Please note that, if you haven't already, you'll need to buy a ticket first. You'll then have access to all the content from across the four days of the conference.