Hugh Aitken, Skyscanner's VP Commercial, provided an insightful look into the future of European aviation and evolving traveller attitudes and behaviours in CAPA's third and latest Masterclass virtual event.
Alongside Hugh were Wizz Air CEO József Váradi and CAPA's Chairman Emeritus Peter Harbison. The discussion, held on Wednesday May 6, was part of CAPA's new Masterclass series on how global aviation will emerge from the pandemic.
It drew almost 1,500 live viewers - with over half coming from 132 airlines.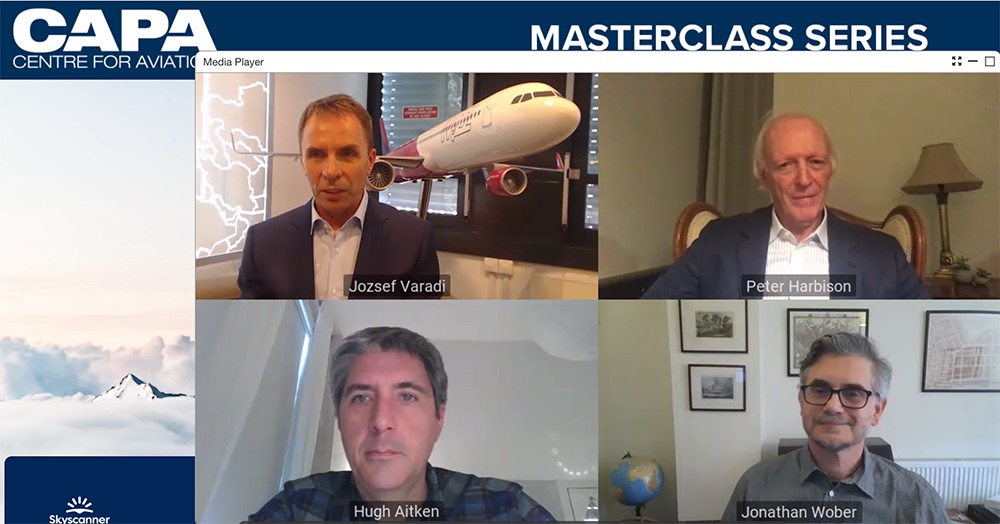 Moderated by Jonathan Wober, Chief Financial Analyst at CAPA, the event touched on key topics such as:
How search patterns are changing and where green shoots of recovery
are emerging.

Regional and global search trends, and domestic vs international recovery models.

The short and long-term impact of the pandemic on European aviation.
As Wizz Air plans to relaunch flights to Portugal in June and Greece in July, József Váradi talked about how he'll lead his business and the industry out of the crisis.
Hugh Aitken also shared Skyscanner's latest insights from our weekly pulse survey, revealing that traveller optimism remain high for domestic and international travel within six months.
Other topics included:
Wizz Air's diversification strategies within Europe and the Middle East.

What the emergence from lockdown might look like and changes to aircraft
and airport regulation.

How LCCs can adjust to social distancing rules.

How quickly international travel can recover and what this new market might
look like.
To watch the full recording, click here.