The ready-made and customisable front-end White Label from Skyscanner for Business has been used by a multitude of partners across the travel industry and offers a powerful flight search tool that is tailored to easily fit the look and feel of each partner's own brand.
How Flybe built 'One Stop to the World'
Flybe's pioneering 'One Stop to the World' flight tool was built using a bespoke and powerful White Label solution from Skyscanner for Business. The partnership is the first time Skyscanner has provided a White Label solution to an airline partner, and represents an innovative and exciting new approach to providing flight search through airlines' own booking sites.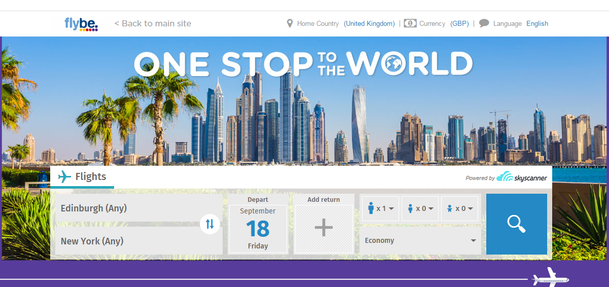 How 'One Stop to the World' will serve passengers
The tool allows users to calculate all options available for flying to selected long haul destinations from many of the key regional airports served by Flybe. It details all possible itineraries, timings and convenient connections. Once a travel choice has been made, customers can immediately click through and complete their flight purchase direct with the relevant codeshare carrier's website. These currently include Aer Lingus, Air France, British Airways, Cathay Pacific, Emirates, Etihad, Finnair and KLM.
"Flybe came to us with a unique problem and we were thrilled to be able to launch this tailored product with them. Through our best-in-class White Label product, matched with our comprehensive global reach, we've been able to develop a simple solution for Flybe that makes travel planning and booking as easy as possible.
— Hugh Aitken, Director of Business Development, Skyscanner"
Examples of the extensive choice of long-haul destinations served by Flybe's codeshare partners include Dubai with Emirates via Birmingham, Manchester and London Gatwick; and to Hong Kong with Cathay Pacific via Manchester and Paris CDG, all brought to the user through Skyscanner's powerful flight search results.
Interested in applying for a Travel API to power flight search for your business?