Welcome to the Skyscanner Affiliate Programme!
Skyscanner is a leading travel search site providing instant online comparisons for flights, car hire and hotels. Our affiliate programme works on a 50% revenue share model, meaning we pay publishers half of the revenue that Skyscanner makes per booking from the users they send to us.
Publishers have the opportunity to drive a large amount of conversions promoting Skyscanner's easy to use search engine. By joining our programme, publishers can expect real-time reporting, fast payments, regular incentives and promotions.
Sign up to one of our Affiliate Networks using the links below. Our local market managers will be on hand to help you get set up and answer any questions you may have.
Who can use it?
Non Permitted traffic sources and activities:
PPC bidding ("Skyscanner" brand bidding)

Teaser networks

Cookie stuffing

Disruptive Ad Formats (popups etc.)

Toolbars and browser extensions
Permitted traffic sources and activities:
Travel websites

Blogs

Forums

Content platforms

Social media groups

Price comparison websites

Deals websites

Advertising networks

Cashback websites

Subnetworks (subject to transparency screening)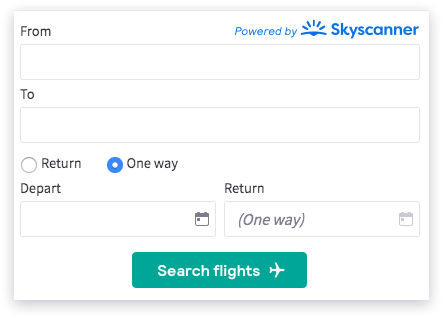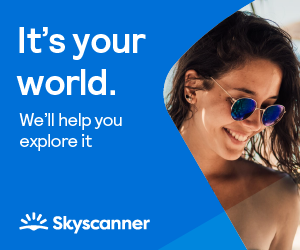 Frequently asked questions
Which Skyscanner products are commissionable?
Flights, Hotels and Car Hire
What tools do affiliates have available?
Travel search widget, Banners, Text Links
How do we pay?
Skyscanner is paid by partners (OTA and airlines) when users redirect from Skyscanner on to their website. If users are brought to us by an affiliate partner then we share 50% of the generated revenue with affiliates.
We pay commission on Skyscanner generated revenue, not booking or basket value.
Example: if Skyscanner earned £10 revenue from a booking, we pay £5 commission to the publisher.
More details are in the programme descriptions on a country level in each of the Affiliate Networks. If you are accepted to the Skyscanner programme, we start monetising your activities straightaway. Payments will be processed by the network's terms and conditions.
Why has my application been rejected?
We review every single application to our programme. Unfortunately, some applications have to be rejected. Reasons for rejections could include but are not limited to:
· Non Permitted traffic source
· Site under construction or not live
· Offensive/inappropriate content
· Site not relevant to Skyscanner or travel industry
Sign up
You can sign up to one of our affiliate programmes below depending on your location and preference on Network: