Why Skyscanner's affiliate program?
Skyscanner accepts click-outs from any country around the world without any geographic restrictions.
Skyscanner offers a variable rate for click-outs, starting at around £0.20.
Skyscanner has a short pay-out window, allowing you to monetise your traffic even before booking consumption is confirmed.
A click out to our partner's site will be paid for even if a coupon code is used.
Affiliates can monetise traffic of users at all stages of their travel planning: from inspirational stage to effective time of purchase.
Skyscanner has a choice to advertise in text links, banners or our smart search widgets with travel insights
Who can use it?
Permitted traffic sources and activities:
Travel websites
Blogs
Forums
Content platforms
Social media groups
Price comparison websites
Deals websites
Advertising networks
Cashback websites
Subnetworks (subject to transparency screening)
Non Permitted traffic sources and activities:
SEM bidding
Teaser networks
Cookie stuffing
Disruptive Ad Formats (Pop-ups, etc.)
Toolbars and browser extensions
Auto-direct sites
Domain buying websites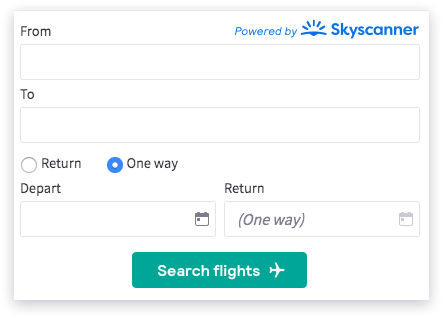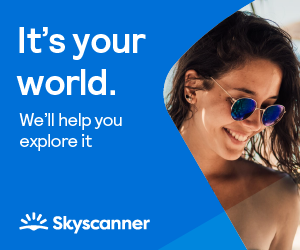 Frequently asked questions
How we can work together?
We have 3 types of tools available for our affiliates: Travel Search Widgets, Banners, Text Links. If you are interested in API or White Label products, apply here. Application success is subject to approval.
Which Skyscanner products are commissionable?
Flights, Hotels and Car Hire.
How do we get remunerated?
Skyscanner is paid by partners (OTA and airlines) when users redirect from Skyscanner on to their website. If users are brought to us by an affiliate partner then we share the generated revenue with affiliates, starting at 20%.
We pay commission on Skyscanner generated revenue, not booking or basket value.
Example: if Skyscanner earned £10 revenue from a booking, we pay a commission to the publisher starting at £2.
More details are in the programme descriptions on a country level in each of the Affiliate Networks. If you are accepted to the Skyscanner programme, we start monetising your activities straightaway. Payments will be processed by the network's terms and conditions.
Why has my application been rejected?
We review every single application to our programme. Unfortunately, some applications have to be rejected. Reasons for rejections could include but are not limited to:
Non Permitted traffic source
Site under construction or not live
Offensive/inappropriate content
Site not relevant to Skyscanner or travel industry
What if the location I'm based in is not listed in the list of programs?
If you have a global coverage or you are a subnetwork, you can sign up to the Global program in CJ Affiliate.
Sign up
Sign up to one of our affiliate programmes by selecting your location in the drop-down below.