Skyscanner works with a host of well-known brands. To date, this has ranged from mobile network operator Three, to premier travel brands such as Emirates and TUI.
Our wide range of advertising solutions, across both Standard iAB and Native, operate throughout the travel funnel to present more opportunities for monetisation; through prospecting and re-targeting.



Capture the attention of dreamers, and drive searchers to book
Our placements work both to enhance awareness and drive conversions.
Our homepage tile and newsletter placements, for example, are perfect for capturing the attention of Skyscanner users at the inspiration stage. This will enable your brand to influence key decisions that a user makes as they progress through the planning and search process: from the destination they select, to their airline of choice. So, whether you are launching a new route, or want to showcase the unique features of your first class offering, Skyscanner can work with you to develop a package tailored to your brand and awareness objectives. The impact of these placements can also be elevated using content and an on-site brand hub.
We also have a range of direct response formats: from standard mobile web and app to native inline placements. These placements are optimised for conversions and can be used to promote anything from a new route to a sale. Our innovative inline ads, for example, have driven click through rates ranging between 1.72% and 6% since their introduction. This is driven by the prominent placement of the ad, and the precise targeting and messaging combinations which ensure each ad is highly relevant to the user conducting the search.
Optimise conversions with advanced targeting
The advanced targeting offered by Skyscanner is designed to drive up your return on investment. By ensuring that everything from your message to your advertising format is aligned to the targeted audience; and by targeting the right individual at the right time, we are able to optimise the delivery of your adverts.
Our targeting options enable you to engage segments of our audience on the basis of data and characteristics that are unique to Skyscanner; such as 'Month of Travel' and 'Cabin Class' and the routes searched. With these options to hand, you can up-sell individuals searching business class to first class; or highlight your summer sale to individuals planning their summer getaway.
Furthermore, with Skyscanner Audience Targeting, you can continue your conversation with the Skyscanner audience outside of our platform; and combine our 1st Party intent data with your data to more effectively engage your intended audiences. You can also access bespoke user segments, such as users interested in beach holidays, by combining our in-house audience data with our third-party data. With over 1,000 existing segments – and the in-house expertise available to tailor these to your brand objectives – you will have the power to target our unique audience throughout their online travel journey.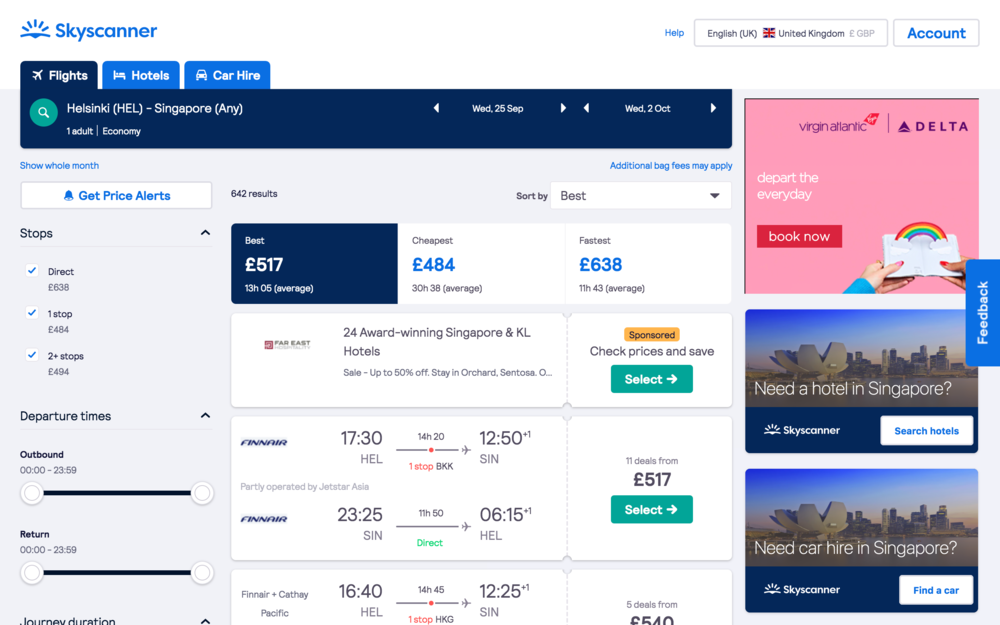 Make data driven decisions with experimentation, optimisation and bespoke reporting capabilities
Skyscanner has developed a number of advanced in-house experimentation tools, along with bespoke reporting dashboards designed to help you track your performance.
Partners such as Emirates have already benefited from our experimentation expertise; with an A/B test ran across their image options driving up conversion by 124%. Additionally, comparing campaign performance across markets helped to uncover which markets are driving performance as well as those that need to be improved. This approach helped to reveal best practices, and presented an opportunity to optimise for global performance.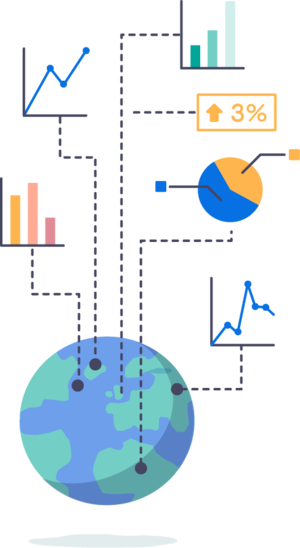 Interested in advertising with Skyscanner?