When the world's largest car rental companies want to operate more efficiently, they turn to MarginFuel for powerful pricing insights. But when COVID-19 hit and businesses found themselves heading down an unknown road, MarginFuel realised their forecasting data had to go further than ever before. So we were asked to hop into the passenger seat.
The road ahead
MarginFuel's clever forecasting technology helps companies like Hertz, Thrifty and Juicy Rentals anticipate what's happening in their markets, so they can drive winning pricing strategies and react faster when the market shifts.
Throughout 2020, these insights became crucial in helping them to react faster to ever-changing demand and regional restrictions. To provide extra value during these uncertain times, MarginFuel supplemented its forecasting models with data from Skyscanner.
Helping MarginFuel go the extra mile
MarginFuel chose our Travel Insight API product in the summer of 2020.
Travel Insight API gives MarginFuel instant, on-demand access to the world's most comprehensive search and booking demand data, generated by 100 million peak monthly web and app visitors.
It provides unique insight into traveller habits, intentions, and fare and route popularity, as well as revealing where people are looking to travel up to 12 months into the future.
"We've had some great discussions with customers about the Skyscanner partnership. Their reaction has been really positive. A common piece of feedback is that they really value the ability to have some fast and accurate insight into demand patterns and changes – and they understand how Skyscanner's data can help with forecasting demand, especially in the COVID period. So really positive."

Andrew Pascoe, CEO, Margin Fuel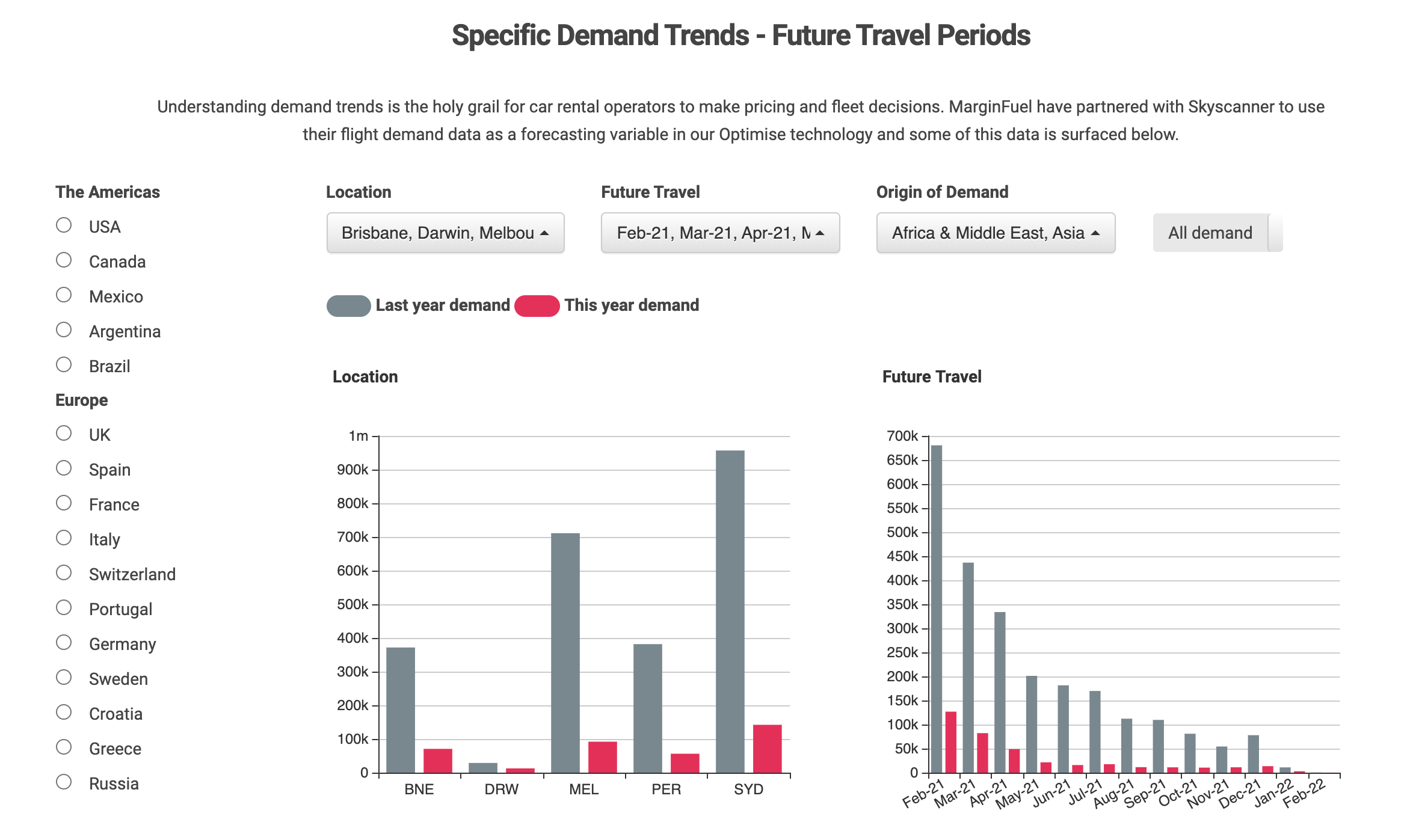 Demand trends for five Australian cities, compared with last year.
Combined with MarginFuel's demand forecasting models and market intelligence data, Travel Insight API adds another layer of granularity, enabling the company to experiment with new forecasting methodologies and provide deeper, more meaningful insights into the global tourism market.
All these insights mean MarginFuel's customers have the information they need to make smarter, faster decisions, helping them to stay ahead of the latest developments and in front of their competitors.
Becoming a thought leader
Our partnership with MarginFuel has helped them become a thought leader in the wider travel industry. By combining demand for flights with car hire, they're now delivering a one-stop shop for car rental providers to assess the industry landscape, understand recovery and identify potential opportunities.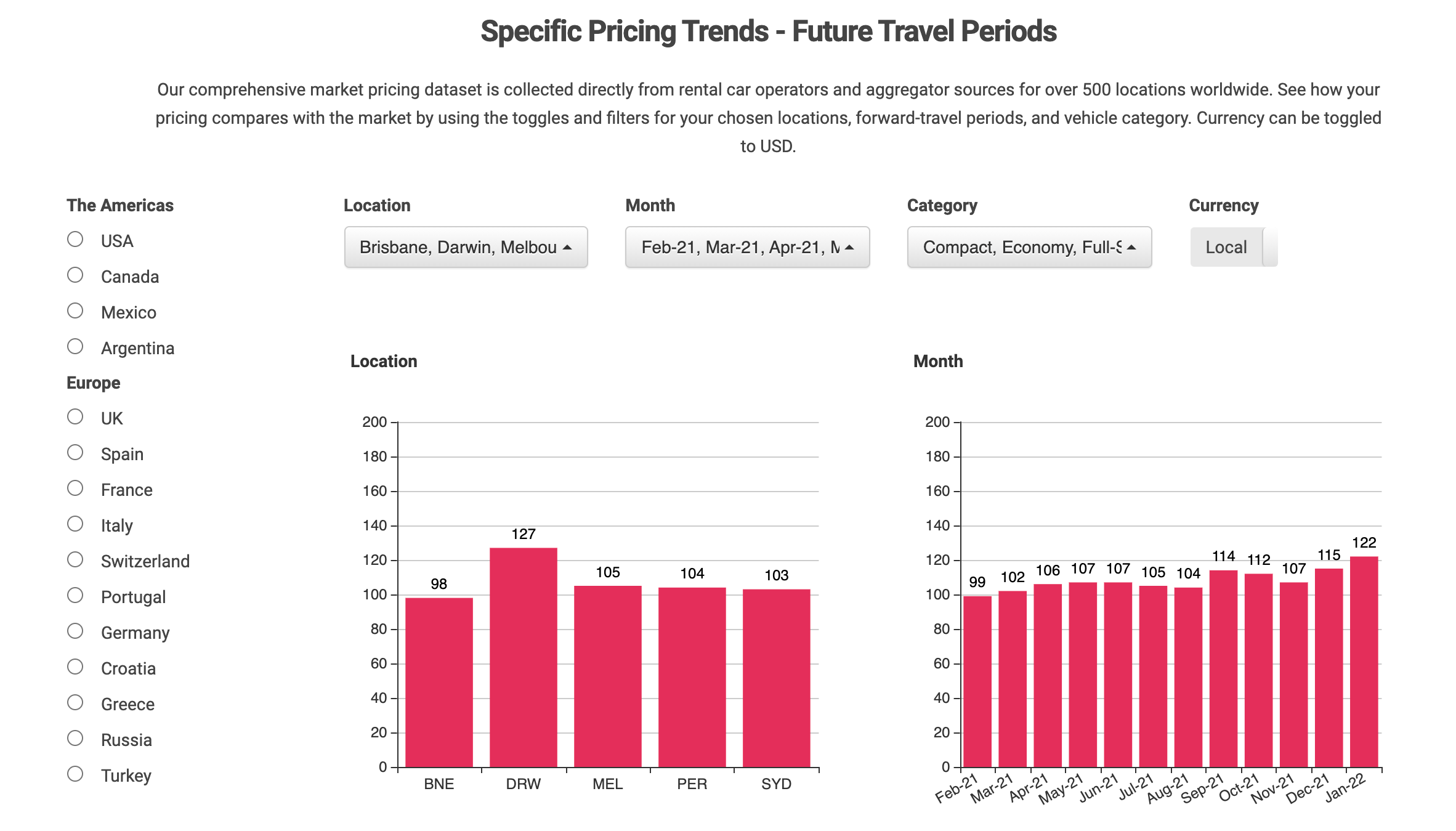 Pricing trends for five Australian cities, based on a chosen time period and car rental type.
MarginFuel feed our data into their Global Car Rental Pricing Insights tool. This interactive map displays the average prices for locations across the world as tourism recovers from the economic and financial impact of COVID-19. Users can see the average daily price change for the next 0-3 months, 3-6 months, 6-9 months and 9-12 months, which are updated daily.
Fast and easy insights
Responding to the COVID-19 crisis has been about speed, so we worked as quickly as possible to get MarginFuel up and running with Travel Insight API. It took just a few weeks from MarginFuel's initial chat with us about their needs to using the product for the first time.
"We looked at various options and were impressed by how helpful and easy the Skyscanner team is to work with. The data processes are clear, the data is very comprehensive and targeted, and the team were extremely helpful and responsive in getting us set up and making sure we get the most from Travel Insight API every day."

Andrew Pascoe, CEO, MarginFuel
Empower your business with Travel Insight
Travel Insight API is one of three Travel Insight products, which are helping leading airlines run more profitably, airports find new customers, and destination and marketing agencies understand demand.
Discover the right one for you and transform your business with our marketing-leading insights.