In our first Skyscanner Horizons report, we share a snapshot of emerging global travel trends and insights into how different travel will be as it returns.
'The Return of Travel' is based on three years of search and booking data and shines
a light on how traveller behaviour and trip planning are evolving ahead of 2021's peak season.
The report reveals that increasing traveller optimism, progress on vaccinations and the introduction of new travel protocols are leading to changes in trip planning and price sensitivity, as well as interest in new routes and destinations.
Chapters include:
The evolution of trip planning – from longer booking horizons to the importance of airline safety scores.


Travel, redefined – from rising trip lengths and journey times to new trending destinations.

Price vs value – from more competitive airfares available to travellers choosing value over the lowest price.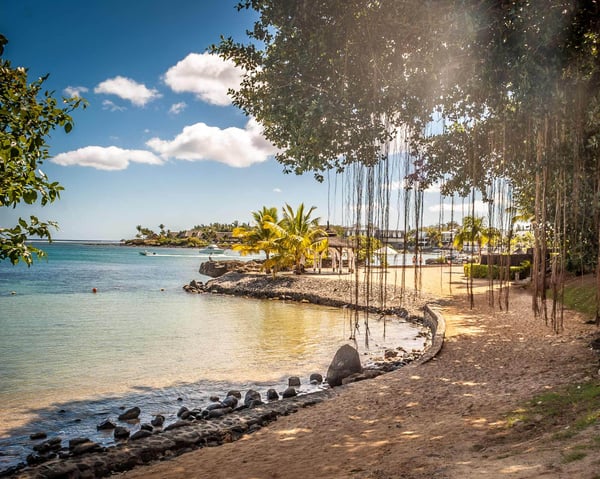 Mauritius has climbed 126 places in global search ranking from 2019.
Hugh Aitken, Skyscanner's VP of Flights, comments:
"With international travel once again on the horizon, we've looked at how, when and where it's likely to return ahead of the peak travel season. Our analysis reveals how travellers' preferences are changing compared to pre-pandemic and we've identified a number of global trends that offer a snapshot of today's travel landscape that will influence the sector in 2021.
"That said, there are still many pieces of the puzzle needed to fully restore traveller confidence and truly unlock underlying demand. As we've seen in the past, travellers are adept at adjusting to new measures. However, we're entering a period where the importance of clear, straightforward and timely information is vital, especially relating to restrictions, quarantines and testing requirements."
Nick Hall, CEO of Digital Tourism Think Tank, comments on the change in travel preferences:
"Following more than a year of global travel restrictions, Skyscanner's report finally shines light on the path to recovery. It reveals a clear distinction in traveller preferences today, compared to pre-pandemic travel. Notwithstanding the obvious disruption caused to the industry, the report reveals for the first time a strikingly different set of traveller profiles emerging.
"For destinations, the clear growth in confidence shown by travellers means adopting a more tactical approach for a few months yet, focusing on certainty and the possibility of a total shake-up of traditional markets and segments. For secondary and domestic destinations, this is a rare opportunity to turn an anomaly into a permanent trend."
Derek Sadubin, Managing Director of CAPA – Centre for Aviation, comments on cheaper prices for travellers and lowering yields from airlines:
"As identified by Skyscanner's impressive analysis of the industry, leisure traffic and VFR (Visiting Friends and Relatives), the low yielding segments for airlines will dominate travel profiles for the remainder of 2021 and beyond.
"Business travellers – the key to long-haul full-service operations – will take longer to take to the skies, so the leisure/VFR markets, particularly domestic and short-haul international, will be in the ascendency. For airlines in this environment, low costs are king, so LCCs are well positioned."
Key global trends include:
1. Trip planning rises alongside confidence levels
Average booking horizons are nearing those of 2019, tracking at 75 days in a sign that travellers are confident they can get away this year.

Average trip duration is up too, particularly for trips longer than seven and 20 days.

55% of consumers are planning a holiday within the next six months.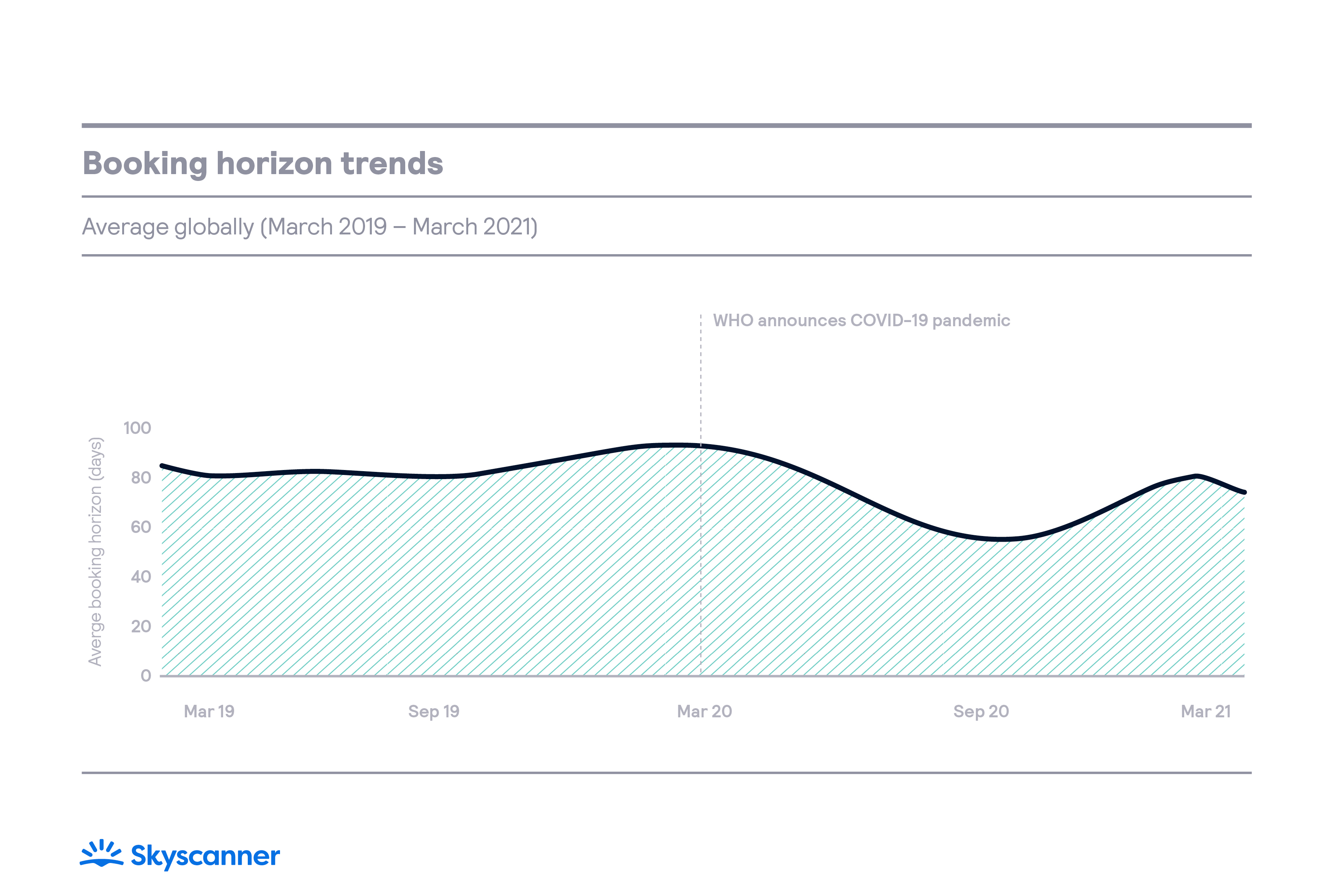 "Confidence is something that as of late has been in short supply", says Nick Hall. "The data on booking horizons should be viewed by the industry with quiet optimism. Unsurprisingly after such an extended period of restrictions, the increasing expectation to get away this year is clear.
"This means doing everything to restore confidence by prioritising a safe recovery and vaccination roll-out, offering unequivocal proof to support destination research."
2. Travellers are hedging their bets for year-end trips
Travel dates are being pushed back to later in the year with September, October and November comparatively more popular than two years ago.

Searches for medium-haul flights are also higher (+11%) compared to 2019.

39% of consumers are planning trips for longer than 14 days, with extended holidays (56%) and visiting friends and family (52%) the top reasons.
3. Clear skies ahead for domestic air travel
Travellers in APAC and AMER regions are continuing to fly domestically, with 83% and 70% of searches in March for domestic destinations respectively.


40% of consumers polled said that quarantine is the biggest deterrent for booking international travel, followed by testing (28%) and there being too many restrictions (27%).
"It's worth noting that the longer the disruption, the more embedded new preferences and behaviours will become", states Nick Hall. "Scenario planning should therefore not consider the restoration of travel as the only factor. The change in demand for travel, as shown in the data, points to fewer and longer trips, which should be considered alongside wider trends, such as the growing consumer consciousness around sustainability and other matters."
4. The rise of the second city – smaller destinations are increasingly popular
Aside from New York and Paris, travellers are gravitating towards smaller, coastal or island destinations such as Cancun, Crete and Mallorca.

Mauritius has climbed 126 places in the global search ranking compared to 2019, followed by Islamabad (101 places) and Dalaman (95 places).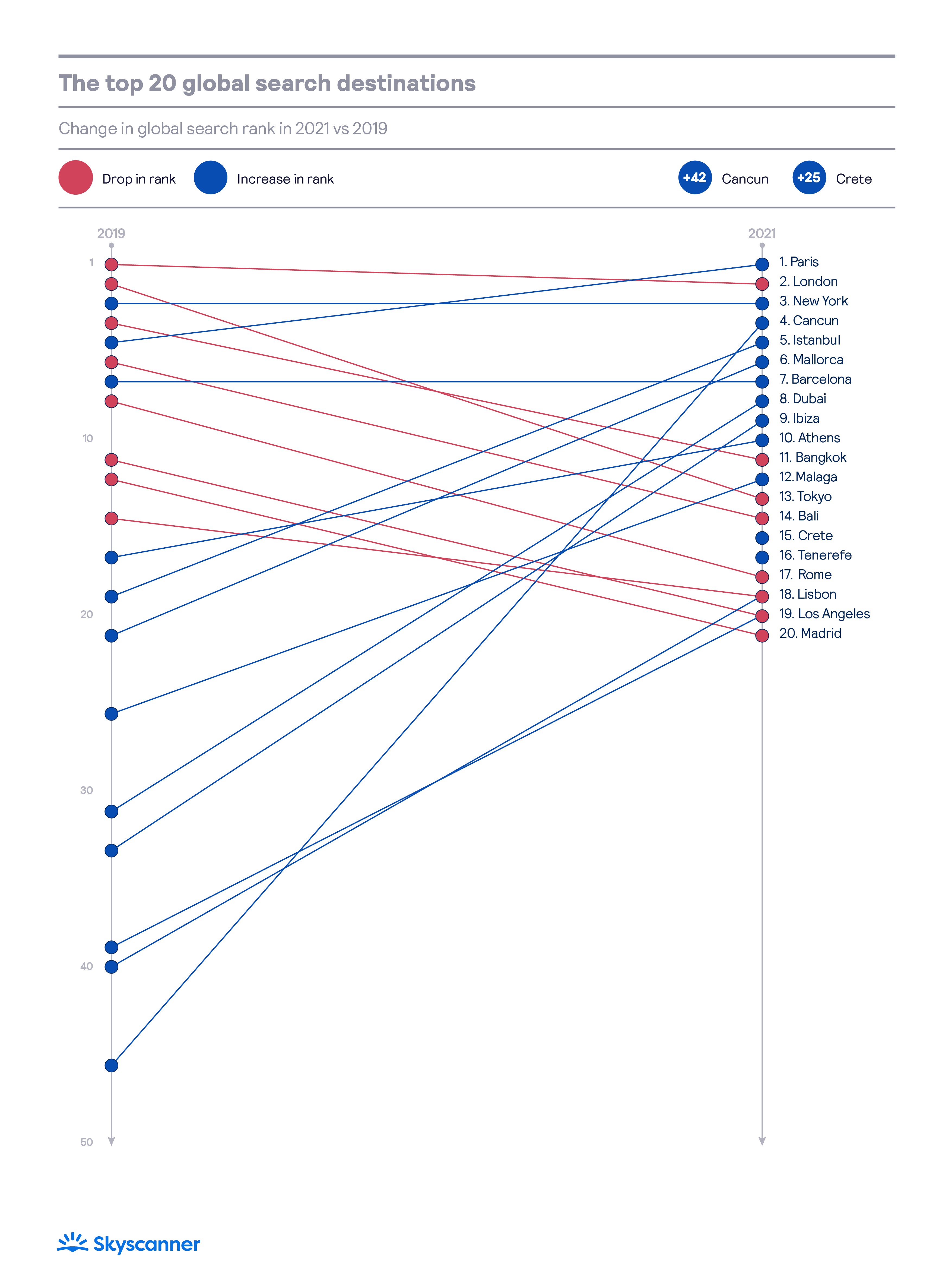 Nick Hall comments:
"For those destinations experiencing an uptick right now, the opportunity is to galvanise that demand and truly deliver on the destination experience. With demand pointing towards fewer, longer and more meaningful trips, the opportunity is not only to capitalise on the upcoming season, but to create affinity which is long lasting."

Travel is returning – but what will it look like? Download the report to find out.