Recently we discussed the power of personalisation and explored how it is becoming paramount to success when applied at the appropriate stages of the travel experience. Airlines are now able to offer innovative services to support and capture the increasing demand for travel. Enter the low-cost carrier.
"Low-cost carriers carried 984 million passengers in 2015, which was 28% of the world total scheduled passengers. This marked a 10% increase compared to 2014."
— International Civil Aviation Organisation
It is apparent that low-cost carriers are growing in numbers throughout the industry but are we recognising why and if we are, what can we learn from this?
The most recent phenomenon sees the LCC business model expand to long haul routes. James Halstead, Managing Partner and cofounder of Aviation Strategy Ltd, considers long haul low-cost operations to be the latest product innovation set to significantly disrupt the industry. The model sees the LCC strategy applied to longer routes whilst continuing to unbundle fares and adopt efficient working practices.
We wanted to understand how the introduction of long haul low-cost routes have shifted market dynamics such as, demand and average booking price, and what that means for airlines and online travel providers alike as they work to remain competitive and better understand travel demand.
Our hypothesis: Consumers require more personalised prices for travel.
The long haul low-cost carrier offering has adopted a similar model to the existing LCCs – with unbundling being used to strip back ticket prices and offer fares at lower costs. Airlines, predominantly LCCs, are now upselling theses 'extras' during the booking experience if the traveller requires it, and as such, provides an entirely personalised experience leaving the necessities of travel up to the consumer themselves.
We explored our data to see the impact on propensity to book and average booking price on five recently long haul LCC served routes.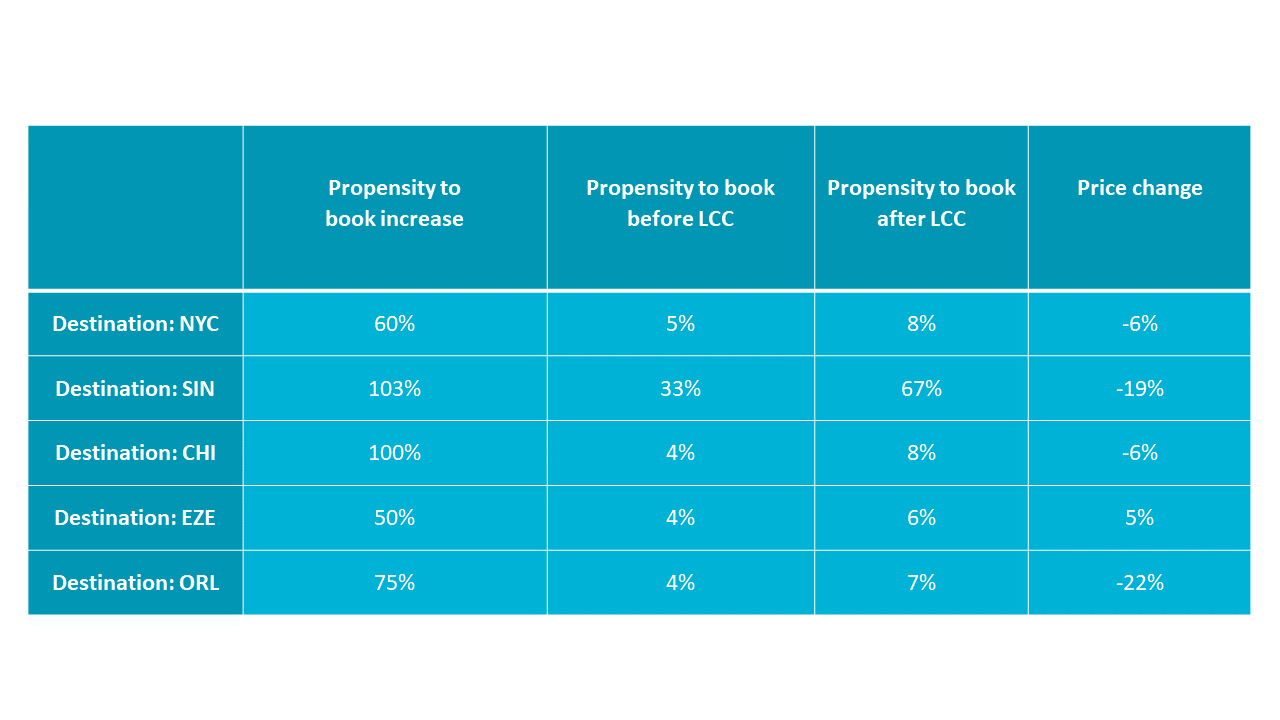 On average the propensity to book increased by over 75% in the 6 months that followed from launch. Naturally we can see in turn the average booking prices dropping as lower prices enter the mix in the majority of cases. The one exception to this is London to Buenos Aires, which actually sees a small increase in average booking price of 5%. This could be due to a lack of awareness of the route, or the fact the number of tickets sold is not high enough to impact the average booking price against legacy carriers.
We are confident that whilst there is increasing demand for long haul routes, long haul low-cost has shifted the ability for customer's needs to be met and the increasing demand for more personalised and relevant offerings throughout transactional experiences. Brands such as Dropbox have been practicing this logic for some time, in which users can use a standard version at a much lower price, leaving the choice up to the user depending on whether they feel 'Advanced' or 'Enterprise' suits their needs more.
We are now seeing legacy airlines practicing this unbundling of fares and our data suggests that this trend is set to stick as providers seek to benefit from potential conversion increases. Components such as fare families and ancillary sales, which can support unbundling, are capabilities offered through our Direct Booking solution offering airlines and online travel providers the ability to replicate the LCC model.
What's more, it should be considered that there are many routes that are not fit for purpose. This highlights that there is a constant need to evaluate route distribution; where do people need to go, What service will they need in order to get there?
Without answering these questions, airlines and online travel providers will be susceptible to the growing number of low-cost carriers that enter the market.
Are you interested in leveraging data to help answer these questions?
Travel Insight is a powerful business planning and analytics tool that is particularly beneficial for airline network planning and revenue management, airport route development and travel-related marketing. Travel Insight is based on a unique big data set that draws data from over 200m global searches every month and is updated daily to give you a unique insight into what travellers want, and provide you with information from the day before and as far ahead as a year into the future.