Streamline your customer journey
Direct Booking gives airlines and travel providers a powerful new booking channel by enabling travellers to research, choose and immediately book on Skyscanner. It's a direct and instant way to capitalise on Skyscanner's traffic and effortlessly convert browsing to booking while retaining the ability to up-sell ancillaries and own the customer.
Up to 100% uplift on ancillary
Up to 20% conversion rate uplift
Up to 50% mobile conversion rate
Working with IATA, we have developed 'The Skyscanner guide to NDC', which you can use to start your journey towards Direct Booking and benefit from upsells in 30 days.
Get in touch with our team to get started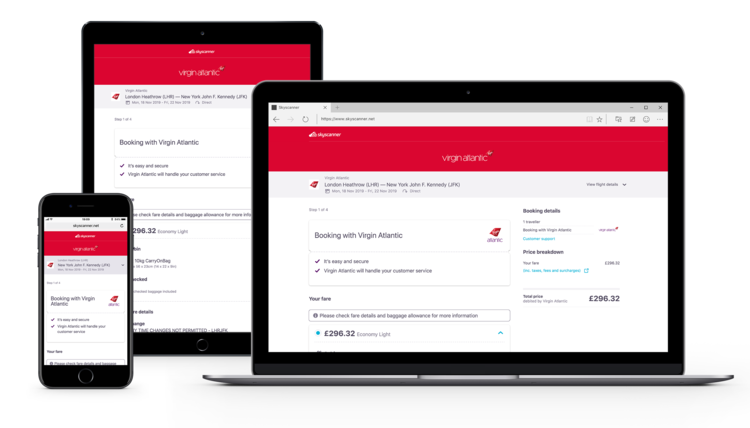 Instant bookings, instant success
Our powerful Direct Booking capability is good for customers and good for you. It works just like having a booking made directly on your site and you process the requests and retain all of the customer's details.
One platform to showcase your inventory enabling a seamless transaction from start to finish.

The ability to add as many options as you offer with industry-leading upsell options including baggage, fare updates, seat select, insurance and meals.

Compatibility with any NDC-ready provider, and the ability to support other integration types.

Access to over 30 markets, localised in all major languages, giving you global booking capabilities where ever your home market is.

Full support for mobile customers on the go.
We are constantly optimising our website and product, creating further ways to increase and enhance sales conversion for you. Direct Booking is the evolution of metasearch, ensuring that the customer continues to book directly, with as little friction as possible in the journey.
We feel the time has come to offer a fresh form of direct booking in metasearch. Here, after months of consultation with our partners, we set out Skyscanner's vision offering the best of both worlds. All the benefits of ancillary up-sell and branding control, coupled with access to a growing and engaged audience of travellers across new platforms. Quite simply, we believe it's the future for airlines.
Stay ahead of the distribution curve with our white paper on The Future of Distribution.